Last Update
September 14, 2018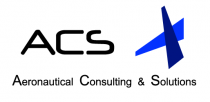 Categories
Aircraft, Helicopter, UAV, Spacecraft & related equipment
Services (R&D, training, engineering, consultancy, …)
Mission - to provide technical advice and service management solutions to industry and airlines in the aerospace, defense, and civil aviation markets.
The main purpose of ACS is to deliver state-of-the art "turnkey" services to the aviation industry by successfully managing professionals with military or civilian backgrounds in ad-hoc programs as required on a case-to-case basis.
Operational, governance, and company dimensional flexibility is the key characteristic of ACS.
By merging military and civil aviation expertise, ACS has delivered outstanding ground and flight training and in-service programs to its customers.
ACS - Aeronautical Consulting & Solutions
, Castiglione della Pescaia (GR), Italy
+39 0564 939324
info@webacs.info