Last Update
July 10, 2019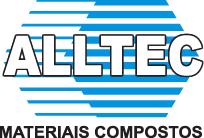 Categories
Aircraft, Helicopter, UAV, Spacecraft & related equipment
Composites, Plastics & Rubber
Maintenance Repair Overhaul and Logistics Support
ALLTEC IND. COMPONENTES EM MATERIAIS COMPOSTOS LTDA., has outstanding quality records in manufacturing parts using technologies such as: hand lay-up, pre preg and thermoformed, and these technologies make Alltec the right choice for outsourcing. The Company's personnel has been working with aeronautical composite parts for over 30 years. The accumulated experience guarantees excellent quality, prices and delivery time.
New developments are part of the everyday routine at Alltec. For both civilian and military applications, Alltec has developed several different products with its own resources, including floors, pilot cabinet's shielded doors, cockpit shielding for large caliber ammunition, etc.
Since its foundation in 1996, the company has shown an impressive growth rate, resulting not only from hard, serious work, but also from the entrepreneurial spirit of its management. Expanding plans are being detailed, and the company is ready to face new challenges.
Thermo Vacuum Technology Services
Thermo-vacuum-forming technology is used to produce finishing parts. The Company has separate areas for finishing, moulding, painting, storage and assembling.
Parts Manufacturing
Alltec produces some of the most sensitive parts directly connected with flight safety along with several others. The pressure level of the autoclave can reach up to 9kg/cm2, and temperatures can reach 180 degrees. This is necessary in order to produce transparent shielded parts; furthermore, it exceeds normal requirements for aeronautical parts. Using this capability, Alltec developed shielded glasses for armoured vehicles. Hundreds of different parts, including those with simple and complex shapes, are manufactured using hand lay-up techniques. Quality and prices are extremely competitive in this area.
FEW CUSTOMERS
Embraer
Brazilian Air Force GAMESA (Spain)
Helibras (subsidiary of Eurocopter)
CTA - Airspace Technological Center
Alltec Ind. Componentes em Materiais Compostos Ltda.
Rua Moxoto, 456 – Chacaras Reunidas, CEP 12 238 320, Sao Jose dos Campos, Sao Paulo, Brazil
(12) 3876-0213
contato@allteccomposites.com.br