Last Update
September 13, 2018
Categories
Electrical, Electronics & Electro-optics
IT, Computing and Software
Mechanical, Electro-mechanical, Hydraulic and Pneumatic components
Metal Processing, Parts & Components
Other Aerospace, Defence and High Technology related companies
Services (R&D, training, engineering, consultancy, …)
Ray Service a.s., is a Czech manufacturing and sales company providing comprehensive solutions in the area of cable assemblies, electromechanical assemblies, electronic equipment and cable component delivery for a wide range of customers. Fifteen years of experience in the field and intensive development have resulted in a strong, modern company that is a reliable and sought-after partner on an international level.
Powerful Connections
Ray Service has become a renowned distributor for a number of international cable component manufacturers – for example Tyco Electronics and ITT Cannon. It has thus assertively established itself and proven itself in the highly demanding military, aviation and industrial technology market. In the Czech market, it now has a significant share in programmes for the development and modernization of military equipment for the Czech Army. In the civilian sector it continues to focus its activities on railway equipment, machine tools and a number of other types of machinery from domestic and foreign manufacturers.
Mission
We're different from the others! By pledging to provide excellent services, we consciously and conscientiously contribute to the success of our customers. Our individual approach to others and strict and thorough attitude towards ourselves makes us better, more reliable and quicker! We expect a lot of ourselves. Only then can our customers also expect a lot from us – and have the certainty that we won't fail to meet their expectations.
Vision
Our goal is to be and remain in the position of a sought-after stable partner – specialists in comprehensive services in the area of electronic services for the military and aviation industry. We pride ourselves on our ability to predict and quickly react to market fluctuations and changes in customer needs. Our in-house production capacity and productivity far exceeds that of the competition, and allows us to responsibly resolve any chronic time problems that may plague our customers.
Contact info #1
Hustenovska 2022, CZ-68603 Stare Mesto, Czech Republic
ELECTROMECHANICAL ASSEMBLY
Since 1994, we have also been offering production capacity in the area of light electromechanical assembly work (include complete service), making it much easier for our customers to maintain their own processes and activities necessary for product assembly. The essence of electromechanical assembly is 100% inspection, quality management based on ISO 9000 standards, first-class suppliers of mechanical parts and surface treatments, as well as a wide assortment of labelling and printing options.
Outsourcing permits customers to increase their own efficiency by concentrating on the essence of their activities. The result of such cooperation is an assembled, fully tested mechanical or electromechanical system that is prepared for installation and meets all customer requirements – using his drawings, specifications and procedures combined with our quality management system processes.
Our guarantee to our customers
Close and constant contact with the customer in English and German

Preservation of complete control over their own product

The ability to involve their preferred suppliers

Production drawings internally managed by an electronic system

Production and control processes applied via a QMS to all aspects of production
CABLE ASSEMBLY MANUFACTURING
We have been concerning ourselves with the comprehensive manufacture of cable assemblies for various customer applications (ranging from simple to complex systems) since 1994. Our products can be found in a number of industrial, transport, military and aviation applications. Customers are easily able to tally their own costs, and make use of our obviously advantageous services.

Your product is as important to us as it is to you...
Our production is based on meticulous manufacturing procedures, supported by qualified workers and modern technology capable of piecework, small-lot and mass production.
Technical facilities
Cutting and wire stripping machines

Conductor and cable printing and labelling facilities

Hand and machine crimping equipment

Tools to produce a wide range of connectors

Equipment to handle a wide range of heat-shrink materials

Cable assembly testers up to 1500 Vdc

Crimped connection testers
We are just as conscientious during prototype production as during mass production. At least once during the manufacturing process, all cables are subjected to a complete electronic check. Inspection facilities are designed and built to be fully capable of specific functional tests. The manufacturing process itself then proceeds either according to customer-supplied documentation, or according to documentation from the technology department prepared according to customer specifications.
Our team of technicians and mechanics is prepared to meet challenges posed by your needs – be they in the area of traditional cable connections or "build-to-print" outsourcing in any production or installation phase.
GUROSIL Gel
GUROSIL Gel is designed to protect electrical connections from the ingress of water used in rooms with high humidity effects as well as in outdoor applications.

Features & benefits
IP68 proven casting system

Provides reliable protection against humidity, mechanical shock and vibration

Quick, easy and clean to install using customary caulking guns

Very good electrical insulation

Soft-elastic, transparent, self-repairing and self-resealing

Easy to remove (GUROSIL Gel)

Halogen-, silicon- and isocyanate-free

Environment-friendly and not subject to labelling requirements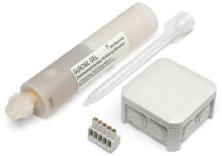 Product informational files
RAY-TUBE-SET
A kit of heat shrinkable tubes from polyolefin with shrinking ratio 2:1. These tubes are designed to provide great electro-insulating parameters, resistibility against mechanical and chemical straining and can be used in a wide range of different usage.

Features
Great resistibility against external conditions

Various colours for various usage

The diameter ratio before shrinking from 1,6 mm to 19 mm

Shrinking ratio 2:1

426 pieces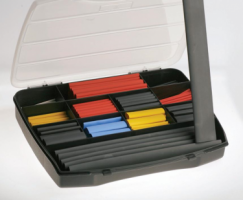 Product informational files
SPARE PARTS
Our orientation towards piecework and small-volume production means Ray Service has been predestined to handle orders for spare parts.
Our technical and manufacturing capacities, on-hand supplies and a network of approved and tested suppliers ensure our quick reaction.
Manufacture according to a sample

Fault analysis

Technical design optimization
CABLE ASSEMBLY DESIGN
Since the very beginning the design of cable assemblies has been an integral part of value-added services we offer our customers on top of the material itself. Our technicians' many years of experience with cable assembly structure, prototype production and modernization of the electrical wiring in military equipment provides us with an excellent foundation for work on various cable assembly design phases, from initial concept to final product. Our rich experience with product design and development, with hardware design as well as software design, permit the customer to focus his resources exclusively on his key competencies.
Complete cable assembly design
Prototype documentation

Prototype production

Choosing the proper tools

Verification of cabling shape and functionality (during in-situ installation)

Structural modifications

Final technical preparations for commencement of mass production
For cable design and the selection and dimensioning of individual components, we use specialized modern software that enables us to efficiently create complete technical documentation already in the functional sample or prototype phase.
Complete technical documentation
Assembly drawing

Connection table

Connection schematic

Materials list

List of standardized technical procedures used during design
Our employees' extensive experience, powerful design software and a flexible manufacturing process enable us to react quickly and flexibly to customer requirements – both during the enquiry process and during prototype construction and subsequent launch of mass production.
MILITARY INDUSTRY
MILITARY INDUSTRY: CZECH ARMY
Ray Service is the only Czech company, and is among the few in Europe, whose production of cable systems meets the stringent requirements of army and air force equipment. For this reason, Ray Service's manufacturing and distribution activities in this area occupy a significant portion of its overall activities. From this follows its participation in the great majority of Czech Army development and modernization projects. Thanks to its many years of working with the military industry, Ray Service can today offer specific, customized products and services with a favourable price to performance ratio.
Select completed projects:

— T-72M4 tank
— BRDM armoured wheeled vehicle
— Pbv-501 armoured track vehicle
— MPP-40 connection node on BVP, LandRover wheel frame
— Snezka reconnaissance and observation set
— LOS integrated mobile recon device
— Vera passive monitoring system
— RF-13, R-150, BCC-600 communication system
— L-159 combat trainer
— RM-70 rocket launcher
— Pandur II 8x8 armoured wheeled vehicle
— Cobra radio transceiver headsets
— Alligator 4x4 armoured wheeled vehicle
— Terrex 8x8 armoured wheeled vehicle
— Kidde Deugra firefighting equipment
AVIATION INDUSTRY
AVIATION INDUSTRY: Czech Airlines
Ray Service fully meets special specific requirements of aviation equipment, as well as regulations of aviation authorities, which is an obvious reason for its participation in a number of important Czech aviation industry projects (development, modifications and modernization of military and civil aviation equipment).
Certainly worth mentioning is the delivery of sets of materials and technical assistance for electrical systems in the L-159 multi-purpose light combat aircraft, delivery of cable components for Mi-24 and Mi-17 helicopter modernization projects, or delivery of cable components to Czech Airlines for repairs to Boeing aircraft wiring.
Completed projects

— L-159 training combat aircraft
— Mi-24 helicopter§ Mi-17 helicopter
— General Electric aircraft motors
— Airbus on-board systems
— Thales test equipment
— UAV Camcopter
— UAV Sojka
OTHER INDUSTRIES
Auto Racing
One important development has been our work with the Skoda Motorsport team on immediate modifications and production of new cable assemblies for the Skoda Octavia WRC racecar (WRC or "world rally championship" or also "wiring rayservice competence"). In a world where victory is decide by seconds, there is no room for compromise. Reliability, quality and speed are concepts that closely bind us to this industry.
Transport
The world is in constant motion. Not only in the air, but also to a significant degree on the ground. Individual transport is collapsing, and mass transit is taking precedence. And it is precisely here – in transport technology – Ray Service can take great advantage of its experience in the design and dimensioning of cable assemblies.

When participating in the manufacture of new metro trains, trams, trolley buses and buses, Ray services contributes both by supplying finished cable assemblies and individual types of material – especially materials that meet stringent safety requirements. For along with reliability, passenger safety is the most important factor in public transit.

Technical railway standards are in many ways similar to those in aviation, and Ray Service is thus capable of fully meeting them both in materials and manufacturing processes used.
Mining Work
Conditions in mines don't allow for much comparison, perhaps only with military equipment. The are characterized by extreme temperatures, dust, petroleum products, and an explosive environment... Mutually compatible systems of materials used for cable assemblies meet these demands with a comfortable margin.
Medicine
CT, MRI, PET, RTG and a number of other abbreviations save human lives thanks to technology that moves the frontiers of medical science to the extremes of human comprehension. Behind this are a lot of electronics, exact information, and high-quality components and manufacturing.

Ray Service is fully aware of the gravity and significance of such work, and the inestimable importance of the final product for doctors, patients and their family and friends.
Special equipment
Milling centres, laser ranges, cutting plotters, gas pumps... the overall quality of all of these are highly influenced by the quality of the cable assemblies they contain.

For such applications, Ray Service offers procedures and processes of the "large" industries, the experience of each individual in the team, and a company support structure, together ensuring product quality.
Ray Service s.r.o.
Hustenovska 2022, CZ 68603, Stare Mesto, Prague, Czechia
+420 572 434 311
+420 572 577 077
recepce@rayservice.com