Last Update
August 31, 2018
Categories
Aircraft, Helicopter, UAV, Spacecraft & related equipment
Composites, Plastics & Rubber
Maintenance Repair Overhaul and Logistics Support
Services (R&D, training, engineering, consultancy, …)
PLASMATEC - SJC, was established in 1996 and had as starting point the manufacture of parts for the acrobatic aircraft training civil and military GP-A135A "Guara G200", idealized and developed for the Engineers Carlos Goncalves and Jesus Rodrigues. In 2009 PLASMATEC-BOT INDUSTRIA AERONAUTICA LTDA. was founded in Botucatu City. The objective was of assisting Embraer and other clients and is located in a 2,000 m2 of total area and 1,300 m2 building area and with a hangar that has access to the airport.
In 2010 PLASMATEC is diversifying its field, with emphasis on machining metalic work and will be investing in water-jet cutting.
The Company is involved with the following activities:
Importation, Exportation, Commerce, Manufacture and Maintenance of parts for airplanes and boats.

Production and recovery of acrylic and polycarbonate components, like window, bubble acrylic assy and illuminated panels for aircrafts.

Structural assemblies with specialized mechanical in Brazil or in the foreign country.

Polish on aeronautical parts in the client place or in property plant.

Production of acrylic or metallic pieces in CNC Machines.

Production of identification board on acrylic and metals.

Realizes precision measurement by three-dimensional table and thickness measurement by ultra-sound, in the client place or in property plant.
The Company's Professionalism consists of:
Qualified professionals,

Personal training and the disposal,

Responsibility of the teams,

Rapidity and guarantee.
Contact info #1
Reinaldo Ribeiro da Silva
reinaldo.silva@plasmatec.com.br
PLASMATEC - SJC, Rua Jose Vicente de Paula, 259 - Bairro Santos Dumont, Zip Code: 12.227-810, Sao Jose dos Campos, SP, Brasil
Main Products
Composite Material
Design and fabrication of molds and parts of glass fiber.

Revitalization: glass fiber and carbon fiber parts as: tail, cone, ailerons, radome, lenses.
Surface treatment
Acrylic & Polycarbonate
Canopy, windshield, window, lenses etc. for aircraft, navy, industrial and commercial application.

Molding, revitalization, polishing, sealing, cnc machining, polishing, painting and printing screen.
Structural assembly of aircraft
Tank, wing, fuselage, trolley.

Structural assembly and aircraft parts revitalizations: drilling, countersinking and riveting.
Canopy, Windshield & Window
Manufacturing & Revitalization: canopies, windshields and windows for commercial and military aircraft, helicopters and boats.
Machining
CNC Machining for acrylic, polycarbonate, aluminum, steel and brass parts.

Quality control with three-dimensional measurement, profile projector and ultrasound.
Panel to Cockpit
Manufacturing and revitalization of internal illuminated acrylic panel for aircrafts and vessels cockpit.
Polishing of Metal Parts
Leading edge, slat, air intake turbine, fuselage etc. In the factory or on site.
Identification of platelets
Technical subscription, printing screen and painting in metal, acrylic platelets and phosphorescent display for the aircraft, vessel and industrial or commercial application.
Structural Sealing
Windshield, window, composite material and fuel tank.
Painting
Paint on acrylic, aluminum and aircraft.

Primer, epoxy and PU, banners and signs on metal and acrylic.
Design & Development of Molds
Application: pieces of acrylic, plastic and fiberglass (manual molding and RTM Light).
Cups & Cutlery Door
Design and manufacture of Acrylic Cabinets for Galley. Aplication: aeronautical and naval.

Port: cups, bowls, plates, cutlery, crockery, bottle etc.
Measurement
Quality control with three-dimensional measurement, profile design and ultrasound.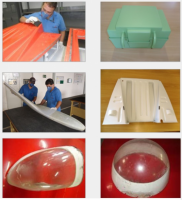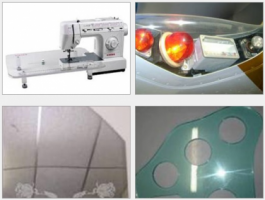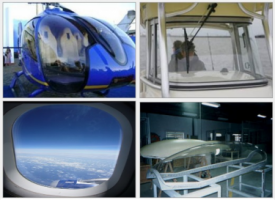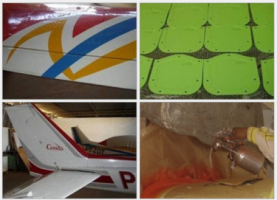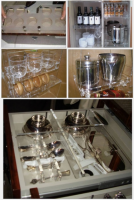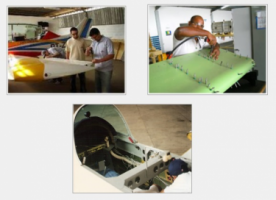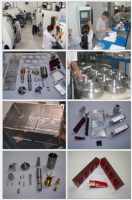 Aircraft - Guará T200
PLASMATEC has the design and the prototype of an Acrobatic Aircraft for Civil and Military Training: Guará T200. Guará is ready to be produced in series.
TECHNICAL DESCRIPTION
TYPE DESIGNATION
Basic Type: Primary training and acrobatics. Manufacturer designation: GP-A135-A, Number of seats: 02. Engine LYCOMING AEIO 360 A1B6, 200 HP.
1.4 USAGE.
The aircraft may be used to graduate civil and military pilots and aerobatic flights.
DESCRIPTION
The aircraft is land type, monoplane, single engine, completely metallic, low wing, rectangular, cantilever, tandem two seater, fixed tricycle landing gear, allowing use of back parachute or seat parachute. Metallic construction fuselage, semi monocock structured. Metallic cantilever empennage. Main dimensions refer to FIG 1-1. The usual internal arrangement is presented in FIG 5-1.
SAFETY
The aircraft flight qualities herein specified assure maximum safety to its crew. The aircraft is totally controllable at every attitude and does not present uncommon tendencies, either on ground as in flight. The cabin and its interior layout are so arranged that in case of an accident, danger to physical integrity of the crew is minimized.
FLIGHT QUALITY
Flight qualities are conventional encompassing harmonization and sensitiveness of the controls, without any intermediary device.
SPECIFICATIONS
Engine - Lycoming AEIO 360 A1B6:200 HP,

Propeller - Hartzell, HC-C3YR-4BF/FC 6890: Three blade,

Maximum leveled at flight speed and at maximum power: 136 kt (252 km/h),

Fast Cruise Speed (75% maximum power): 120 kt (222 km/h),

Economy Cruise Speed (65% maximum power): 110 kt (204 km/h),

Maximum slope ratio: 1400 ft/m (7.10 m/s),

Service Ceiling: 20,000 ft (6100m),

Take off distance with 50 ft (15m) obst.: 270m,

Landing distance with 50 ft (15m) obst.: 160M,

Range with 30 minutes fuel reserve: 4:00 pm,

Stall Speed: 55 kt (101 km/h),

Stall Speed with flaps: 45 kt (89 km/h),

Dry weight (standard): 660 kg,

Maximum take off weight: 960 kg,

Aerobatic Category - Load Factors: + 6.0 g and 3.0 g.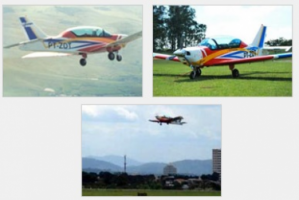 Clients
Company's main list of customers includes:
Embraer,
Forca Aerea Brasileria,
TAM,
Grupo Inace,
Aernnova,
ELEB,
GOL,
Neiva,
Marinha Do Brasil,
Singer.
Termoplas Tecnologia Aeronautica Ltda. - Plasmatec
Rua José Vicente de Paula, 259 Bairro Santos Dumont, Zip Code: 12.227 810, SP, São José dos Campos, Brazil
planejamento@plasmatec.com.br