Last Update
January 9, 2019
Categories
Composites, Plastics & Rubber
Lankhorst Yarns produces high-quality technical yarns and tapes. Using innovative techniques and expertise that has been carefully acquired over many years, the company converts the needs of customers into innovative solutions. Their rich history and wide range of products have enabled the company to gain a leading role in the world market. Lankhorst Yarns works closely with renowned institutions and universities of applied sciences to develop new innovations. Production takes place in Maia, Portugal (near Porto). Management & Sales are based in Sneek, The Netherlands, the place where it all began in 1803.
Reliable partner, flexible manufacturer
The market sees Lankhorst Yarns as a reliable partner for technical yarns, tapes, fences, geotextile yarns, synthetic grass yarns and yarns for the horticulture and cable industries. Many of their products are custom made and are manufactured using highly advanced technology. Lankhorst Technical Yarns is a flexible manufacturer that acts as a sounding board for its customers, providing them with inspiration and delivering guaranteed high-quality products.
Testing equipment
Testing equipment is available to monitor tape quality and/or other extruded products and for research purposes.
Examples of in house test possibilities:
• Tensile property testing for tapes and sheets
• Bending property testing for sheets
• Tensile property testing for tapes and sheets
• Bending property testing for sheets
• UV testing lab machine (Xenon)
• Creep test equipment
• Density test equipment
• Sealing test equipment
• Yarn abrasion resistance device
• Raw material check (DSC)
• Impact test equipment
• Moisture analyser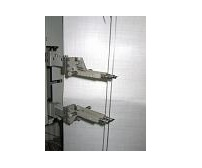 Lankhorst Yarns
Prinsengracht 2, 8607 AD, Sneek, The Netherlands
+31 515 487 654
info@lankhorstyarns.com