Categories
C4I, Communication Systems
IT, Computing and Software
ES – Embedded Solutions 3000 specializes in supplying innovative, integrated turnkey solutions in systems and software engineering, particularly in military network projects and the security and aviation industries. Embedded Solutions has also a range of advanced accessory products for military network applications, ground-airborne data link systems and military Data, Video, Audio Recording Systems.

Embedded Solutions works with the elite Israeli Air Force and other leading military security companies. The ES team, including 35 of Israel's top engineers, offers you vast experience and knowledge of complex military communication networks combined with a command of civilian communication standards and protocols. Embedded Solutions is perfectly placed to address your specialized military network needs.
Embedded Solutions has particular expertise in adapting civilian systems for military applications. This allows you to meet strict military regulations while remaining fully interoperable and compatible with existing civilian standards.

Corporate Overview
ES – Embedded Solutions 3000 was founded in 2001 by Dr. Larisa Tsirinsky as a private business specializing in systems and software engineering for military network applications.
Dr. Tsirinsky has over 17 years' experience in developing and managing critical real-time communications systems, and her management and 35-person engineering team have a wealth of niche-sensitive experience and skills to offer clients.
ES – Embedded Solutions 3000 (ES) has been involved in an extensive range of military network applications. Amongst them:

Flight Control Computer
Real-Time Mission Synchronization
Command and Control System
Real-Time Data Processing, Monitoring and Recording
Bandwidth Management
Real-Time Equipment Tester
Short-Latency (40 µsec Response Time) Event-Driven Application
Automatic Generation of Test Scenarios
User Defined Format of Test Reports
Automatic Network Configuration
Automatic Network Equipment Configuration
Automatic Network End-Points Configuration and Control
Redundancy Logic
ATM Communication System
Pure ATM Interface
"TCP/UDP tunnel" over ATM
Synchronization and Data Management
Technical Logging
Contact info #1
Office: +972 3 9190909; Mobile: +972 50 7914508
larisa@embedded-solutions.co.il
Hamelacha 22 Park Afek, Rosh Haayin, 48091 Israel
Turnkey Project Development
ES – Embedded Solutions 3000 is an expert in providing turnkey project development and application services for the military, aviation and security industries.
All projects deal with time-critical and/or mission-critical communication. Amongst other functions, Embedded Solutions can provide you with turnkey solutions capable of recording and processing data in real time, instant reaction (micro-seconds), and optimizing land-air communications.
All projects are based on a "fixed price" model, with Embedded Solutions responsible for on-time and on-budget delivery.
Embedded Solutions takes responsibility for the product's full life-cycle:
Requirements Specification
Risk Management
Design
Implementation
Documentation
Testing
Customer Support
Outsourcing Services
Thanks to its extensive network of contacts and excellent reputation in the military and security industries in Israel, Embedded Solutions has access to some of the best minds and services in the business.
When you entrust Embedded Solutions with responsibility for a specific part of your project, you know they will enlist the top systems engineers and communications networks experts to provide you with the most efficient and effective solutions:
Design and implementation according to a customer's requirements.
Integration at the customer's site.
Smart Gateway (ES-SG1)
Smart Gateway is a seamless network entity optimizing and controlling military communication, including data-link to/from ground. It is a mediation device/module that serves as a gateway between open network architecture and military network requirements.
ES-SG1 may be implemented as an embedded software component on one of the application machines residing at a communication junction, or as a stand-alone hardware component.
The modular structure of ES-SG1 allows you to easily add, remove and configure services.
ES-SG1 is a hard, real-time product. Adds latency to inspected network traffic depending on the service applied. Inspection time is negligible compared to data transportation time.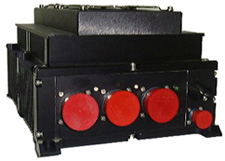 Product informational files
Multi-Channel Real-Time Recording System (ES-MCRS)
This is a stand-alone hardware component with embedded software designed for long-term, synchronous recording of multiple channels with high data rates. Both military and regular specifications are available.
The MCRS's modular structure and variety of external interfaces allow easy integration into the customer's environment.
The MCRS real-time data recorder and playback systems, for analog and digital applications, offer sustained recording at rates up to 500 Megabytes/sec. These high-speed recorders achieve the performance rating in both commercial and ruggedized environments. They utilize Fiber Channel storage area network media in JBOD or RAID configurations from cost-effective commercial to rugged and solid-state storage.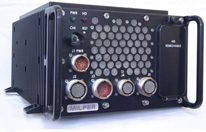 Product informational files
High-Performance Multi-Channel Ethernet Recording System (ES-MCERS)
This is a seamless network entity providing real-time recording of IP traffic.
ES-MCERS is implemented as a stand-alone hardware component.
Product informational files
Technology
ES – Embedded Solutions 3000 has a deep knowledge of operative communication protocols/standards in the military world.

Embedded Solutions also has vast experience in the civilian world.

Military networks require more complex architecture than civilian networks:
Unstable end-to-end connectivity between source and destination.
Limited bandwidth allowance per source and/or destination.
Strict prioritization requirements.
Hard real-time requirements.
Traffic and protocols restrictions because of special military network devices (gateways, encoders, firewalls, etc.)
Embedded Solutions 'adapts' civilian standards to military communication applications.
It allows you to adhere to strict military requirements and still be fully interoperable with existing civilian standards/protocols.

Embedded Solutions engineering is split into two specialized teams:

System Expert Group
Requirements Analysis
Top-Level Design
Algorithms Development
Software Development Group
Detailed Design
Implementation & Testing
Technological Background
Extensive Experience in:

System Analysis

Embedded SW Design Methods and Implementation in Military Systems and Equipment

General Purpose CPUs and DSPs, CISC and RISC processor architectures

Real-Time Operating Systems (VxWorks, Integrity, CE, Embedded Linux)

HW/SW Co-Design, Modeling and Co-Verification

Full H/W and S/W Mil-Std compliance

Military Systems
COMINT, SIGINT
Aircraft Internal Communication
Embedded Mission Critical, Time Critical Systems
Data Link Management
Reconnaissance & Surveillance
Automatic Test Equipment
Civilian Systems
Real-Time Systems
Signaling/Media Gateways (V2oIP- PSTN)
Board Support Packages
Device Drivers
Practical knowledge of network interfaces, standards and protocols
IEEE 802.XXX
MIL-STD 1553
ARINC 629
HDLC, SCP etc.
Network & Transport Layers
TCP/UDP over IP (v.4, v.6) /ATM
Wireless networks
Application Layer
Voice/Video over IP (H.323, SIP, MEGACO)
Encryption/Decryption
Network Management
Practical knowledge of networking hardware (routers, gateways, firewalls)
Main Clients
Embedded Solutions' main clients are:
Israel Aircraft Industries: ELTA, MLT, MBT, MLM, LAHAV, MAHUT
Elbit Systems Ltd.
Tadiran Communications
Elisra
Israel Military Industries (IMI)
Israel Ministry of Defense (MoD)
Israel Defense Forces (IDF)
Rafael, Israel Defense Industries (IDI)
ES - Embedded Solutions 3000
22 Hamelacha St. Park Afek, 48091, Rosh Haayin , Israel
+972 3 9190909
+972 3 9190910