Last Update
October 19, 2016
Categories
Electrical, Electronics & Electro-optics
IT, Computing and Software
Radar, Sonar, Navigation, Targeting, Surveillance
GS Tech is a one-stop-shop for Hardware & Software design and System Integration for Embedded systems. By offering a multitude of platforms including TI's DSP Video & Imaging processors series and OMAP processors for the mobile and wireless markets, GS Tech delivers original solutions to your most complex needs.
GS Tech also offers in-house Multimedia Professional Services. We offer our customers full turnkey HW & SW solution based on TI SOC, Freescale, Intel and other platforms.
GS Tech offers Ingenient Technologies System solutions, a complete package of hardware and software that forms a complete product design. By offering state-of-the-art hardware platforms, video and audio codecs software, this system solutions approach allows you to develop new products in reduced time-to-market and at lower cost.
Current targeted markets include:
• Video Security and Surveillance - network cameras, security systems with low delay and low cost.
• Video servers - digital video receivers, interactive digital TV, residential multimedia gateway, set-top box
• Multimedia Infrastructure - digital media broadcast encoders (H264, VC1,MPEG4), video transcoders ,transraters, and video switches
• Consumer Electronics - VOD phones, digital camcorders, digital still cameras, portable multimedia players and recorders, videophones.
Providing high quality embedded systems solutions and professional services to many industry-leading customers such as Audio Codes, Optibase, Scopus, Elbit and Rafael, GS Tech established itself as a credible provider of innovative embedded solutions.
GS Tech is constantly keeping up with rapidly changing market trends and technologies, thereby offering a great advantage over its competitors.
GS Tech continues to strengthen its position by broadening its product line to include H.264, MPEG-4, DivX, XviD, WMT, and DV technologies for codec, transrating, transcoding and bandwidth management.
Benefits:
• Cooperating with the leading Multimedia companies around the globe
• Established Customer base: Elbit, Mer group (techMer), Surf and more
• GS Tech is a third party of Texas Instrument and Freescale and has strategic relationships with all of the chips vendors in Israel (Telsys, Avnet, Arrow)
• GS Tech support TI DM64xx and Freescale Imx
• GS Tech's team in one of the leading staff in the Israeli market and it includes embedded SW and HW engineers, technical support and sales personal.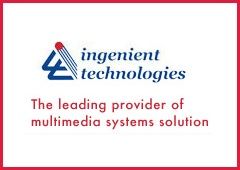 Contact info #1
Landline: +972 3 9002726; Mobile: +972 54 2525131
10 Amal st. Afek Ind. Park, Rosh Ha'ayin 48092, Israel
Contact info #2
Landline: +972 3 9002727; Mobile: +972 52 3712925
10 Amal st. Afek Ind. Park, Rosh Ha'ayin 48092, Israel
Contact info #3
Landline: +972 3 9002727; Mobile: +972 54 2525136
Software
• Expert consultation
• Full custom code development
• A full and complete embedded solution
• Support for advanced real time operating systems
• Real time solutions
• HW and SW integration on Embedded and PC systems
• Linux OS: from the upper application level down to kernel components and builds, including Linux drivers
• Windows OS: full application development, specialty device drivers, advanced networking kernel programming
• DSP/BIOS: GS Tech team works directly with TI and several of the major TI 3rd parties
• Expertise in Image processing, video and audio compression
• Integration and design of very high end processing engines, using state of the art design techniques and 3rd parties' components
Hardware- Design, Develop and Manufacture
• Matching existing solutions to customer requirements. (Ingenient, Ateme, Einfochips, adaptive digital)
• Redesign of boards according to customer requests
• Reference Design- prototyping
• Full board design – Hardware, FPGA, software
• Expertise in the field of high speed hardware development, video processing, telecommunications and networking
• Hardware competences in the group: board design, FPGA design, analog interfaces, video interfaces, network components and more
• Power Solutions
• Full turn key manufacturing (Small amounts in Israel and mass production in the Far East)
VirtualLogix
Real-Time virtualization solution for Digital Multimedia Supporting TI DSP Processors. VLX for Digital Multimedia, is an innovative real-time virtualization solution that allows Linux and TI DSP/BIOS to run concurrently on TI processors for digital video applications, without sacrificing the performance required by the DSP-targeted system. VLX for Digital Multimedia includes a complete Linux environment optimized for the DaVinci DM643x and the DM64x/C641x processor families.
QNX RTOS
For over 25 years, QNX Software Systems has provided OS technology, development tools, and professional services to companies building mission-critical embedded systems. With the introduction of the QNX multi-core technology, QNX now offers the industry's most comprehensive software platform for multi-core systems.
Powered by the massively scalable QNX Neutrino® RTOS and QNX Momentics IDE, this fully integrated solution supports asymmetric (AMP), symmetric (SMP), and bound multiprocessing (BMP).In addition to that, Adaptive Partitioning takes the current restrictive concepts of software partitioning and dramatically changes the rules so that embedded developers can guarantee real-time for their applications, contain threats and protect their systems.
Boundary Scan for TI DSP – Temento
Temento provides leading edge tools for boundary scan testing using Spectrum Digital XDS 510 JTAG. Temento products cover the whole production cycle, beginning from prototype up to full production, and beyond for board troubleshooting and repair. Their wide product line also includes an in-system full speed FPGA debugger, invaluable to shorten development cycles.
Multimedia Technology for DaVinci by Ateme
Provides Video/Audio codes for TI DSP and SOC, including ESAEE, multimedia framework, which allows A/V sync, file sys management, to build customer application.
Ingenient -Video encoder: H.264
Complete Reference Design for multimedia applications in a small footprint PCB that is easy to customize. Features: WinCE/ Linux RTOS, Low latency H264/MPEG4, WiFi…
JTAGjet – Signum
Universal In-Circuit Debugger equipped with USB 2.0 port (USB 1.1compatible) that runs at 480 Mb/sec. Used with TI CCS and all major ARM debuggers concurrently, providing a true multi-core, multi- debug development system.
GS Tech Ltd.
10 Amal st. Afek Ind. Park, 48092, Rosh Ha'ayin , Israel
+972 3 9002727 
+972 3 9016106 
info@gs-tech.co.il