Last Update
July 11, 2023
Categories
Radar, Sonar, Navigation, Targeting, Surveillance
Services (R&D, training, engineering, consultancy, …)
EMG, specializes in consulting, design, supervising and project management of integrating low voltage systems for security, fire detection and extinguishing, building control, computing and telephony infrastructure. This also includes communications and audio video systems. Our expertise is based on experience, gained both in Israel and abroad, and includes the following fields:
Security Systems
Complete Electronic Security System - OUTDOOR.
CCTV.
Digital monitoring systems - audio video.
Entrance control - For the controlled and authorized entrance / exit of vehicles and pedestrians.
Biometric Control.
Burglar Alarm.
Distress Alarm.
Remote Controlled doors.
Mail/Baggage Check Equipment.
Public Address System.
Computerized Control rooms.
Indoor/Outdoor radio transmissions.
Communication Systems
Computing networks for buildings, campuses, and organizations.
Radio networks - for IT and control systems.
Cellular Systems.
Telephony - telephone switchboard + IP.
Computing and telephony - integrated infrastructure.
Intercom and linear Systems.
Building Mangement Systems
DDC systems and open protocols such as INSTABUS, BACNET, LON.
Air conditioning control systems.
Electricity control systems - main and secondary boards.
Indoor/Outdoor lighting circuits control.
Plumbing control systems.
Generators control.
Bellows and CO control in underground parking lots.
Energy Saving Systems.
Computerized control and inspection environment for the above.
Safety
General Consultation and Requirement Specification for Safety Systems.
Fire Detection and Extinguishing Systems.
Secondary Panels - installation of smoke detectors according to safety standards/Fire Department regulations.
Door Release Systems - NO, NC.
Cessation of Operation of Bellows and Air Conditioning Systems.
Audio Video
Theatres, Congress Halls.
Conference/Meeting Rooms.
Sound Systems: Projectors, Screens, Smart Panels, Speakers and Microphones.
Integral control systems - HMI with touch sensitive screens.
Video Conferencing.
Control Rooms
Computerised Managed Information.
Control Workstations.
Control Panels/Boards.
Display Systems.
Video Walls.
Computerized Operations Journal.
Contact info #1
Beit Hatayelet, 2 Beitar St., Jerusalem, 93386, Israel
Contact info #2
Beit Hatayelet, 2 Beitar St., Jerusalem, 93386, Israel
Contact info #3
Graphic Design, Logistics and Office Manager
Beit Hatayelet, 2 Beitar St., Jerusalem, 93386, Israel
Contact info #4
Technical Design and Computerised Imaging
Beit Hatayelet, 2 Beitar St., Jerusalem, 93386, Israel
Initial Phase: User Requirements Analysis
User requirements document.
System Definition.
Investigation of all optional solutions.
Sketches/Diagrams.
Definition of Control Systems.
Recommendation for the proposed solution.
Primary Budget Estimate.
Cost Efficiency Analysis.
Preliminary Planning
Infrastructure, Ditches and Piping: Building Areas.
Electricity, Lighting, Security, Plumbing and elevators Systems Control.
Requirements.
Building adjustments.
Personnel and Vehicle Access Systems.
Control Workstations and Equipment Rooms - location and size.
Topography - Hardware and Software Integration Guidance.
Operational programs for normal and emergency situations.
Technical Specifications
Elements Positioning Plans.
Infrastructure Plans - Ditches, Piping, Boards and Accessories.
Specifications for Electronic Systems.
Quantity Quotas.
AutoCAD - Computerised Programs.
Quality Control Requirements.
Acceptance Test Requirements.
Preventive Maintenance - Post waranty strategy.
Authorities Coordination and Supervision
Israel Police - Security Systems.
IDF - Security systems on Israeli Border.
Bezeq - Telephone lines, Point-Point Lines.
Fire Department - Safety Systems.
Ministry of Communications - Wireless Radio Network.
Ministry of Defence - In classified projects.
Issue of Tenders & Proposal Analysis
Determining Minimal Tender Requirments.
Definition of Contractors and Suppliers for Tenders.
Appraisal and Recommendation of Contractor's Proposals.
Assistance in negotiations with contractors.
Contractual assistance.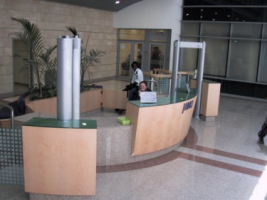 Follow-Up
On-site supervision; publishing of summaries and guidelines re-progress.
Coordination with other engineering offices.
Budget Control and Accounts.
Receipt Control.
Continuous Consultation and Assistance During Acceptance, Implementation and Operation of all systems.
Physical Integration
Coordination with Architects: space required for communication offices; necessary ironwork for control doors; main entrances for pedestrians and vehicles.

Defining of details for electrical engineer; placement of control accessories and electricity panels.

Requirements for Air Conditioning control systems; open spaces, office spaces and control rooms; computer telephony systems and computer rooms.

Coordination of requirements for elevator control with elevator planner.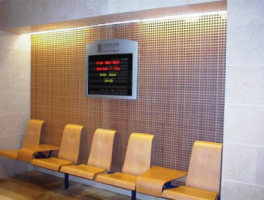 Electrical Integration
Issuing of detailed program for interconnecting low voltage systems (security, fire detection with extinguishing, communications infrastructure, building management, elevators and public address systems).
Determining communication protocol for all systems.
Integrating alarms for all systems and operation conditioning in emergency situations - fire, security, building control and elevators.
Integration of all systems to be "user friendly": Human-Machine Interface systems, voice alarm, graphic interfacing.
Functional design of systems at main control workstation with emphasis on user friendliness and ease of use and access.
Projects
EMG has designed and consulted some of the largest and most advanced low voltage projects in Israel and abroad.
Here are some examples:

Ministry of Foreign Affairs

Government Building in Haifa

Ayalon Prison

Israel Prison Service - Mental Health Center

Beer Shevah Court House

Supreme Court House

Nazereth Court House

Government Building in Beer Shevah

Carmel Olefins

Weizman Institute

Tolerance Museum

Assaf Harofe Hospital - control room

Turkey - Ankara Central Station

Spain - Aljazires Refinery
Customers
EMG's customer list includes:
Government Institutions

The Knesset (Israleli Parliament)

Ministry of Finance

Israeli Court Administration

Municipalities

Universities

Hospitals

Israel Prison Service

I.D.F.

Hi-Tech Companies and Factories

Maritime Shipping Companies

Petrochemical Factories

Industrial Factories

Social Security

Financial Institutes

Israel Electric

Mekorot (National Water Company)

And More...
Electronic Management Group (EMG)
9 Maale Oranim St., Jerusalem, 9727643, Jerusalem, Israel
+972 02 6727774 
+972 02 6730007 
office@emg.co.il