Last Update
September 14, 2018
Categories
Aircraft, Helicopter, UAV, Spacecraft & related equipment
Electrical, Electronics & Electro-optics
IT, Computing and Software
Mechanical, Electro-mechanical, Hydraulic and Pneumatic components
Metal Processing, Parts & Components
Military, Tactical, Logistic Support Vehicles & related equipment
Radar, Sonar, Navigation, Targeting, Surveillance
Services (R&D, training, engineering, consultancy, …)
Ships, Vessels, Submarines & related equipment
Devotek AS, (former Kongsberg Devotek) is an independent multi technology provider and specialist in dynamic systems, actuators and drivelines. Devotek is a leading independent technology provider with 30 years' of experience within a wide range of technologies and services. Working for industries like defence, automotive, oil & gas, energy, maritime and telecom gives the company a broad background for applying the state of the art solutions to many challenges.
Core competences are within areas linked to control of dynamic systems. It covers areas as driveline design and control within:
Vehicles,
Ships,
Helicopters, including transmission design,
Actuators,
Electronic control design,
Sensors,
Hydraulics,
Clutch and brakes and much more.
Systems Engineering
Devotek is known for its systematic approach to technical challenges as it completes development and technology projects according to the Systems Engineering methodology. The company focuses highly on Quality Management according to internationally recognised QMS standards.
The company ensures understanding of the user requirements, thorough concept studies and technology bench marking, careful quality assured concept selection, prototyping and testing, all parts of the Devotek methodically design processes.
Project areas:
Defence & Space
Systems and products for defence applications are characterized by top performance at extreme environments. This is where Devotek experience and competence will be at its best. Smart design solutions, clever design, protection and packaging of electronics, verifications by advanced simulations and final approval and acceptance by testing will ensure product that will perform at all conditions.
Automotive
25 years of experience with automation of transmissions since early 80's. General development, including safety systems, since 2001

Competence and focus on dynamics of mechatronic systems. The company handles the full range from concept generation system validation

Highly involved in DCT transmission development and hybridization. The company can take on full automation system responsibility, both HW and SW

Electromotoric and hydraulic transmission automation solutions currently in series production

Innovative solutions for crash protection systems currently in series production

Large number of fully functional prototype and demonstration vehicles
Oil & gas
The technological challenges of always discovering new recourses, recovering more oil or improving existing processing capabilities will require the best competence in the field. Devotek expertise is fit to solve the challenges faced by the Oil & Gas industry. With experience from several Offshore projects, Exploration and Drilling, Top side or Subsea, Devotek will support our customers in finding the best technological solutions for the challenges ahead.
Industry
Devotek has a long tradition in product and component development for different industries. The different businesses are all challenging, and have often similar multi-technological demands.
Typical assignments:
Concept generation, prototype and module design within areas like Mechatronics often in combination with static or dynamic analysis
Digital or analogue electronics Control system combined with application software
Prototype generation, production and test
The company prefers to perform the projects in its development centers were it can put together a tailored team of specialists
Maritime
Devotek has extensive experience in working with applications for the maritime industry. Typical design and development assignments:
Propulsion systems

Deck machinery

Loading and off-loading units

Control and guiding systems
With its cross-disciplinary expertise it can present optimized solution to its customers.
Services
Based in Kongsberg, Devotek's cross-disciplinary expertise has enabled the successful development of solutions for a wide range of industrial environments – from the ocean floor to outer space. As a partner in process, customers can call upon experts in the field of:
Mechanical,
Electronic and software specification design and testing;
Control systems design,
Testing and analysis;
Mathematics and applied physics;
Prototyping and validation programmes;
Safety evaluation, and
Quality control.
Contact info #1
Business Manager - Defence
Dyrmyrgt. 47, P.O.Box 384, NO-3604 Kongsberg, Norway
FEA & CFD Analysis
Some of the services the company offers are:
Advanced dynamic, non-linear and static simulations
Thermal and CFD simulations and analysis
Applications: Electronic cooling and vibration, non-linear system analysis, random vibration, fluid and thermal analysis, non-linear material behavior, non-linear contact analysis
FEM analysis using analysis software as MSC Nastran, MSC Marc, MSC Dytran, MSC Adams, MSC Patran, NX Nastran, Abaqus, Star-CCM, I-DEAS and Unigraphics NX
Proactive interaction with designers to ensure optimal product design
DYNAMICS & CONTROL
Some of the services the company offers are:
Mathematical modelling and analysis of system dynamics and interaction
Analysis and implementation of control system based on requirements of performance, stability and robustness
Analysis of existing control systems to identify possible improvements
Development of simulator systems ( Matlab/Simulink) for easy survey of system behaviour over various scenarious and parameter variations
Interaction with designers (SW, electronics, mechanists, and /or chemists) to ensure optimal product design.
ELECTRONIC DESIGN
Some of the services the company offers are:
Environmentally challenged products development, containing analogue and digital circuits
Development of control-, servo- and measuring systems
Construction of electronic solutions and circuit cards using the latest development tools
Devotek use CADSTAR scematic tool and PCB software
EMBEDDED DEVELOPMENT
Hardware development
32/16/8 bit microcontroller and processor design
Soft core processors
System on chip
FPGA
DSP
Embedded system sensor interface design (analog / digital)
Temperature
Pressure
Acceleration (G-force)
IMU (intertial measurement unit)
Torque
Stretch
Position
Humidity
Light intensity
Custom sensor interfaces
Actuator interfaces
Electrical
Hydraulic
Servo
Embedded Linux
Windows CE
Windows XP embedded
RTOS
CAN bus nodes and masters
Embedded TCP/IP & UDP/IP
Hart bus
Current loop interfaces (4-20 ma) to embedded systems
Schematic design
PCB design
Ruggedization
Extended temperature
Software development
C / C++ code development
Model driven Development (UML/SDL)
Project lead / mentoring
Debugging
Testing
Software testing
Test suites
Test lab
Logging
Log analysis
Improvement of customer test processes
Training
Model driven testing
MQtool
Prototype to measure user experienced quality
Independent benchmarking and quality measurement
Analog and digital modem testing
Telecom network architecture and e2e solutions
Embedded GSM, GPRS, UMTS modem design-in & implementation
GPS for embedded systems
Plan, evaluate and optimize network architecture
Develop, test and troubleshoot end-to-end solutions in mobile networks
Competence and services within GSM and UMTS data communication
Embedded web servers and applications
Embedded data streaming and embedded data logging solutions
SYSTEMS ENGINEERING
An effective way of doing product development and engineering to make sure that:
The customer gets the solution he expects
At the expected time
At the expected cost
Devotek provides systems architects to manage the systems engineering process:
Understand and validate the problem and the need of the customer
Establish the most feasible concept for the solution consistent with the needs
Develop and implement the architecture of that concept
Develop the assembly structure of that architecture
Test and integrate the assembly structure
Document everything sufficient to support the development phase, the maintenance phase, midlife updates, etc.
Devotek do complete customer projects by tailoring the SE process to the reality of each project.
Devotek counsel customer projects accordingly
Devotek offers courses in Systems Engineering
MECHANICAL DEVELOPMENT & DESIGN
The company's mechanical designers have a broad experience within different branches and products. The company focuses on that already in phase of construction the later phases as production, test and validation shall be taken into consideration
Some of the services the company offers are:
Mechanical construction and design, 3D by using tools as ProEngineer, Ideas, NX, SolidWorks

Development of dynamic systems

Design of hydraulic solutions

Electro motor actuation

Gear design & optimalization (KISSoft)

Kinematics' validation & optimalization

Industrializing, preparation for serial production

Take out of production drawings

Configuration management and document control (Teamcenter)
TEST & MEASUREMENT
Product validation, testing and measurement
Devotek has a well equipped test lab with test engineers beeing able to cover a wide specter of diciplines. In addition to internal resourses, we work in cooperation with external test houses. Devotek has a wide knowledge of National Instruments software and hardware. Its temperature chambers can be rented for short and longtime tests.
Typical test categories:
Temperature,humidity and salt mist tests

Durability tests

Vibration tests

Support on existing test systems

Instrumentation of installation

Development of test rigs

Field testing and instrumentation

Prototype and small series testing
A description of most used test equipment:
Temperature and humidity testing
6 temperature chambers (-40 +180°C) from ACS, Weiss and Vøtsch
1 humidity & temperature chamber (-40 + 180°C)
PC controlled by Winkratos + Simpati software
Data aquisition and logger systems
National Instruments DAQ systems and software
Agilent
Micromusycs (IMC) portable logger
Famos curve manger and analysis tool
Sensors and transducers
Load cells
Moment transducers
Flow meters
Position sensors
Temperature sensors
MANUFACTURING
Kongsberg Devotek`s workshop and lab consists of machines for production of parts with high precision. The company does milling and turning. Additionally it can assist with construction, drawings, measurements.
From 3D model to complete finished part
By using EdgeCam the company can import 3D CAD models directly from constructor into its machines. Then the operator can simulate the production process and plan the use of tools. The data will then be transferred directly into the computer on the machines.
Other production
Assembly of internal manufactured parts
••Assembly of parts from customers
••Rapid prototyping
••Soft moulding
Measuring
Surface measurements
Mitutoyo Euro CNC controlled measurement robot
Mitutoyo Video microscope
Handheld micrometers
Precisionsveights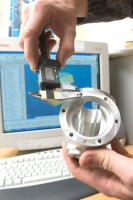 MACHINES FOR PRODUCTION
Examples of the machines and production equipment:
CNC Controlled Machines
Mori Seiki NMV 5000 DCG - 5 axis
Cincinnati Arrow 1000 – 4 axis
EdgeCam- with export to Pro E og Solid Works
CNC Controlled Turning Machines
Puma 4 akse + sub spindle
EdgeCam - with export to Pro E og Solid Works.
Measurement Lab
Equipment for surface measurements
Mitutoyo Euro CNC measurement machine
Mitutoyo Video microskope
Handheld micrometer
Precision weights
Temperature controlled lab
Other machines
Manual milling machines
Manual turning machines
Welding equipment
Advanced saws
CUSTOMERS / REFERENCES
Hernis PT-12
Badger Explorer
BAE Systems
Rotator
Coventure
SAAB Skeldar
Iveco
Devotek og Rotator er samarbeidspartnere
Aker Solutions/Aker MH
CRV7 - 70 mm Laser Guided Missile
Remote Weapon Station
RWS Protector
Lav Energi Aktuator, LEA
LuK ESG Hybrid DCT girsystem
Toyota SMT AMT
Automatisering av drivlinjer
Tanken som skal redde liv pa havbunnen
Automation of transmission lines
Typical applications:
Clutch features
Gearshift features
AMT's
DCT's
Hybridization by using hydraulics as well as electric actuator principles.
The company can offer assistance in all stages of the development process, from idea, through the prototype phase, the series clearly and fully qualified product. Devotek is a system developer, and automation of drivelines is the core of its expertise. Over the years, its customer range has been expanded to include almost all European and many Asian automakers: Toyota SMT AMT
How Devotek helped: Turn-Key development and Tier 1 supplier responsibility.
The result:
Proven market performance since 1998!
New evolutions being incorporated into future models
Low Energy Actuator, LEA
The Company's technical challenge:
To replace existing technology with a "hold-and-release" actuator for safety applications, with the following characteristics:
• be able to tighten up and be released again and again
• extremely low energy consuming
• extremely fast
What Devotek did:
• generated, evaluated and concluded that the concept
• Responsible for the design and production
• Responsible for qualification
• Testing of the product
Remote Weapon Station
Kongsberg Devotek has delivered "main Azimut gear" to the RWS.
Deliverables included:
Developing a backlash-free azimuth system with manual override
Complete mechanical design
Specifying the servo motor drivers, sensors and gears
Component Selection
Production and verification of prototypes
BAE-Haegglunds – Complete drive train development
SEP is a family of vehicles that provide superior survivability and a unique degree of flexibility to meet the needs of current and future forces around the globe. SEP was shown during the IDEX exhibition in Abu Dhabi (22 to 26 February 2009).
"The choice of Kongsberg Devotek as a result of a long search for good partners for the SEP program to benefit our customers," says Hans Häggberg, purchasing director at BAE Systems Hägglunds. "We have a long and positive experience in. cooperation with Norwegian industry, so this partnership lays a strong foundation for continued success, so that we can exploit our people, products and technology worldwide to meet our customers' needs. "
Military forces around the world will benefit from the SEP. The vehicle is far ahead of their competitors in innovation with a focus on low costs in its lifetime.
Badger Explorer
Kongsberg Devotek has assisted Badger in the development of a concept for exploration of the seabed. Through this work it has faced great challenges and Devotek is proud to be part of this epoch-making team.
Devotek AS
PO Box 384, NO 3604, Kongsberg, Norway
+47 90 77 04 00
Kjersti.Engen@semcon.com