Last Update
April 4, 2018
Categories
Composites, Plastics & Rubber
Metal Processing, Parts & Components
Dutch-Shape is a preferred partner for tooling solutions or complex large precision parts, both now and in the future, all over the world. Together with their customers the Company ensures a top result for every job, from co-engineering through manufacturing to timely delivery.
Dutch-Shape business philosophy is based on providing the best tooling solution for customers' shapes, through their:
Dedicated project management
Emphasis on quality management
State-of-the-art production facility
Investment in know-how and innovation
Long term customer partnerships
This gives customers the best possible product with:
Excellent value-for-money
Short lead times
Flexibility
A turn-key supplier
ISO certified
Dutch-shape BV is registered to ISO 9001-2000 certification and holds many aerospace customer quality accreditations including:
The Boeing Company
Airbus Industries
Fokker Technologies
Facc
Specifications
Dutch-Shape delivers to specifications according to:
EN-ISO-9001:2008
3D Measuring:
CMM 4.000mm x 2.000mm x 1.500mm
Lasertracker (R=15 meter)
Metrologic® Measurement Software
Hexagon PC-DMIS Measurement Software
3D measuring
Dutch-Shape uses lasertracker for in-process and certification measurements of their products. The Company uses Metrologic© software for analysis and reporting. Products within a 15 meter radius can be measured within 0.05 mm of accuracy. Dutch-Shape uses also Gantry CMM for sizes up to 4 x 2m for in-process and certification measurements of their products, where a laser tracker is not accurate enough. Dutch-Shape uses PC-DMIS software for analysis and reporting and are able to measure within 0.002 mm of accuracy.
Aerospace Tooling
Dutch-Shape has developed several tooling solutions specifically for composite products. The Company designs tooling optimized for efficiency of heat-up/cool-down rates, spring-back behaviour, accuracy and weight.
Tools are made from the best suitable and/or most economical materials, such as INVAR, or if possible from less expensive materials like steel, aluminium or carbon. They are milled out of billets or from formed sheets with egg-box frames. The Company can guarantee a minimal variation in wall thickness, to optimize the thermal behaviour of the tool.
Tools To Create Shapes
Dutch-Shape is known for its quality to create shapes. To create shapes the Company makes lay-up tooling, vacuum infusion tooling and resin transfer mould tooling all for composite parts. They also design and produce bonding tooling for aluminium and glare parts or stretch tooling for aluminium. Above all Dutch-Shape is specialised in making INVAR tooling.
Examples of tools to create shapes are:
Stringer lay up tooling
Flap lay up tooling
Spar lay up tooling
Fusilage section tooling for glare and composites
Trim Tooling
Dutch-Shape designs and manufactures tailor made holding fixtures for every imaginable secondary operation on parts or sub-assemblies. Examples of delivered fixtures are:
Trimming fixtures for NC-milling or water-jet operation.
Drilling fixtures
Bonding fixtures
(Laser) welding fixtures
Dutch-Shape's solutions for trim tooling vary from very simple to complex tooling, with (semi)automatic handling, hydraulic, pneumatic or electric operations. Dutch-Shape delivers the optimal solution based upon customers' operational requirements.
Assembly Tooling
Dutch-Shape designs and manufactures tailor made assembly tools for every possible assembly operation. Tolerances of parts, pre- or subassemblies and assemblies get smaller every time. Dutch-Shape is very experienced in analyzing tolerance chains, to optimize the best achievable results. Examples of delivered assembly fixtures are:
Tools to assemble doublers and stringers on skins
Tools to assemble several skins to a section or sub-assembly
Tools to assemble complete composite movable wing parts, using welding for composites
Tools to assemble metal stringers on a skin using laser welding
Inspection Tooling
Dutch-Shape design and manufacture tailor-made inspection tools for inspection of parts, subassemblies and assemblies. These tools can be used as a reference base for inspection of 3D parts on CMM machines or other measuring devices.
Automotive Tooling
For the automotive industry, Dutch-Shape designs and manufactures fixtures and jigs for the inspection of production parts. This can be for metal parts or for plastic components. The inspection fixtures are used for production control of the just-in-time delivered parts. Being measuring devices, they are very accurate and are certified. Furthermore they produce prototypes in aluminium or clay from sections or complete vehicles, up to 1:1 scale.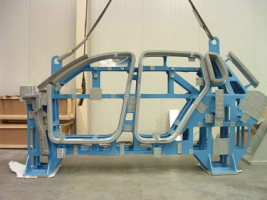 Complex Structures
Dutch-Shape specializes in 3D shapes, complex and/or large constructions or difficult-to-machine alloys like nickel steel, titanium or armoured steel. For example machining of armoured steel parts for the defence industry, machining of wind-tunnel models, parts for the marine industry or high accuracy frames for the chip industry.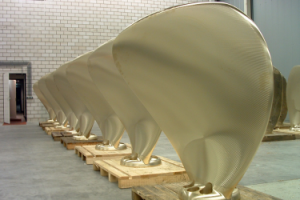 Engineering
Engineering is the Company's base for their production and quality control. Dutch-Shape's engineers use extensive design and programming facilities such as CATIA V-5 for 3D design and analyses including FEM. Part of their products are engineered using Automated Tool Design and CNC Programming. Dutch-Shape keeps up with the latest production technologies that their costumers apply for composites and aerospace parts. The Company's engineers are experienced in autoclave processes, RTM, injection moulding and SMC.
Project Management
Dutch-Shape has enhanced specialised capacity to meet customers' standards. With their solutions the Company establishes new concepts for tooling that meet the highest demands to make customers' products.
Dedicated project management
Engineering in CATIA V5
Work to customer standards
Development of new concepts for tooling
Working together with partners
Cost-effective for customers
High Accuracy CNC Machining
In their facility Dutch-Shape maintains an extensive range of state-of-the-art manufacturing equipment, both multi-axis CNC and manual support equipment. Parts up to 12 meters can be machined with high accuracy on their high speed 5-axis machines. All machinery is included in a regular laser calibration programme.
Projects
Some of the projects that Dutch-Shape has concluded successfully over the years include:
Complete tooling for skin and wing section for the Airbus A380 and the military Transporter A400M.
Lay-up and trim tools for the F35/JSF from Lockheed Martin.
Complete tooling for de composite Tail in one piece (15 x 5 meter) for the ultra modern Gulfstream 650 Business Jet.
Lay-up and trim tools for the B787 Dream liner and the B747-800.
Dutch-Shape B.V.
Walserij 3, 7621 HC, Borne, The Netherlands
+31 (0)74 74 100 10
info@dutch-shape.nl