Last Update
July 18, 2022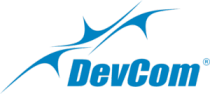 Categories
Electrical, Electronics & Electro-optics
IT, Computing and Software
Maintenance Repair Overhaul and Logistics Support
Mechanical, Electro-mechanical, Hydraulic and Pneumatic components
Services (R&D, training, engineering, consultancy, …)
DevCom spol. s r.o., specialises in the development and manufacturing of onboard analogue/digital instruments, converters and displays for avionic data presentation. The company provides also services connected with the provision of automation and control technology, from the consultation, design, supply, implementation, testing and trial operation to after-sales services and training service personnel adequately to the supplied equipment and requirements of the customer.
Contact info #1
Peluskova 1402, 19800 Praha 9, Czech Republic
LUN1793 Avionic display
The LUN1793 unit is designed to display avionic data from digital serial interfaces (such as RS422, ARINC 429) in alphanumeric format.
All parameters are displayed on a four-row display. It is possible to display up to 12 alphanumeric or graphical symbols in each line. Every position consists of a matrix of 5x7 pixels (the height of this matrix is 4 mm, green color). The LUN1793 unit is compliant with the Night Vision standard. Sensors for brightness auto-adjustment are also build in.

More screens for paramter display are available, two buttons on the fron of the unit are used to switch between different screens and to perform basic setup. The first screens displays seven parameters.
LUN1794 Synchro/Resolver to Arinc Convertor
The converter is used to convert voltage signal levels from selsyns or resolvers to a digital value corresponding to the angle measured. The digital value is broadcasted on the ARINC bus.

The device has three channels (3x - XYZ, 3x - reference phase) and for each channel it is possible to set the type of input signal synchro/resolver. A logical signal informing about the validity is attached to each channel.

The converter is also capable of performing self-diagnostics; it monitors supply voltage level and input signal or its validity. If an error is detected the converter halts and signalizes error.

There are no control options on this device.
LUN1792 Analog-to-Analog Converter
The LUN1792 unit is designed for conversion of analog signals. Special algorithms are used to convert from one type of analog signal to another. The unit is has two separate channels, on the input it also has a two channel switch. A logical signal is added to the output to inform about the validity of the output. There are no control options on the unit.
Arinc Transceiver
The device is used for monitoring and testing of the ARINC429 bus. It contains both the receive and transmit ARINC interfaces. This makes possible reception up to 100 packets and transmission of up to 32 packets simultaneously with resolution of 5 ms.
Other than ARINC interface a full duplex RS485/RS422 communication interface as well as RS232 service port are available.
The device can be powered from an external power source or from an internal battery pack. When the device is plugged to an external power source (connector is easily accessible on the left side) internal batteries are automatically charged.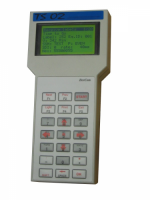 Industrial computers
The company offers customers all services connected with delivery of control and automation technology from consultation, design, implementation, testing up to waranty service and personel educations. The products can be used almost in all technological processes when there is a need for control, regulation, data acquisition - mainly in single purpose machine control. Other possible areas are energetics, heating, water industry, air technology, car industry and many others.
DevCom's offers are strictly based on customers demands and on a specific use. Because of this we offer consulting services that allows customers to reach the optimal price-quality ratio in their projects.

Main activities of the company are customer-tailored projects and sub-suppliying to major companies.

Devcom s.r.o. cooperates with many companies and also with technical universities (CTU Prague) mainly in the research and development area.

DevCom produces and provides own components, like IO modules, control terminales from line TS , operators / info panels and single-boards operative computers INGENIA. Single-boards computers in succesive steps replacing VME., which were in DevCom produced and used. Next components are in accordance or wishes with our customer and solvented by cooperation from renomated producers. Operation systems are primary Embedded Linux eventually Microsoft Windows.

Visualization is supported by standard tools, like OPC servers, SCADA HMI and many others. Specification requirements we are doing by visualization applications. They are made-to-measure of our customer.

Useful of our products is practically in all technologies and processes with needed of automation, regulate, take control of it, extract datas and informations etc., especially in spheres of process controlling of single purpos units (machines), continuing in energetics, heating industries, water industries, air conditioning, car industry and in other and other industries like process of technological automations, production lines etc.

By offering and distributing of control system we thoroughly appearing from wishes of our customer and from requirement of data-directed process. That´s why belongs to our service consultations which enables to customer in good period of project to choose required parameters of operating system so that will be the best proportion of function and price.

The main activities of DevCom company are realized by form of distributions "on key" or by form of subdistributions for renomated companies (general producers).

DevCom cooperate with many Czech producers and universities (ČVUT Prague) in first place in section of research and development.
Car diagnostic devices
TSPro

The TSPro diagnotic device is designed for serial diagnostics of vehicles equipped with a diagnostic capability. It can handle many functions, such as reading and clearing error codes, parameter reading, actuator tests. Apart from serial diagnostics the device is capable of performing parallel diagnostics using a build-in oscilloscope with up to 4 channels.

TS02 - diagnostik

TS02 is our previous model of a diagnostic device for serial diagnostics of vehicles equipped with a diagnostic capabality. It can handle many functions, such as reading and clearing error codes, parameter reading, actuator tests
SMD part placement
Since August 2007 DevCom offers SMD part placing on PCBs in dimensions up to 300 x 400 mm on the FLX2010 Pick & place machine.
This machine brings high accuracy and speed to SMD part placement with maximum part dimensions 50 x 50 mm. Laser centering of the parts (important especially for BGA packaged chips), bringing great accuracy to SMD component placement, is installed on the system.
Vapor soldering for PCBs
The SV 260 soldering unit is a modern device for vapor soldering for PCBs with largest dimensions 300 x 260 x 80 mm. Vapor soldering is especially well suited for BGA packaged chips.
DevCom spol. s r.o.
Božanovská 844/10, 19300, Prague, Czechia
+420 28486 0938
+420 28486 0095
info@devcom.cz