Last Update
August 6, 2020

Categories
Metal Processing, Parts & Components
INMAGRAF INGENIERIA, is a Colombian company located in Cali and dedicated to the manufacture, technical maintenance and grinding of industrial blades and rollers.
INMAGRAF INGENIERIA specialises in the sharpening of all types of blades: straight, circular and toothed blades in different materials from standard steel to tungsten carbide. When required, INMAGRAF offers technical assistance and maintenance services to their clients to guarantee the maximum performance of the products.
The Company manufactures axles and rollers and offers recoating services in different elastomers (Natural, Nitrile, EPDM, Neoprene, Silicone and Hypalon) in Shore A Hardness (between 20-100 degrees).
INMAGRAF INGENIERIA, has more than 15 years of experience in the sector and is widely recognized in the South West region of Colombia. In its own facilities in Cali, the Company is equipped with high end technology and a qualified workforce dedicated to the design and manufacture of high quality industrial solutions.
MISSION
INMAGRAF INGENIERIA specializes in the manufacture, maintenance, sharpening and grinding of all types of blades in different types of materials with the help of a human personnel competent and committed to its work. INMAGRAF has achieved a relationship of mutual commitment with its customers and employees by providing continuous support in the development of the client's company, ensuring at the same time the continuous improvement of processes and optimal performance.
Contact info #1
Javier Francisco Ferrer Suarez
+57 2 443 8312 +57 2 438 1383
Cra 1A No. 30-45, Cali, Colombia
Knife Sharpening Services
INMAGRAF INGENIERIA offers knife sharpening services for circular blades, as well as blades up to 4mts long.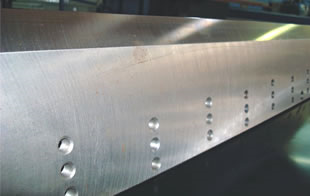 Blades & Dies
INMAGRAF INGENIERIA manufactures high quality products in different materials for the plastics, paper and cardboard, wood, metalworking, steel, food, pharmaceutical and textile industries, among others, such as:
• Straight and circular blades,
• Serrated blades for cutting and pre-cutting processes,
• Blades for mills and sprayers,
• Die cutters,
• Corrugated blades for cutting paper and cardboard,
• Transverse, lateral and trilateral blades,
• Bimetallic guillotine blades,
• Blades for cutting sheets,
• Blade shears,
• Circular razor slitting blades,
• Blades for meat and food processing,
• Blades for cutting pharmaceutical packages,
• Sealing plates,
• Punches.
Machinery
INMAGRAF INGENIERIA is equipped with high end machinery for the manufacture of blades and dies, namely:
• CNC machinery with 4th axis,
• CREMONA honing Machine - Unique in Colombia, 6 Mts,
• Sharpener machine of the brand Reform, 3 Mts,
• Sharpener machine of the brand Hanchet, 3 Mts,
• Special tool grinder,
• Surface grinder,
• Grinding machine of the brand PROTH.
Inmagraf Ingenieria S.A.S.
Cra 1A No. 30 45, Cali, Colombia
(57-2) 438 1383
+57 2 438 1383
admon@inmagraf.net