Last Update
August 22, 2019
Categories
Metal Processing, Parts & Components
TRATAR S.A., was established in Medellin in 1983 as a new company after 15 years of being the heat treatment department of ASTECO, a distributor of Uddeholm Swedish steel, in Medellin.
TRATAR is a commercial heat treatment company that specializes in:
Stress relieving services,

Tempering services,

Carburizing services,

Martempering heat treatment,

Steel hardening services,

Normalizing heat treatment,

Carbonitriding heat treatment,

Austempering services.
History
In 1965, ASTECO S.A. - Technical Industrial and Commercial Association S.A., a company that markets Swedish steels in Medellin, saw the need to import a salt bath and a tempering furnace for hardening activities with the purpose of offering post-sale services to its clients.
Between 1968 and 1976, the Company acquired additional equipment as a result of the growing demand of the market. In 1976, the Company expanded into a 700m2 plant, with the support of a Spanish contractor, ideal for the manufacture of a whole new line of controlled atmosphere furnaces for heat treatment.
By 1983, the Company had positioned itself in the market in such a way that the plant operated 24 hrs a day, 7 days a week and was then decided for it to become independent under the name TRATAMIENTOS TERMICOS S.A. - TRATAR.
Following this transformation, in 1989 the plant in Medellin was expanded and in 1997 a new plant was built in Bogota. Both ranked among the most modern engineering plants in Latin America.
In 2004, TRATAR initiated operations at its galvanized heat treatment plant in Bogota.
In 2009, TRATAR S.A. opened a new heat treatment plant in Lima, Peru.
Nowadays, TRATAR S.A. specializes in the provision of plasma nitriding heat treatment services with equipment designed and manufactured in Colombia and with the support of Colciencias.
Mission
TRATAR is a Company dedicated to offering heat treatment and electroplating services on steel and non-ferrous metals, as well as the design of mechanical parts for the general industry.
Vision
TRATAR S.A. aims to maintain its position as a leader in the provision of heat treatment services in Colombia and establish its presence in the Latin American market. The Company aims to be at the top of the list in relation to technological advances in the electroplating market in Colombia and continue to be a great option for customers who request for high quality engineering services.
ISO 9001:2000 Quality Management Certification: Since 1999, TRATAR S.A. was certified under ISO 9001:2000 Quality Management System for the services of heat treatment, galvanization, manufacture and distribution of mechanical parts to the general industry.
Contact info #1
andresbernal@tratar.com.co
Calle 29C # 53-23, Medellin, Colombia
Heat Treatment Services
TRATAR S.A specializes in heat treatment services for any type of steel and non-ferrous metals. The Company is equipped with fluidized beds and controlled atmospheres linked to PCL systems and computers for the strict control of all the parameters that intervene in the process, such as the composition of the atmosphere, the temperature, the gas fluxes, the applied electrical charge and the time of sustainment.
Heat Treatment:
Continuous: Tempered-Annealing-Normalizing,
Isothermal: Martempering-Austempering.
Thermochemical Treatment:
• Carbon Restoration,
• Carburizing,
• Pulsed plasma Nitriding and nitrocarburizing,
• Salt bath Nitriding,
• Austenitic Carbonitriding.
Plasma - ION Nitriding:
TRATAR S.A. has implemented a new 100% environmentally friendly process, plasma - ION nitriding, which provides high resistance to wearing and corrosion and has a low friction coefficient.
Advantages:
• Zero deformation,
• Increases resistance to fatigue,
• For materials up to 700 mm in diameter and 1500 mm in length.
Electroplating Services
TRATAR offers electroplating services as follows:
Nickel Electroplating: Nickel electroplating is a technique of electroplating a thin layer of nickel onto a metal object. The nickel layer can be decorative, provides corrosion and wear resistance or is used to build up worn or undersized parts for salvage purposes. The Company uses cutting edge technology that allows to deposit nickel directly on the part guaranteeing the adherence of the coating.
Chrome Plating: Chrome plating is a technique of electroplating a thin layer of chromium onto a metal or plastic object. The chromed layer can be decorative, provide corrosion resistance, ease cleaning procedures, or increase surface hardness.
Zinc Plating: Zinc coatings prevent oxidation of the protected metal by forming a barrier and by acting as a sacrificial anode if this barrier is damaged. Zinc oxide is a fine white dust that, in contrast to iron oxide, does not cause a breakdown of the substrate's surface integrity as it is formed.
Blue Zinc Plating: Commonly known as galvanization, the most used zinc plating process. This process creates a blue-silver finish and is aimed for decorating purposes while providing great corrosion resistance at the same time.
Industrial Knives & Tools
TRATAR supplies industrial knives and tools to the paper, plastics, metalworking and food industries. This business line incorporates the technology of high quality, custom-made machine components to wear resistant castings. Among the tools offered, are also liners, sterns and dummy blocks for metal extrusion processes.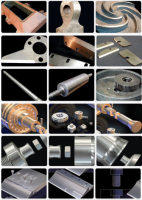 Specialized Equipment
TRATAR is equipped with specialized heat treatment and machining equipment, such as:
• Controlled atmosphere furnace - Heat treatment equipment,
• Fluidized bed furnace - Steel heat treatment,
• Rotary retort furnace - Heat treatment of small parts,
• Air recirculating chamber furnaces - Tempering,
• Ion and plasma nitriding equipment,
• Flat grinding machine - Tangential surface grinding,
• Cylindrical grinding machines,
• Chevalier CNC surface grinder,
• Wilson hardness tester - Measurement of hardness in different scales,
• Wilson microhardness tester,
• Stereoscopic microscopes,
• Buehler metallographic microscope - Metallographic analysis of materials,
• Buehler microhardness tester - Measurement of microhardness,
• Image analyzer software,
• Durometer - Measurement of hardness in different scales,
• Alpha hardness tester - Measurement of hardness in HRC scale,
• Ascot salt spray chambers,
• Coating thickness gauge,
• Rosler vibrators,
• Sandblasting cabinet,
• Rectifiers.
Tratar S.A.
Calle 29C No 53 23, Medellin, Colombia
+57 4 265 8382