Last Update
July 20, 2016
Categories
Mechanical, Electro-mechanical, Hydraulic and Pneumatic components
Metal Processing, Parts & Components
KNO INGENIERIA LTDA., is an engineering company founded in 1993 in Cali, Colombia. The principal business and corporate purpose of the company is the manufacture and sale of parts for the metalworking and agribusiness industries.
KNO INGENIERIA LTDA. specializes in the production and repair of metallurgical machinery for the construction of mechanical parts, special welding applications, such as TIG, MIG and SMAW welding machines, as well as electromechanical machinery design optimization and process automation.
KNO INGENIERIA LTDA. is aiming at obtaining ISO 9001 version 2000 Quality Management Certification, for the construction and repair of all kinds of machinery and industrial parts, in order to gain greater credibility and increase customer confidence.
KNO INGENIERIA LTDA. is equipped with a specialized team trained both physically and operationally, with an extensive experience in the metalworking field and particularly in providing milling, grinding, hydraulic press, drilling, welding, casting and all kinds of services related to industrial mechanics.
MISSION
KNO INGENIERIA LTDA.'s mission is to offer industrial equipment maintenance and repair services for the manufacturing sector of Southwestern Colombia. The company has targeted the food, chemical, pharmaceutical and agribusiness sectors and uses efficient metalworking processes based on the appropriate technology, that together with technical expertise and personalized services ensure high product quality, good prices and timely deliveries.
VISION
KNO INGENIERIA LTDA.'s vision is to be recognized in the market as a company, capable of providing accurate and reliable services, able to meet customer expectations and apply systematic methods for the continuous improvement of processes.
QUALITY POLICY
KNO INGENIERIA LTDA.'s quality policy is the continuous improvement of the effectiveness of its quality management system and processes, in order to offer products that meet quality standards and satisfy customer expectations.
Contact info #1
carlosk@knoingenieria.com
Carrera 11D No 33F-34, Cali, Valle, Colombia
Specialized Services
KNO INGENIERIA LTDA. provides specialized services, such as machining, die cutting and electrostatic painting services. All processes are performed according to the needs and requirements of each individual client of the food, sugar, cement, automotive, pharmaceutical, agribusiness, supermarket and winery sectors.
KNO INGENIERIA LTDA. serves all kinds of industries, implementing fast and effective solutions, such as:
The restructuring of industrial machinery,

The manufacture and repair of spare parts,

The design and manufacture of industrial machinery.
Spare Parts
KNO INGENIERIA LTDA. manufactures spare parts for centrifuges or vacuum pumps in different materials, such as cast iron, carbon or stainless steel and aluminum, using two manufacturing processes: casting and machining. The designs are specific and depend on the type of equipment. The company also manufactures spare parts for power transmission systems, such as bolts and spur gear pinions, made of steel and heat treated for long tool life. Pinions are constructed in different materials such as steel, bakelite, bronze and aluminum.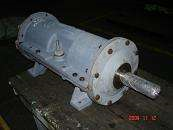 Industrial Maintenance
KNO INGENIERIA LTDA. manufactures and sells parts and hardware products for the metalworking and agribusiness industry as well, such as:
For storage and display:
Sliding drawers,
Light duty shelving,
Multifunctional shelves,
Gondolas for supermarkets,
Payment desks,
Shelf brackets,
Display cases.
Hardware Products:
Hinges omega,
Integrated caster wheels,
Pivot hinges,
U Rails,
Rail closets,
Closet casters,
Shelf brackets,
Hanging sliding door wheels,
Door guides,
Kitchen hinges.
Specialized Machinery
KNO INGENIERIA LTDA. is equipped with specialized machinery, such as:
Lathing machines,
Milling machines,
Welding equipment,
Power saw 18",
250 ton hydraulic press (vertical),
550 ton hydraulic press (horizontal),
Cylindrical grinding machines,
Drilling machines,
Oxyacetylene welding machines.
Human Resources
KNO INGENIERIA LTDA. employs highly qualified and experienced personnel in terms of production, training and motivation.
Clients
KNO INGENIERIA LTDA.'s most distinguished clients are:
Ingenio Manuelita S.A.,
Imecol,
Cementos Argos S.A.,
Ingenio del Cauca S.A.
Kno Ingenieria Ltda.
Carrera 11D No 33F 34, Valle del Cauca, Cali, Colombia
+57 2 443 6522
+57 2 (92) 443 6123
info@knoingenieria.com