Last Update
November 13, 2019
Categories
Electrical, Electronics & Electro-optics
Mechanical, Electro-mechanical, Hydraulic and Pneumatic components
Metal Processing, Parts & Components
DE LAPICES A COHETES, was established in 2006. It is a design firm, dedicated to assist clients in product development and innovation driven projects in terms of design, engineering and investigation.
The Company's team, consists primarily of Product Design Engineers who thanks to their studies and experience in the design and engineering projects have gained the ability to manage multidisciplinary projects in the science sector.
MISSION
DE LAPICES A COHETES aims to solve problems through integral design solutions with a high degree of innovation and quality from a technical, aesthetic, functional, environmental, productive and secure point of view, taking into account the client needs in national and international markets.
DE LAPICES A COHETES counts on the support of a pool of professionals that complement them with their knowledge in different design processes. Passion, compromise and responsibility are key elements that are always present and combined with team work can offer innovative and high quality solutions. Because of market competition, companies have to differentiate themselves to be successful. Innovative project development is a key strategy to achieve this.
ADVANTAGES
• Project management experience,
• Creativity and innovation,
• Working together with the company as a team,
• A outside point of view,
• Interdisciplinary skills in integral projects,
• Optimisation of products by reducing production costs and applying design tools (Design for X),
• Freeing companies from having an in-house R+D department,
• Increase of sales through product improvement, having in mind the requirements of the company and the client,
• Improvement of the reputation of the client company though the provision of high quality services.
Contact info #1
proyectos@delapicesacohetes.com
Cra. 37 No 8A-96, Medellin, Colombia
Contact info #2
proyectos@delapicesacohetes.com
Cra. 37 No 8A-96, Medellin, Colombia
Design Services
DE LAPICES A COHETES increases companies' sales by developing feasible products of excellent quality, high innovation and appropriate for consumers, combining the following elements:
• Material science and manufacturing processes.
• Reduction of costs and manufacturing times.
• Aesthetics – ergonomics – context – user.
In project development the company offers the following services:
• State of the art research & development.
• Design (shape, mechanic and electronic) services.
• 3D modelling using CAM/CAE software.
• Design and technical drawings.
• Manufacture of specialized prototypes for small production batches.
• Product testing (function, impact, chemical, physical characteristics, etc.).
• Exploratory market research.
• Management and setting up of products/projects.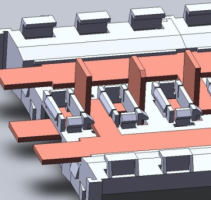 Core Equipment & Capabilities
DE LAPICES A COHETES is equipped with advanced machinery, such as:
• MIG Welding Machinery,
• Grinding Machinery,
• CAD, CAM, CAE software, among others.
Projects & Clients
During the past years, DE LAPICES A COHETES has carried out projects for entities and companies, such as:
• AUTODESK,
• MFG.com,
• Virtual Engineering,
• GREEN ENGINEERING & CONSTRUCTION,
• The Colombian Air Force,
• Industrias Estra,
• EAFIT University,
• Enmedio S.A.
• POSTOBON,
• ARGOS
• MINEROS S.A.
• GRAN COLOMBIA GOLD,
• NUTRESA,
• PARQUE EXPLORA,
• UMEDIA
• CONTROL SISTEMATIZADO,
• SEKI,
• IDEAS TECNICAS,
• ITALCOL
• TERCOL,
• COLOMBIANA DE COMERCIO S.A.
• EN MEDIO,
• TRATAR.
The Company has also collaborated with companies abroad such as Virtual Engineering and MFG.com for the development of an open source CNC milling machine, produced using local materials and processes.
De Lapices A Cohetes
Cll. 2 No 66–45 Barrio Mayorca, Medellin, Colombia
+57 (4) 5 89 86 32
proyectos@delapicesacohetes.com