Last Update
July 22, 2016
Categories
Metal Processing, Parts & Components
PROYMET LTDA., is a Colombian company located in Bogota and specializing in surface engineering services. The enterprise develops high-performance surface coatings with the use of thermal spray technology, namely plasma, HVOF, arc, powder and wire spray coating services.
PROYMET LTDA.'s coatings guarantee wear resistance and low friction and the coating materials are applied with the use of thermal spray systems in order to achieve the best properties in terms of quality and service life.
PROYMET LTDA. helps process industry engineers increase performance of manufacturing or operating equipment by treating critical mechanical components with high-tech coatings. The Company develops many industrial solutions to control wear processes and guarantee surface performance and dimensional restoration.
The Company's services can be applied to a wide range of business sectors, including the aeronautical, power generation, textile, plastic, paper, and food sectors.
Contact info #1
Carlos Hernando Sierra Duenas
Calle 70B 56B 23, Bogota, Colombia
Plasma Coating Services
PROYMET LTDA. offers high quality plasma coating services on ceramics, such as alumina and alumina titania ceramics, metal alloys, such as steel, Ni-Cr alloys and Ni-Fe alloys, as well as pure metals, namely, moly, copper, aluminum, and nickel cermets.
HVOF Coatings
PROYMET LTDA. specialises in HVOF coating services on materials, such as tungsten carbide, chromium carbide, Ni-Cr alloys, moly alloys, metal alloys and Cermets.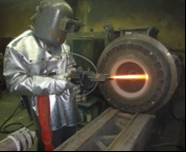 Powder Flame Thermal Spray Process
PROYMET LTDA. specialises in powder flame thermal spray services on materials, such as Ni-Graphite cermets.
Wire Arc Spray Coating Services
PROYMET LTDA. offers wire arc spray coating services, on materials, such as steel, bronze and carbide alloys.
Plastic Coatings
Engineering plastics infused in ceramic, carbides and nickel alloys. Many plastic types are infused: FEP, PFA, PTFE, ECTFE S, POLYESTER, PEEK and POLYAMIDE 11.
High Performance Coatings
PROYMET offers high performance coating services with the application of HVOF, plasma, twin arc, powder spray and wire flame thermal spray coating technologies. The Company's technology provides protection against wear control, corrosion and chemical attacks and allows for high surface performance, among others.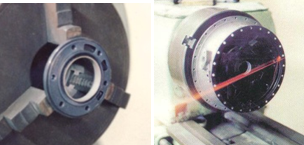 Product informational files
Machine Park
Among PROYMET's machine park are:
• Cylindrical grinding machine, Ø 700 x L 2550 mm,
• Lathes, 650 x3000 mm,
• Super finishing machine,
• Turntable machine,
• Arc welding machinery,
• Fuse welding machine,
• Heat treating oven (550 ºC),
• Hydraulic press,
• Grit blasting cabinet,
• Air compressor,
• Roughness meter,
• Hardness tester,
• Thickness tester.
Projects / Clients
GRUPO ENDESA S.A. - HVOF coatings for hydraulic turbine parts.
KIMBERLY CLARK - Low friction and non-stick coatings.
ENKA DE COLOMBIA - Ceramic coatings for textile fiber processing.
ECOPETROL - HVOF and ceramic coatings.
HELICENTRO - Aeronautical coatings.
Proymet Ltda.
Calle 70B 56B 23, Bogota, Colombia
+57 1 311 9120, +57 1 250 6517
+57 1 311 9120
servicio@proymet.com