Last Update
July 31, 2020
Categories
Electrical, Electronics & Electro-optics
Mechanical, Electro-mechanical, Hydraulic and Pneumatic components
INDUSTRIAS ONAR LTDA., is a company that offers comprehensive electrical solutions, seeking customer satisfaction by offering products and services that meet customers' needs in terms of quality, price and delivery. The Company has the support of strategic partners, such as Schneider Electric, ABB, WEG, and other prestigious companies for the provision of comprehensive electrical solutions.
INDUSTRIAS ONAR LTDA., is a Colombian company founded in 1983, and initially dedicated to the manufacture of electronic equipment. During the last 10 years, the Company has dedicated itself to the manufacture of electrical panels of low and medium voltage, with wired logic or programmable logic controller (PLC) and web applications that allow customers monitor their industrial plants from anywhere in the world.
Today, the Company has a 1,000 square meter manufacturing and panel assembly plant, located in Bucaramanga, Colombia.
MISSION
INDUSTRIAS ONAR LTDA., specialises in electrical engineering and the development of automation applications, as well as equipment designed to comply with international quality standards.
VISION
The Company aims to become a leader in the region in the marketing of electrical and automation solutions, using the latest techniques and the most qualified human resources for the development of its projects.
QUALITY POLICY
INDUSTRIAS ONAR LTDA., focuses its efforts on meeting customers' needs and expectations for high quality products and services, with the application of standardized processes and the support of an adequate infrastructure, qualified suppliers, and a competent and committed team of professionals oriented towards the continuous improvement of processes.
In 2004, INDUSTRIAS ONAR LTDA. obtained the ISO 9001:2008 Quality Management Certification by SGS, as a proof of its desire to constantly improve its processes and services.
Contact info #1
Carrera 11 No. 1A - 16, Bucaramanga, Colombia
Synchronization Systems
INDUSTRIAS ONAR LTDA. develops synchronization systems that control generators allowing them to function in parallel by sharing the electric load in the electrical isolated area, or by being connected to a commercial network assuming part of the network load.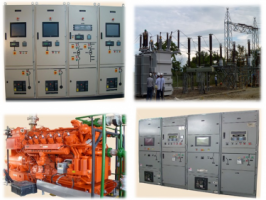 Compartmentalized Cells for Secondary Distribution Networks
INDUSTRIAS ONAR LTDA. designs and develops secondary network distribution metal clad cells with fixed or exchangeable circuit breakers of the ABB series, as well as Schneider Electric switch gear for voltage ranges of 17.5-36 KV, 25 KA.
The Company can design and implement the control and protection scheme under client's request, supported mainly by protection relays of the brands (Beckwith, Sepam, THYTRONIC, Ge. Fanuc and ABB), in combination with PLCs, if necessary.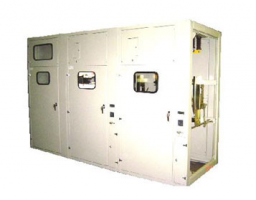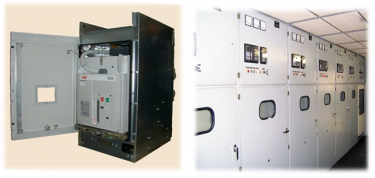 Transformer Cells
These standard-design steel structures house transformers with voltage ranges of 15 to 36 KV and natural or forced ventilation depending on the requirements. Low-voltage transformer cells are easily assembled and supported by copper busbar ducts.
Capacitor Banks
INDUSTRIAS ONAR LTDA. designs and develops tri-phasic power capacitors with internal discharge resistors that are arranged into a metal cell with their respective protection and control circuits. Generally, these capacitors are automatically operated and controlled by dedicated relays. INDUSTRIAS ONAR LTDA assembles low voltage capacitor banks of 15 to 36 KV, as needed.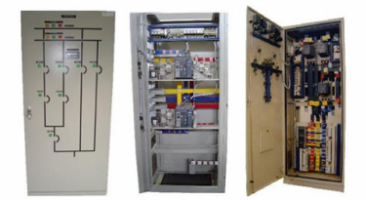 Speed Variators
INDUSTRIAS ONAR LTDA. is an authorized distributor of soft start and variable speed systems, which can be controlled manually, or via PLC and PID to manage and maintain constant pressure or flow rate, applicable to buildings and aqueducts, and generally to structures where they would replace the elevated water tanks with the aim of maintaining pressure for the end user.
Electric Boards & Cases
INDUSTRIAS ONAR LTDA. has a metallurgical processing plant, mainly dedicated to the manufacture of boards and cases for electrical use.
Electrical boards are manufactured in cold rolled steel sheet metal with an electrostatic coating and as for the manufacture of outdoor electronic boards, Nema 4X and other special configurations, these are available upon request.

Fire-Proof Doors
INDUSTRIAS ONAR LTDA's fire-proof doors are designed to prevent the spread of fire, gases and toxic fumes, ensuring the security of the premises and personnel. Fire-proof doors are available in different dimensions and can be adjusted to customers' different needs.
Compartmentalized Cells Insulated using Air
In order to meet the demand for medium voltage distribution in the construction industry, INDUSTRIAS ONAR LTDA. manufactures medium voltage cells, up to 34.5 KV with air insulated equipment.
The Company can manufacture medium voltage distribution assemblies, interconnected with bus bars for both indoor and outdoor use.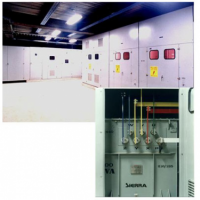 Motion Control System
INDUSTRIAS ONAR LTDA. has ventured into the motion control technology and soon hopes to be supported by leading companies in this field.
The Company has developed a control system based on a PC, which can handle up to 6 axes with AC servo motors and absolute or incremental encoder outputs.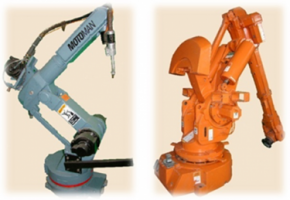 Industrial Automation
INDUSTRIAS ONAR LTDA. is an authorized distributor of PLC and control instrumentation of the brands ABB and Schneider Electric, which get integrated with the distribution boards and the motor control centres to offer a comprehensive solution tailored to customers' business needs.
INDUSTRIAS ONAR LTDA. is able to automate industrial processes, with SCADA monitoring systems, which allow for a user-friendly and comfortable interface. Clients can also download the information generated by the SCADA to their database.
Likewise, the Company is able to develop web applications for the monitoring of the client's business premises from anywhere in the world.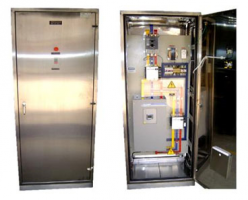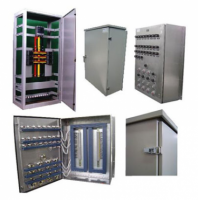 Industrial Plant
INDUSTRIAS ONAR LTDA. is equipped with an advanced metallurgical processing plant able to offer comprehensive solutions related to industrial automation, monitoring and control of production processes with the help of industrial machinery, such as CNC and punching machines and a team of experienced and qualified professionals.
Main Clients
Among INDUSTRIAS ONAR LTDA.'s most prominent clients are:
• MOLINOS DEL ATLANTICO S.A.,
• LECHESAN,
• CEDSA,
• AVIMOL,
• ALLTECH DE COLOMBIA S.A.,
• SMURFITT CARTON DE COLOMBIA S.A.,
• NEOMUNDO S.A.,
• ECOPETROL,
• ITALCOL S.C.A.,
• C.D.E. S.A.,
• HECTOR T. VALENCIA,
• PRODUCTORA DE ALAMBRES,
• CEMENTOS DEL ORIENTE,
• HOLCIM DE COLOMBIA S.A.,
• MORELCO,
• CONSORCIO COTHERM,
• METALTECO,
• COMPAÑÍA DEL ACUEDUCTO DE BUCARAMANGA,
• RALCO S.A.,
• CONSEJO SUPERIOR DE LA JUDICATURA NACIONAL,
• SCHNEIDER ELECTRIC DE COLOMBIA,
• TERPEL,
• CAMPOLLO,
• SOCIEDAD PORTUARIA DE SANTA MARTA,
• ELECTRIFICADORA DE SANTANDER,
• CARULLA VIVERO S.A.,
• ATUNEC S.A.,
• COMPAÑÍA DEL ACUEDUCTO DE BUCARAMANGA,
• RALCO S.A.,
• AGROTROPICAL COLOMBIA S.A.,
• CONSTRUCTORA MARDEL S.A.,
• SUPERTROIL CONTROL,
• VITELSA S.A.,
• GREYSTAR ROSOURCES LTDA.,
• ACUEDUCTO DE BARRANCABERMEJA,
• PEC LTDA.,
• DIATECO LTDA.,
• ARQ. RAFAEL CLAVIJO,
• CENTRO INTERNACIONAL DE NEGOCIOS LA TRIADA,
• COLMUEBLES S.A.,
• FRIGORIFICO VIJAGUAL S.A.,
• LIGHGEN INGENIERIA LTDA.,
• INDEQ LTDA.,
• CONSORCIO POWER GREEN,
• ELECTRO ARCO DEL ORIENTE LTDA.,
• COSERCO LTDA.,
• EXPOGRES LTDA.,
• INDUSTRIAS ACUÑA LTDA.,
• LADRILLERA ZULIA S.A.,
• SIGA OIL S.A.,
• INCUBADORA SANTANDER S.A.,
• HOLCIM DE COLOMBIA S.A.,
• MORELCO,
• POLLOS BUCANERO S.A.,
• DISTRAVES S.A.,
• MAC. POLLO,
• INDUMAN LTDA.,
• CAG LTDA.,
• INDUSTRIAS FALCON LTDA.,
• UNIVERSITARIA DE INVESTIGACION Y DESARROLLO – UDI,
• GONZALEZ BOHORQUEZ & CIA LTDA.,
• CARBONES DE LA JAGUA S.A.,
• WEG COLOMBIA,
• CORPORACION PARQUE NACIONAL DEL CHICAMOCHA,
• CLINICA METROPOLITANA DE BUCARAMANGA,
• C.I. COMPAÑÍA CAFETERIA AGRICOLA,
• LIGHEN INGENIERIA,
• INVERSIONES RICAM,
• COAGRONORTE,
• ISMOCOL DE COLOMBIA S.A.
Industrias Onar Ltda.
Carrera 11 No. 1A 16, Bucaramanga, Colombia
+57 7 671 6320
+57 7 671 8121
contacto@onar.com.co