Last Update
June 27, 2019
Categories
Metal Processing, Parts & Components
Services (R&D, training, engineering, consultancy, …)
Training & Simulation
CENTRO DE ASISTENCIA TÉCNICA A LA INDUSTRIA ASTIN-SENA, actively contributes to economic and social development in Colombia by supporting, enhancing and developing the usage of technologies in the design of materials and their transformation processes.
ASTIN-SENA is an important state tool that provides integral professional training and technological services linked to the National Science, Technology and Innovation System – Colciencias of the country.
MISSION
CENTRO DE ASISTENCIA TÉCNICA A LA INDUSTRIA ASTIN-SENA is responsible of fulfilling the role for the state in investing in the social, economic and technological development of Colombian technicians, offering comprehensive training services for the development of productive activities.
VISION
ASTIN-SENA aims to be a world class institution linked to the comprehensive training of individuals and businesses through:
Relevant contributions to business productivity,

The effective creation of employment and poverty alleviation,

The contribution of innovative workforce to businesses,

Its commitment to high quality services,

Quality and international standards,

The incorporation of the latest technologies in businesses,

Its close relationship with the education sector,

Excellence in managing resources.
VALUES
Respect,

Leadership,

Solidarity,

Justice and equity,

Transparency,

Creativity and Innovation.
INSTITUTIONAL COMMITMENT
Peaceful coexistence,

Consistency between thinking and acting,

Discipline, dedication and loyalty,

Promotion of entrepreneurship,

Responsibility towards society and the environment,

Honesty,

Quality of Management.
Contact info #1
Aura Elvira Narvaez Agudelo
Sub Director of the Center
Calle 52 No 2B15-15, Cali, Valle, Colombia
Contact info #2
Ing. Jair Nieto Saldarriaga
Calle 52 No 2B15-15, Cali, Valle, Colombia
Contact info #3
Paulo Cesar Ramirez Quintero
Calle 52 No 2B15-15, Cali, Valle, Colombia
Research & Technological Development Services
Knowledge is assimilated with the implementation of applied research projects, as well as the design and development of products and processes that are subsequently transferred to the industry, focusing on structuring competitive capabilities among ASTIN SENA's clients.
The technological services include:
Project formulation,
Techniques and tools for the design and development of plastic products,
Methodological application for the design and development of products using metal sheets,
Procedures for designing tools (moulds and dies).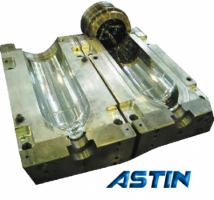 Training Services
ASTIN SENA offers technological and technical orientation courses that focus primarily on training new qualified human resources for the production fields.
The technological training focuses on:
Manufacture of Plastic Products through Injection & Blow Molding,
Applied Chemistry to the Industry,
Manufacture of Plastics Products by Extrusion,
Design of Dies,
Mechanical Systems Design,
Mold Design for Plastics Manufacturing,
Metrological Assurance for the Industry,
Analysis of Materials for the Industry,
Project Development,
Industrial Production Management.
Technicians: These training courses last less than a year and focus primarily on:
Environmental Management,
Chemical Sample Analysis.
Additionally, ASTIN SENA offers virtual training courses in a virtual learning space aiming to update workers' competencies and designed according to local entrepreneurs' requirements.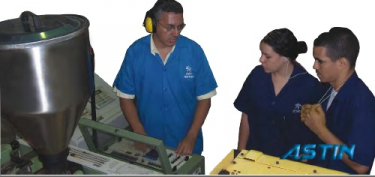 Laboratory Trials & Testing Services
ASTIN SENA's laboratories support companies in their quality control and assurance processes while offering the following services:
Metallography and spectrometry,
Metrology - industrial measurement,
Metrology and calibration,
Mechanical testing,
Chemical testing,
Physical testing,
Hard coating services.
Workshops & Laboratories
ASTIN SENA provides high quality services to businesses and the public in general, using certified equipment and human personnel with extensive capabilities in the metalworking sector.
Mechanical Testing Laboratory,
Metallography and Spectroscopy Laboratory,
Dimensional Metrology Laboratory,
Hard Coatings Laboratory,
Polymer Chemistry Laboratory,
Prototyping Laboratory,
Polymer Testing Laboratory,
Die Stamping Workshop.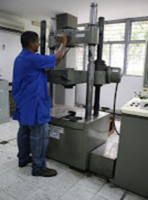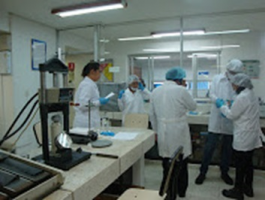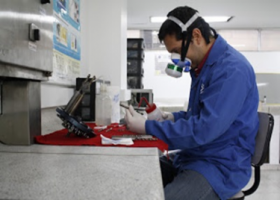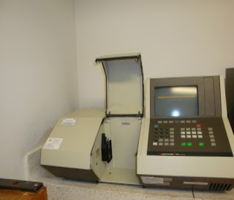 Astin-Sena National Center of Technical Assistance to Industry
Calle 57, No. 8-69, Bogota, Colombia
(57 1) 5461500
servicioalciudadano@sena.edu.co