Last Update
September 4, 2018
Categories
Textile, Individual Equipment, Clothing
GRUPO ATLAS LTDA., is a family business officially founded in 1976 and working for the footwear industry since 1937. It evolved its "know how" from the time when shoes were manufactured with handicraft methods, until it became a company known for its high technology processes.
The Company has a large experience in participating in government tenders at a local and national level, as well as in supplying industrial companies in Bogota. Nowadays, GRUPO ATLAS LTDA. is a manufacturer of military footwear for the Colombian Military Forces and also of the finest footwear in Colombia, with worldwide recognition and outstanding quality and performance, thanks to the Goodyear Welted footwear process it applies.
The Company is an active member of the Satra Footwear Technology Centre and participates in activities sponsored by the footwear industry in Colombia. GRUPO ATLAS LTDA. also manufactures work boots and specialized sports footwear (horseback riding boots, golf shoes, motocross boots, etc.).
In the military field, it manufactures low temperature boots (below 0°C), used by military forces in high mountains, as well as water proof boots for jungle and humid areas. GRUPO ATLAS LTDA. has been developing contacts in the international market, exporting to countries, such as Ecuador, Peru and Trinidad & Tobago in the Caribbean. Besides the trademark "Calzado Atlas", the Company also owns the trademark "Calzado York".
Contact info #1
+57 405 4111, +57 405 0891
Calle 17 No. 68 B 68, Bogota, Colombia
LPE Testing Laboratory
The LPE Testing Laboratory offers its services to the footwear, leather and derived industries, counting on technical resources and qualified and experienced professionals in the field.
The LPE Testing Laboratory performs testing according to national and international regulations, which satisfy customers' needs, under the strictest confidentiality.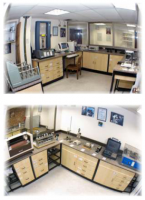 Capabilities informational files
Grupo Atlas Ltda.
Calle 17 No. 68 B 68, Bogota, Colombia
+57 405 4111, +57 405 0891
calzadoatlas@gmail.com