Last Update
October 11, 2017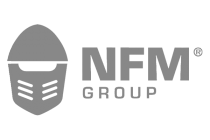 Categories
Ballistic Protection
Services (R&D, training, engineering, consultancy, …)
Textile, Individual Equipment, Clothing
NFM GROUP, develops, manufactures and markets products and services targeted for protection purposes. The NFM Group has a diversified portfolio of products and services including:
Design, production and marketing of military and law enforcement textiles and armour on the international market.

Design, production, installation and marketing of vehicle armour.

Marketing and distribution of US and European manufactured defence products on several market.
Through the Norwegian trade division Norsk Forsvarsmateriell the NFM Group supplies the Norwegian market with products and services on a distributor and/or agent basis, where a large number of brands are represented. In this portfolio there are a diversity of products and services, for example:
Personal equipment for the military, law enforcement and security community in Norway.
Products and services connected to vehicles, aircraft and vessels within the Norwegian defence forces.
The NFM Group has a Norwegian owner society and an International production and marketing structure. The NFM Group is therefore to be found on a number of geographic locations in Norway, Poland and Sweden.
Contact info #1
Glynitveien 27 N-1400, Ski, Norway
NFM Group
Glynitveien 27, N 1400, Ski, Norway
+47 6 485 14 00
+47 6 485 14 01
info@nfm.no