Last Update
September 14, 2018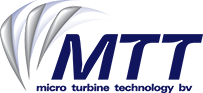 Categories
Electrical, Electronics & Electro-optics
Engines, Propulsion, Power Generation
Micro Turbine Technology BV (MTT) is an innovative company developing and commercializing advanced micro gas turbines and applications for various markets. The company is located in Eindhoven, in the centre of the high-tech area of the Netherlands, and home to several top high-tech industries and -institutes. This offers optimal access to key partners and services.
APPLICATIONS
MTT's micro turbine and CHP technologies have several application areas. Conceptual design studies have been executed to explore applications as MTT's micro CHP system, a Combined Auxiliary power unit and heater (CAP) for trucks and a Range Extender for Electric Vehicles.
MTT's micro CHP system: the EnerTwin, Combined APU / parking heater (CAP Unit), MTT's range extender and the Micro turbine Lab.
TECHNOLOGY
MTT is developing recuperated micro turbines up to 30 kW electrical power for CHP and other applications. The primary objective is to reduce production costs towards competitive levels. This can only be realized using off-the-shelf technologies for large volume production. Automotive turbocharger performance and efficiency have increased significantly during recent years, even for very small sizes.
MTT micro CHP
Together with our partners, MTT is developing a low cost 3 kW electrical / 15 kW thermal micro CHP system for top-end domestic and SME markets. The MTT micro CHP system will reduce the consumers' energy bill by 20 - 25%. At the same time it reduces the CO2 emissions with 3-6 tonnes per household / year.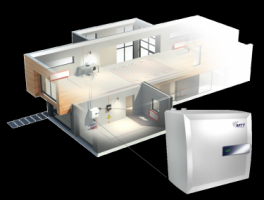 Product informational files
MTT CAP unit
The transport sector is currently dealing with the problem that the battery capacity of long distance trucks is insufficient to comply with the fast growing electricity demand. This problem is caused by the increased use of electronics and airco systems on board long distance trucks. Idling the main engine is often used to generate the required electrical power during the truck drivers' rest period. However, this results in unwanted noise levels, pollution and high fuel consumption. Besides it leads to substantial wear to the main engine of trucks, thus causing additional maintenance costs.

MTT is developing a cheap and reliable APU (auxiliary power unit) that enables the truck driver to generate 3 kiloWatt of stable electricity during his rest period. It will be combined with a parking heater that will generate up to 6 kiloWatt of thermal power to be used for cabin heating and main engine preheating.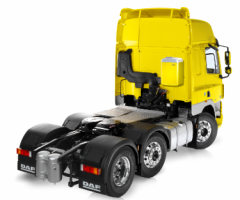 Product informational files
MTT Range Extender
The MTT micro gas turbine is very suitable to be used as Range Extender. It offers the following advantages over other types of small combustion engines:
Small system with high power density. A small size minimizes the sacrifice of cabin space.
Lower weight. A lower weight improves overall vehicle efficiency which increases range realizes lower costs / km.
Lower noise level, less vibrations. Low noise and vibration (NHV) levels improve the drivers comfort and reduce the impact on the environment (e.g. less noisy for pedestrians).
Clean combustion and low emissions. Required to meet (future) regulations and to reduce emission levels (CO2, NOx).
Fewer components. Results in a higher reliability and lower maintenance costs.
Suitable for flexible fuels and clean fuels. Compressed natural gas (CNG) and LPG can be used as a gas turbine is multi fuel.
Potential low cost price. Essential for making electric driving reality.
Combined with eRange control, it adds intelligence to the RE system, thus allowing an even smaller, lighter and less powerful Range Extender to be used. This will further improve overall vehicle efficiency.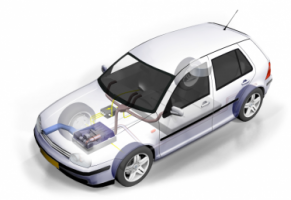 Product informational files
Micro Turbine Technology (MTT)
Esp 310, Eindhoven, 5633 AE, Eindhoven, The Netherlands
+31 88 688 0000
+31 88 688 0050
info@mtt-eu.com