Last Update
August 24, 2018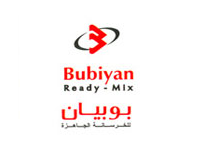 Categories
Bubiyan Ready Mixed Concrete Company, has served the construction industry's needs since 2005. As one of the major suppliers in the State of Kuwait, Bubiyan Ready Mix operates one of the top notch plant in the region, utilizing batching plants with production capacity of 200 m³/hr. of wet mix concrete, 37 mixer trucks, 4 mobile pumps (52m & 42m), 2 fixed stationary pumps (400 m) and other supporter machines to produce approximately one third of a million cubic meter of concrete annually. The Intelligent design of the plant used the most spaces to the fullest and manned by 100 highly trained employees.
Bubiyan Ready Mix excels at surpassing its clients expectations for delivering a superior product on-time and with high quality. The company's experienced associates combined with the latest technology and equipment, go the extra mile in producing quality products while respecting safety and environmental needs.
Environmental Policies
Bubiyan Ready Mix, believes that environmental leadership means protecting the environment while at the same time is able to use its resources responsibly to make the concrete products & building materials on which it depends.
Quality Control
Bubiyan Ready Mix takes quality seriously every day and on every job. Its QC program is an integrated, proactive system that maximizes the quality of everything it makes while measuring that quality against pre-defined benchmarks. Bubiyan Ready Mix successfully obtained the certificate of ISO 9001:2008 despite passage of less than two years from incorporation.
The company's commitment to quality is apparent in the consistency and predictability of its products. The company is proud of its reputation for superior concrete products and services. Beyond rigorous testing of materials, its QA/QC programs include the meticulous maintenance of its facilities and vehicles.
Bubiyan Ready Mix is a member of ACI - Kuwait chapter. The company's labs, vehicles, and facilities are subject to scheduled inspections. The Ready Mix plant holds a certification from the Ministry of Public Works in the State of Kuwait. In every instance, the company meets or exceeds ASTM and ACI standards.
Bubiyan Ready-Mix Co.
Fahad Al Salem Street, Al-Jon Center, 19th Floor, Kuwait, Kuwait
+965 2227 2555
+965 2227 2500
info@inshaaholding.com