Last Update
August 24, 2018
Categories
CLIC National Industries General Trading & Contracting Co. KSCC, popularly known as CLIC was established in 1977, when it was the first to introduce security Fencing systems in the State of Kuwait. CLIC's range of fencing products include chain link fabric, sand control fence, welded mesh panels, barbed wire, concertina barbed wire, Razor Tape, chain link infill gates, etc. These extensive range of field proven products offer unparallel protection against unauthorized site access specially in security sensitive applications and harsh external environment.
In Kuwait as well as in GCC countries & Iraq, CLIC's security fencing systems reliably secure a broad range of critical facilities – from Oil & Gas Plants, Government Structures, Military Installations, Motorways, Airports & Borders, to Industrial & Corporate campuses, correctional institutions, transport centers and VIP Residences. Since its inception, CLIC has diversified its portfolio, venturing into Trading activities and establishing subsidiaries in Qatar & Oman.
Quality Management
Company's commitment to excellence is reflected by world-class manufacturing infrastructure. The company has built a reputation for maintaining the highest standards of quality across its entire product spectrum. Each of the leading-edge Fencing security systems is the combined result of innovative design, stringent production processes and superior components. Its Fencing security products undergo rigorous testing, are certified for use by numerous government labs and regulatory agencies in GCC.
Contact info #1
Subhan Area 8, Street 84, Building 190/192/195, Kuwait
Contact info #2
Subhan Area 8, Street 84, Building 190/192/195, Kuwait
Contact info #3
Subhan Area 8, Street 84, Building 190/192/195, Kuwait
A complete fencing service from CLIC
Kuwaiti Industry
CLIC National Industries, popularly known as CLIC, is a Kuwaiti Industrial Company having a factory in the Sabhan Industrial Area, Kuwait. Chain Link fencing, barbed wire, razor tape, steel posts and gates are manufactured in this factory.

Leading Supplier of Fencing to Major Projects:
The CLIC factory has been in production since 1979 and during this period CLIC has manufactured and supplied thousand of kilometers of fencing products to a large number of major projects in Kuwait, Qatar, Bahrain & Saudi Arabia.

Complete Range
CLIC manufactures a complete range of types, sizes, and specifications of chain link fencing, barbed wire, concertina barbed wire, and gates. Fencing, both plastic coated and galvanized to AASHTO-M-181, ASTM, BS-1722 and other International specifications, is produced regularly. Raw material ie wire in the required finish and conforming to the stipulated specifications is imported from some of the World's leading mills. This ensures conformity of the finished product to the specification.

System Capability
A typical chain link fence is made up of three distinct components:
Fabric, barbed wire & concertina
Framework ie posts and fittings
Gates
Design Support
The CLIC design service includes the preparation of concertina barbed shop drawings, bills of quantity, material specifications wire, and advice on installation. Special shop drawings for construction of fencing for major projects are prepared.

Installations
The Company's Contracting Division undertakes special installation projects where clients insist on sever a turn-key design, supply and installation service.

Total Capability
This is a brief introduction of CLIC's activities. CLIC offers the most comprehensive fencing service in Kuwait and Qatar.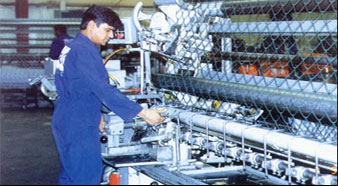 CLIC Fencing Products
The CLIC fence system is designed to provide years of maintenance-free protection of people, property and right of way. This is achieved by the use of materials which are properly galvanised or plastic coated and which have the strength to withstand severe climatic conditions found in Kuwait and neighbouring countries.

The CLIC Fence system is based on the well tried American and British practice of using circular hollow sections (round steel tubes) as posts and braces. CLIC has standardised on the round steel tube for its framework for a variety of reasons - it is specified in the most commonly used specifications eg BS and ASTM, it is readily available, it is strong and economical and it is attractive to look at. The use of standardized components and fittings results in the CLIC Fence system being extremely versatile and flexible in use and quick to install. However, CLIC also supplies framework based on Angles.

While the "CLICLINK" standard galvanised fence system provides an economical fence for most uses, where greater durability and longer maintenance-free service is required either "CLICPROOF" heavy galvanised or "CLICPLAST" galvanised plastic coated systems are preferred. The availability of such a wide range of types of fencing enables the user to select the system most appropriate to his requirements both in terms of its cost and technical suitability.

CLIC has a wide range of products and fencing systems manufactured at its factory in Kuwait.

Products
CLIC Chain Link Fabric
CLICPROTECT Maximum Security Chain Link Fabric
CLICBARB Barbed Wire
CLICSECURE Concertina Barbed Wire
CLIC Razor Tape
CLICBAAB Shabak Gates
CLIC Mobile Fence
CLICTIES Butterfly Cavity Wall Ties
CLICSLATS Privacy, Wind Break & Sand Control Slats

Fence Systems
High Security Fence
Medium Security Fence
Temporary Fence
Motorway Fence
Tennis Court Fence
Angle Framework Fence
High Security Welded Mesh

CLIC uPVC Doors & Windows
CLIC u-PVC doors & windows are specially designed and developed to withstand the harsh and high UV climatic conditions existing in GCC and neighbouring countries. The multi-chamber profiles are having superior heat and sound insulating properties, and are free from corrosion in saline climates.

What is u-PVC
Unplasticized Poly-Vinyl Chloride, u-PVC, is a specially engineered compound created after nearly 30 years of intensive research and development, and is composed of metallic stabilizers, meta-acrylite, titanium dioxide, and poly-vinyl chloride. u-PVC has become the primary substance in the manufacture of windows, doors, and other building materials in the construction industry.

Researchers and scientists emphasize that in all likelihood, there will not be another compound in the near future with better standards for durability and overall performance in outdoor commercial application products.

Why use u-PVC
Today's world demands performance, economy, and style. In addition to u-PVC's superior insulating capability, our specially designed u-PVC products continue a distinguished old-world tradition in the manufacturing of windows and doors established by centuries of American, French, and German craftsmen.

Unique characteristics of u-PVC doors and windows:
Strong and durable.
Highly resistant to heavy UV radition.
Highly resistant to humidity, corrosion and abrasion, leaving it unaffected by salt, acid, or alkaline.
Non-flammable, shock resistant, and non-conductor of electricity.
Sound-proof and wind-resistant.
Non-cracking, ideal for the most severe weather conditions.
Used in a diversity of products to suit all the construction sector's requirements.
In addition to these characteristics, continual improvement of our u-PVC extrusion compound maintains its superiority over all other competitive materials.
Maximum protection from sunlight.
Resistance to extreme weather conditions (Heat & Cold).
Dust-proof & Fire-proof.

Advantages:
Environment friendly
Quick installation, economical to use compared to Aluminium & Wood
Improves Air-condition effect
Maintenance-free
German Profile & German Accessories available
Approved by Ministries in Kuwait.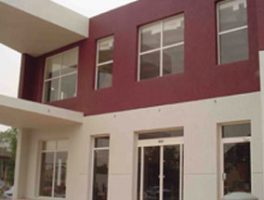 Clic National Industries General Trading & Contracting Co. K.S.C. (Closed) - شركة كليك الوطنية لصناعة الشباك و الأعمال الحديدية للتجارة العامة و المقاولات
Bldg. 95, Block 8, Street 84 Subhan Industrial Area (South), Kuwait, Kuwait
+965-24712948, 24768164, 24768165
+965-24768994
clic@clicq8.com