Last Update
August 24, 2018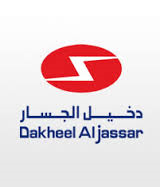 Categories
Electrical, Electronics & Electro-optics
Dakheel Al Jassar Electrical Industries, is a manufacturer of switchgear, control gear, DB's, cubicles, transformers and a master distributor of worlds best brands in electrical like switches, cables, breakers, wiring accessories for a wide variety of industrial and commercial applications.
Dakheel Al Jassar Electrical Industries is one of the premier manufacturers and traders of LV/MV switchgears, distribution boards, LT Panels, KWH Meters, power stations, emergency standby batteries, etc…and a private label reseller of switches, breakers, power cables, telephone cables, junction cables, wiring accessories and all sorts of pumps and valves, lighting accessories.
Mission
To maintain the lead in providing products and services of high quality with continual improvement to meet the customers maximum satisfaction.
Strategies
Provide appropriate environment and professional human resources to provide products and services of high quality.

Create a suitable environment for innovation and continual improvement in all aspects.

Work to strengthen the communication tools with customers.

Make the company a desired place to work.

Expand the export business within the region.
Dakheel Al Jassar Electrical Industries - شركة دخيل الجسار للصناعات الكهربائية
Subhan Industrial Area Pepsi Cola Street Block 3, Street 101, Kuwait, Kuwait
+965 1844888
+965 24718883
info@aljassar.com