Last Update
August 24, 2018
Categories
The Kuwait Pipe Industries & Oil Services Co. (K.S.C.), has been manufacturing steel tubes and pipes for the domestic and world market since 1967. All production of submerged Arc Welded pipes are realized in compliance with major standards (i.e., API 5L, ASTM, AWWA, BSS etc.), which concludes its experience and technical expertise in steel line production with the quality recognized worldwide.
Kuwait Pipe Industries & Oil Services Company has always won its business by being competitive by its engineering professionalism and above all by striving for a close understanding of its client's needs with a product manufactured to the highest quality. The company is a spiral welded steel pipe manufacturer from 6" to 80" as per API 5L specifications to a maximum wall thickness of 1" and up to grade X-70. The company also can produce pipes up to 120" dia. to a maximum wall thickness of 1". In addition to the pipe manufacturing, the company carries out Corrosion Protection Coating on pipe surface, using PE and epoxy.
The Company's overall production capacity is exceeding 150,000 tonnes annually. Its steel pipeline, suitable for wet sour services and non-sour services are being used worldwide successfully for the last three decades.
Coating & Lining
Pipe coating is of fundamental importance in the protection of pipes against corrosion environments and the pipes' life length that depends directly on its coating. Kuwait Pipe Industries & Oil Services is fully equipped to apply different types of coatings and linings in accordance with the major international standards in order to meet the requirements of its customers.
Polyethylene Coating
(PE) coating is extremely efficient against corrosion and aggressive environments and chemical material. PE coating is applied in accordance with DIN 30670 and customer requirement using three-layer polyethylene extruded coating system.
Epoxy Coating and Lining
Epoxy is very resistant to corrosion when used with fluids at normal temperatures. Epoxy resin is applied after the internal surface treatment is completed in accordance with the requirements, Swedish Standard SIS-Sa 21/2, the Company uses high abrasion resistance epoxy and tixotrophic epoxy and no solvents to ensure conveyance of portable water in conformance with sanitary norms and AWWAC-210 and polymidecured coal tar epoxy for crude oil, sea water and fuel oil etc.
Cement Lining
Cement mortar as per AWWA C-205.
Quality Program
KPIOS has a pride of having ISO 9002 certification. Customer requirement, industry standards and established quality system procedure form the basis for company quality assurance program.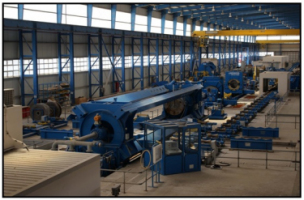 Kuwait Pipe Industries & Oil Services Company - KPIOS (K.S.C) - الشركة الكويتية لصناعات الأنابيب و الخدمات النفطية
P.O. Box : 3416 , Safat - 13035, Sulaibiyah Industrial Area, Kuwait
+965 2 467 5622, +965 2 467 4843
+965 2 467 5897
kpios@kpios.com