Last Update
August 21, 2019
Categories
Sasco Gulf General Trading & Contracting Company, has been active in the Kuwait construction market since 2002. Its original operations were in natural stone facades, specialized protection and insulation works. Since its establishment and in light of the growing market demand for general construction, its professional teams expanded the operations to the area of turnkey, high quality construction works.
Sasco currently is a MAIN construction company registered with many organizations and government authorities as:
Ministry of Commerce,

Kuwait Chamber of Commerce & Industry,

The Central Tender Committee - Grade 2,

The Central Tender Committee - Electrical - Grade 4,

The Environmental Public Authority,

KOC and KNPC.
Sasco has gained the respect of the market through successful execution of quality projects by giving its clients an excellent service and support, providing them with quality buildings, and installations, built on time and within budget, thereby developing a professional and friendly relationship with clients/owners in the Kuwait market.
Sasco currently operates through several divisions: Sasco Construction and Sasco Commercial.
Mission
To achieve market leadership in Kuwait,

To earn total Customer Satisfaction and Belief in its Contracted works,

To deliver top quality Construction, Finishing solutions,

To develop long term relationship with Customers and Suppliers.
The company strongly believes in its mission to provide the clients with quality services and have successfully demonstrated the same in Kuwait construction industry and shall continue to strive to further its targets.
Contact info #1
Zahra Complex, 2nd Floor, Office No. 6, Salem Al Mubarak Street, Salmiya, Kuwait
Sasco Construction
In the Company's main contracting operations, we target general construction, public tenders and commercial and high end residential construction projects.
Our operations are in a wide range of high quality construction works, Architectural, Interior and Landscape solutions, Design concepts, presented with the latest computerized 3D graphics and animation. Professional Value Engineering Analysis, and all aspects of construction works.
Key Benefits of Sasco contracts:
Professional teams with excellent technical experience

Fully equipped company with sound financial background

Procurement from internationally reputed manufacturers and agencies

Dedicated technicians

Prompt service

Preventative maintenance

Active Quality Assurance

Compliance with international safety standards and guidelines

Reliable warranties
Our professional Engineers will promptly assume responsibility of the process and take the Client through the Engineering stage, planning, quality requirements and specifications, cost control, and provide clients with the necessary assistance to achieve their targets from concept and design through to completion and maintenance.
Our Divisions:
Sasco International Construction and Finishing

Electro/Mechanical Division

Security and Safety Division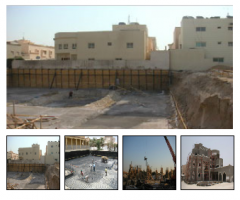 Sasco Commercial
Our professional teams and management are particularly keen to provide our clients with unique and excellent services from the early stages of design throughout the building process to successful completion of the construction works.
Our divisions:
Zanto Furnitures

Pseudofix plants

Swissguard protection

Electro/Mechanical Division
Sasco a CTC Registered Grade 4 Company, has highly skilled and resourceful employees and there is a team of more than 10 strong in our Electro/Mechanical Section. SASCO is ever growing by numbers and sections. We have been regularly providing training on operations, technical up-grading and Quality Management.
Sasco offers a full range of services in the field of:
Fire fighting and plumbing

Electrical

Low Voltage Systems
Our services by installation and maintenance operation - large and small in capacities are spread all over Kuwait, covering many fields including:
Petroleum Industries

Chemical Plants

Hospitals

Schools

Institutions

Mosques

Auditorium

Residential and commercial complexes

Shopping malls

Health Clubs

Hotels

Offices

National Assembly Building

Ministries Buildings

Warehouses
Security Division
Integrating Systems:
The future of enterprise security has long been summed up in one word: Convergence. The Building Security you encounter at the front desk when you swipe your card each morning will no longer be a separate system from the security you encounter when you sit down at your desk and log on to your computer. The system integration is done in such a way that each system compliments the other and central control and monitoring from one computer or network of computers is possible.
Building integration Solutions Divisions:
Intruder Alarm & Smoke Detection Systems - wired and wireless

Closed Circuit TV Systems - wired and wireless

Building/Home Automation Systems

Time Attendance Systems

Audio/Video Intercom Systems

Packing Control Systems

Access/Electronic Locking Control Systems
Full Range of Services In The Field of:
Barriers

Locks

Card Readers

Biometric Scanners

Access Control Systems

Passive IR Detectors

Beam Detectors

Panic Buttons

Cards

PABX

IPTV/Phone

Sound Systems

CCTV
Barriers
Complete range of automatic or manual gates and barriers, boom barriers, motorized trackless gates and surface mounted road blockers are offered to compliment the range of electronic security systems offered by SASCO.
Surveillance (CCTV) Systems
Closed Circuit Television (CCTV) Systems are the backbone of building security. These are widely used for monitoring of strategic locations within and around a building, or large campus. CCTV provides continuous surveillance 24 hours a day, 7 days a week, 365 days a year.
Security/Access Control System
Controlling the entry facility is the most basic and important requirement of a well-designed security system. Access Control provides security personnel with valuable information as to who was granted or denied access and at which door and at what time. Used for a simple office to Hospitals, Airport Terminals or University Campus.
Intruder Alarm Systems
These systems ensure foolproof security at homes, offices or industrial establishments.
GOVERNMENTAL PROJECTS & CLIENTS
Since 1992, Sasco serviced prestigious clients, answering to their satisfaction, their specific requirements at various levels of out involvement. The list includes the following:
Governmental Projects
Ministry of Public Works - South Surra

Ministry of Electricity and Water

Ministry of Interior - Subhan

College of Legalization - Kuwait University

Medical Science Center - Kuwait University
COMMERCIAL PROJECTS & CLIENTS
Commercial Projects
Sheraton Hotel - Kuwait

Marina Mall - Kuwait

Sea Front - Fahaheel, Kuwait

Al-Manshar Complex - Fahaheel ,Kuwait

Rotana Hotel - Fahaheel, Kuwait

Al Awadi Tower - Sharq, Kuwait

Al Fanar Complex - Salmiya, Kuwait

Consolidated Contractors Co., Kuwait

Souk Al Manakh - Kuwait City

Kuwait Engineering Office - KEO

360 Degree Mall - South Surra, Kuwait

First Takaful Insurance, Kuwait

Australian College of Kuwait

Roumi & Rizk, Kuwait

Commerical Bank of Kuwait

Kuwait Finance House

Kuwait International Airport
RESIDENTIAL PROJECTS & CLIENTS
Residential Projects
Dar Al-Salwa

Anwar Al-Bisher House

Tariq Hadi House - South Surra

Hamad Al-Wazzan Chalets

Private Villas for Mohammed Al-Ghanim

Ali Al-Ghanim House - Al Bidaa

Abdul Hadi Al-Sagar House

Al-Hasawi Palace

Ahmed Abdullah Al-Ziban House

Saleh Al-Homaizi House

Mohammed Al-Radwan Villa - Bidaa

Al-Hamood Villa - Bidaa

Al Fahed Villa

Ezzat Jaafar Residential Complex
Sasco Gulf General Trading & Contracting Company - شركة ساسكو الخليج للتجارة العامة والمقاولات
Zahra Complex, 2nd Floor, Office No. 6, Salem Al Mubarak Street, Salmiya, Kuwait, Kuwait
+965 2 571 4464 / 36
+965 2 571 4463
info@sascogulf.com