Last Update
August 24, 2018
Categories
In the mid-1990s, a group of distinguished Kuwaiti academicians and businessmen realized the vital importance of establishing a modern university in Kuwait equal in quality to other prestigious universities abroad and to serve the ever-increasing educational demands of the local society and the Gulf region. Its primary purpose was to prepare generations of young leaders and professionals for the demands of a new global technological era.
In January 1997, Kuwaiti Academic Group, comprised of 41 faculty members from Kuwait University, was established to lay the foundation for the proposed "University of the Future". Their studies culminated in the vision of "Gulf University for Science and Technology" (GUST).
A strategic partnership was established with the University of Missouri at St. Louis (UMSL), the international counterpart university chosen to help bring the visualization of the projected university to fruition. The development was facilitated and shaped by the Private Universities Decree, No. 34, issued by the State of Kuwait in 2000, resulting in the establishment of a temporary campus with the necessary infrastructure in Hawally. In 2002, the issuance of Emiri Decree, No. 156, completed the legal establishment of GUST as the first private university in the State of Kuwait and permitted the start of the first academic year in 2002-2003.
GUST has continually improved and expanded its educational and organizational capacities while steadily increasing its enrollments. At its first commencement ceremony in June 2007, GUST conferred diplomas on approximately four hundred graduates, many of whom were eagerly received by the leading business sectors in the state of Kuwait.
Vision
As outlined in the initial GUST concept plan, "GUST believes that it is both possible and desirable to establish an American-style, accredited, degree-granting university with campus locations in Kuwait". GUST will accomplish these goals by developing and maintaining a "student first" attitude and by providing a positive, creative work environment that respects diversity, new ideas and hard work.
GUST is committed to providing a distinctive education that emphasizes:
Academic excellence,

A liberal education base,

Academic programs designed to ensure student success,

Use of continual advances in information technology.
During the development phase, the GUST Planning Committee visited universities throughout the Middle East and the United States to identify the appropriate characteristics of a new university in Kuwait. Based on this analysis, UMSL was identified as a strong university with educational activities in the Middle East, and during the GUST planning phase, a long-term cooperative agreement was signed. Consequently, the GUST degree programs and philosophy are modeled on those of UMSL which include a strong general education component combined with specialized education in the various degree disciplines.
GUST focuses on preparing creative thinkers who can take a leadership role in developing the nation as it progresses into the new millennium. GUST recognizes the importance of understanding the rapidly changing world in which we live, developing information processing and abstraction skills, becoming more understanding of diverse cultures and building a strong "inner core" of basic values appropriate to the development of the local society.
As the first private university in Kuwait, GUST has responded to the growing need for Western-style education within the Kuwaiti Islamic cultural setting. As a responsible member of the community, GUST is committed to ensuring that students are able to succeed in their educational endeavors.
With the opening of the new campus in Mishref, GUST is committed to allocating considerable resources to developing a "state-of-the-art" campus system with the latest information technology supported by a "we care" approach to each individual student's learning needs.
In summary, GUST strives to imbue an appreciation of learning for its own sake, to encourage students to become life-long learners, and to adapt readily to the constantly changing environment of the 21st century.
GUST Mission Statement
To enrich the cultural, intellectual, academic and technological movement in the Kuwaiti, Gulf and Arab society.

To meet the needs of the labor market for professionals and technicians by providing manpower whose qualifications are consistent with its expectations.

To participate in the continuous development of the community by undertaking academic research and field studies, and providing advice and experience to private and government bodies through participation in setting up technology parks.

To contribute to the development of manpower capabilities through continuous educational programs and rehabilitation.

To cooperate with similar institutions at a national, regional and international level.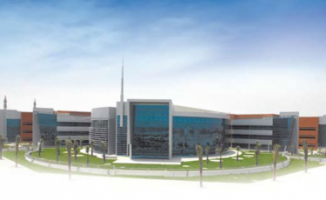 Contact info #1
Vice President for Administration & Financial Affairs
Mubarak Al Abdullah Area, Block 5, Building 1, Kuwait
Contact info #2
Office Manager - Vice President for Administration and Financial Affairs
Mubarak Al Abdullah Area, Block 5, Building 1, Kuwait
Community Outreach
GUST strongly believes in the importance of community outreach programs and partnerships. Also the feeling of social responsibility to give back and contribute to the development and improvement of, not only Kuwait, but the entire region as well. The services include, but are not limited to, the following:
Partnerships with Civil Societies: GUST has partnered with various civil societies to promote and emphasize the importance of community involvement. GUST has made available all its campus resources and facilities so that the civil societies would benefit from them in their campaigns, public lectures, and events.
Lectures, Arts, & Entertainment: The GUST calendar has numerous events and activities that are free and open to the public. Lectures on various topics include, but are not limited to, religion, politics, economics, and language arts. Moreover, the Student Union and its student clubs also organize events, carnivals, and concerts year round which students and the community can take advantage of.
Academic Scholarships: Every semester, GUST offers a limited number of internal GUST scholarships. GUST Scholarships cover full payment of tuition fees or a specific percentage of tuition fees. These scholarships are limited and, thus, highly competitive. This encourages and motivates individuals to excel academically and maintain high academic standards.
Faculty Involvement in the Community: Many of its faculty members are involved in projects that aid the development of various sectors such as education and the economy. Moreover, they are conducting research that focuses on issues of great importance to the community and to its stability. GUST is also committed to building research centers so that students, faculty members, and the community will have access to abundant information which they would not have access to otherwise.
Student Life
Student Association
The primary purpose of the Student Association at GUST is to provide a voice for students and represent therein the University and community. The Student Association at GUST is the student governance body, composed of elected student representatives from each college. Its role is to contribute to a healthy academic and democratic atmosphere. The Student Association also arranges athletic, cultural, religious and other activities.
Athletics
Mission
The mission of the Athletics Department is personal and collaborative excellence. GUST strives to offer high quality educational, recreational and competitive intercollegiate athletic opportunities to its students. The institution wants to create an innovative, challenging and supportive learning environment where students can maximize opportunities for physical and social development, lifelong fitness and wellness as well as to realize opportunities for championship caliber athletic competition.
Goal
The Institutions goal is to enhance and develop values that foster leadership, self-discipline, teamwork, personal and civic responsibility, integrity, dignity and sportsmanship.
Student Clubs
Jump to:
Debate Club,

Expression Club,

Islamic Finance Club (IFC),

Ruwwad Business Club,

Photography Club,

Anime Club,

Talent Club,

IT Club,

Music Club,

English Club,

Sports Club,

Al-Rawafed.
2+2 with UMSL
The GUST-UMSL 2+2 program enables students to begin their undergraduate degree program at Gulf University for Science and Technology and complete it at the University of Missouri - St. Louis ("UMSL"). This program provides students the opportunity to complete one of the many degree programs not currently available at GUST. In the 2+2 program, students complete the first two years of General Education requirements at GUST. Upon completion of their sophomore year, 2+2 students transfer to UMSL to complete upper-division degree requirements. Subject to degree and major requirements, General Education credits earned at GUST are transferable toward a degree at UMSL.
Upon completion of the remaining degree requirements at UMSL, 2+2 students will earn a degree issued by the University of Missouri-St. Louis. This program is ideal for students desiring an international experience and the opportunity to take courses in the United States without the commitment of living abroad for four years. It is also a desirable program for students wishing to specialize in one of the many additional degree programs offered at UMSL including:
Anthropology,

Art and Art History,

Biochemistry and Biotechnology,

Biology,

Chemistry,

Communication,

Computer Science,

Counseling and Family Therapy,

Criminology and Criminal Justice,

Early Childhood Education,

Elementary Education,

Economics,

Exercise Science,

Foreign Languages and Literature,

History,

Information Systems,

Mathematics,

Music,

Nursing,

Philosophy,

Physical Education,

Physics and Astronomy,

Political Science,

Pre-Engineering (Civil, Electrical and Mechanical),

Psychology,

Physical Education,

Public Administration,

Social Work,

Sociology,

Special Education,

Theatre, Dance and Media Studies.
Gulf University For Science And Technology - جامعة الخليج للعلوم والتكنولوجيا
Block 5, Building 1, Mubarak Al Abdullah Area, Kuwait
+965 2 530 7000
+965 2 530 7030