Last Update
September 3, 2018
Categories
Composites, Plastics & Rubber
Military, Tactical, Logistic Support Vehicles & related equipment
AUTOINDUSTRIAL CAMEL S.A., was incorporated on December 15, 1964, in the city of Medellin, with the purpose of engaging in the manufacture and marketing of patches and accessories for tire tube repair, under the technical assistance of SCHRADER BRIDGEPORT INTERNATIONAL, headquartered in the U.S.
At the start of the 70's the Company invaded the accessories market, taking advantage of the establishment of automobile assembly plants in Colombia. It focused its activities on the development of automotive products, such as disk and trumpet horns, windshield wiper arms under the technical assistance of KLAXON and PAUL JOURNEE (France), automotive valves and truck tire tubes under license from SCHRADER BRIDGEPORT INTERNACIONAL (USA), as well as flexible brake hoses and fuel tank covers.
MISSION
AUTOINDUSTRIAL CAMEL S.A. aims to be a leader in the automotive parts industry, optimizing technology, quality and services for maximum client satisfaction and contributing to the development of clients, suppliers and the country in general.
VISION
In view of the fact that AUTO INDUSTRIAL CAMEL operates in a highly competitive and continuously changing market, it concentrates its efforts on:
Expanding the participation of the Company in the domestic, Central American and Andean market,

Increasing profitability by improving the productivity and efficiency of human and technical resources,

Achieving a duly certified quality management system which meets clients' expectations.
Contact info #1
Calle 72 No. 44-10, Itagui, Antioquia, Colombia
Contact info #2
dsaldarriaga@camel.com.co
Calle 72 No. 44-10, Itagui, Antioquia, Colombia
Automotive Parts
AUTOINDUSTRIAL CAMEL S.A. offers parts to the industrial automotive sector, namely:
Electric Horns:
Characteristics: Disk or spiral horns, in low and medium (high) tones, of 12 or 24 volts, with one or two connectors.
Wide range of mounting support.
Technical standards: SAE J377, JIS D5701, NTC-1815.
Manufacturing License: KLAXON.
Hydraulic Brake Hoses:
Characteristics: Flexible hose assembly for hydraulic brakes.
Technical Standards: SAE J1401, FMVSS 106, JIS D2601, NTC 977.
Hot Vulcanizing Patches:
Characteristics: Ηot vulcanizing patches, with an easy-to-light carton. Also presented as Quick-cure tube gum for application to electric vulcanizers.
Manufacturing License: The Stant/Schrader Group.
Αrms for Windshield Wipers:
Characteristics: Arms with a coupling system to the cone motor. Hook point or Flat point.
Technical Standards: SAE J903c, JIS D5710.
Manufacturing License: PAUL JOURNEE.
Radiator Caps:
Characteristics: Caps for open cooling or overflow reservoir systems of 4, 7 and 13 lbs.
Technical Standards: SAE J164.
Gas Caps:
Characteristics: Vented or non-vented systems caps with or without security locks.
Technical Standards: SAE J829c.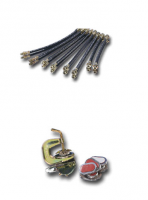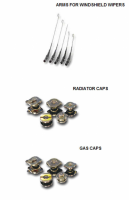 Core Equipment
AUTOINDUSTRIAL CAMEL S.A. offers product development services using the following machinery:
Arisa Die Cutting Machine of 160 Tons,
Arisa Die Cutting Machine of 60 Tons,
Bliss Stamping Press of 19.5 Tons,
Risetti Die Cutting Machine of 12 Tons,
Minster Die Cutting Machine,
LYNX Machinery,
Strohm Lathing Machine,
Kondia Milling Machine,
Cincinnati Milling Machine,
Vectrax Milling Mahine,
IZPE Industrial Laminator.
Clients
Αmong AUTOINDUSTRIAL CAMEL S.A.'s most distinguished clients are:
• ESTRA,
• DANA - TRANSEJES COLOMBIA,
• GOOD YEAR,
• RENAULT,
• MAZDA,
• GM,
• TNK,
• KIA,
• TOYOTA,
• MICHELIN,
• YAMAHA,
• LOS PINOS,
• GABRIEL,
• HACEB,
• SIMELCA S.A.
Autoindustrial Camel S.A.
Calle 72 No. 44 10, Antioquia, Itagui, Colombia
+57 4 370-4300
+57 4 281 8661
cvanegas@camel.com.co