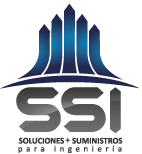 Categories
Electrical, Electronics & Electro-optics
IT, Computing and Software
Services (R&D, training, engineering, consultancy, …)
SOLUCIONES Y SUMINISTROS PARA INGENIERÍA - SSI, is a Colombian company founded in Cali as an answer to the need of the market for cutting-edge products and services mainly for the electrical sector. The Company develops and implements customized innovative and comprehensive solutions primarily for the educational and industrial sectors, namely the civil infrastructure, mining, energy, aerospace and biotechnology sectors.
SOLUCIONES Y SUMINISTROS PARA INGENIERÍA - SSI is a company engaged in the manufacture of all types of electrical equipment and appliances for the distribution and control of electric power. Additionally, the Company specializes in technical assistance, maintenance and repair services, as well as the design and development of systems and equipment for seismic and structural monitoring, as well as remote sensing. SSI conducts experimental research and development in natural sciences and engineering, along with the provision of computer software consulting services, the supply of software and electronic engineering programs and the sale and distribution of all types of electrical and electronic equipment.
The Company employs a highly qualified and competent workforce that has the expertise to meet customers' needs and requirements in administrative areas of engineering, especially automation, instrumentation and process control, computer security and data networks.
In order to achieve greater competitiveness, SOLUCIONES Y SUMINISTROS PARA INGENIERÍA has created strategic alliances with important research centres and groups in the region. Among these research groups are found the Earthquake Engineering, Wind Engineering and Smart Structures (G-7) and the Perception and Intelligent Systems groups, part of the Faculty of Engineering of the University of Valle.
SOLUCIONES Y SUMINISTROS PARA INGENIERÍA - SSI is representing the brand REFTEK in Colombia and Latin America, a pioneer in the seismic market and a manufacturer of instrumentation and high resolution digital equipment ideal for seismic and volcanology monitoring, mining exploration, microzonation studies and the monitoring of civil structures, such as roads, bridges, buildings, dams, oil rigs, pipelines, etc. The equipment is mainly used for research and development projects in the area of seismology, mainly portable seismological stations, telemetry stations, as well as satellite communications stations, among others.
Contact info #1
Carrera 10 No. 43-55 Ofic.404 Edif.La Juliana, Cali, Valle del Cauca, Colombia
Services
Among the services offered by the Company are:
• Instrumentation and Process Control Services,
• Integration of Technology Systems,
• Thermographic Inspection Services.
Equipment & Instrumentation
SOLUCIONES Y SUMINISTROS PARA INGENIERÍA – SSI is a manufacturer and distributor of the following equipment:
• Transducers and Transmitters,
• Control Systems,
• Actuators and Power Systems,
• Remote Acquisition and Data Processing Systems,
• Laboratory Equipment and Machinery,
• Observation and Measurement Instrumentation,
• Power Generation and Distribution Equipment,
• Mobile Robotic Components and Equipment,
• Seismology and Structural Monitoring Systems and Equipment,
• Soil Testing Systems and Equipment,
• Miniature Fibre Optic Spectrometer Systems,
• Biodiesel Plant,
• Cell Biomass Propagation Plant,
• Portable uniaxial Seismic Simulator.
Clients
Among SSI's most prominent clients are:
• Universidad del Valle,
• Universidad Tecnológica de Pereira,
• Servicio Nacional de Aprendizaje SENA,
• Municipality of Santiago de Cali,
• FAC - Colombian Air Force,
• Universidad del Quindío,
• Universidad ICESI.
SSI Soluciones y Suministros Para Ingenieria
Carrera 72 No. 10 Bis - 153, Cali, Colombia
+(57) 2 390 4081
contacto@ssi.com.co