Last Update
August 21, 2018
Categories
Aircraft, Helicopter, UAV, Spacecraft & related equipment
Electrical, Electronics & Electro-optics
Axnes Aviation AS, manufactures communication systems for demanding operational environments such as marine SAR operations. The Polycon Communication System allows external helicopter crew to be wirelessly connected to the aircraft's intercom up to a range of 20km. Polycon endures harsh conditions and operate even under water. A proprietary noise cancelling technique ensures audible communication even in high noise environments.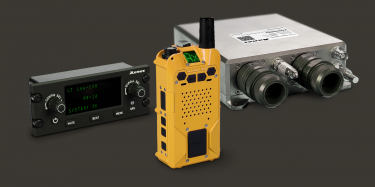 Contact info #1
Jon Lilletuns vei 3, 4876 Grimstad, Norway
Contact info #2
Chief & Marketing Officer (CMO)
Jon Lilletuns vei 3, 4876 Grimstad, Norway
Contact info #3
Chief & Operation Officer (COO)
Jon Lilletuns vei 3, 4876 Grimstad, Norway
Contact info #4
Jon Lilletuns vei 3, 4876 Grimstad, Norway
POLYCON - COMMUNICATION SYSTEM
WIRELESS INTERCOM SYSTEM FOR AIRCRAFTS AND OPERATIONAL PLATFORMS
The Polycon communication system is developed in close cooperation with professional SAR teams. Polycon is developed by professionals, for professionals and its superior performance and unique patented features are unmatched;
POLYCON IN SAR APPLICATION
External crew member remains a part of the crew on the intercom system, by extending the range of the intercom system up to 20 – 25 km.
Drastically improving situational awareness and operational accuracy through constant participation in onboard communication by all crew members, including the external crew member.
Enhanced aircraft safety via positive clearances to obstructions, from external crew on the ground.
Waterproof transceiver supports hands free continuous communication.
Dual band option for direct communication to helicopter and other participating response groups such as ships emergency channels, all in the same transceiver.
Individual configurations are available for other requirements and applications.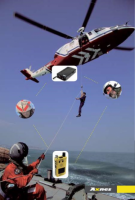 Equipment
GENERAL
Depending on application, the equipment may be fully operated on battery power, standard on the transceiver but also available on the Interface (CPU) unit for vehicle independency.
System is fully certified, thoroughly tested and widely recognized as the best system available.
Polycon has become an industry standard
004 RLI 00U INTERFACE UNIT (CPU)
Duplex interface to crew intercom and/or external communication
16 channel 409-470 MHz
Fully software programmable
Output to remote control unit
Meets the aviation requirements of RTCADO 160D
General, maritime and aviation type approval
Optional remote control unit
MP20-00U TRANSCEIVER
Frequency range UHF 409-470 MHz
Dual band UHF/VHF option
Channel spacing 25 KHz
16 channels
VOX/PTT operation Hands free PTT
Operating temperature -25C to 55C
Environmental IP67 Waterproof to at least 6 feet
Fully software programmable
May also be operated as Hand held Walkie Talkie
Robust build. Casing machined from a single block of aluminum with no protruding buttons.
SELECTED CUSTOMERS
Helicopter Manufacturers
Germany Eurocopter Deutchland GmbH
England Westland Helicopter Ltd.
France Eurocopter France;
Italy Agusta Helicopters
USA Agusta Aerospace
Sikorsky Helicopters USA
Other Clients
Norway CHC - Helikopter Service AS / Heli-One
Norsk Helikopter AS
Airlift AS
330 Skvadron
USA New York Police Department (NYPD)
Keystone Helicopters
Miami-Dade Fire Rescue
Evergreen Helicopters
England Royal Air Force
Royal Navy
Bristow Helicopters Coastguard
CHC - Bond / Scotia
Sweden Norrlandsflyg AB
Denmark Danish Air force DMRH
Finland Finland Frontier Guard
Ireland CHC - Ireland Helicopters Ltd
Lithuania Helisota Ltd.
Germany Bundespolizei
Spain Helicsa
Iceland Icelandic Coastguard
Australia Lloyd Helicopter
Egypt Egypt Air Force
Malaysia Eurocopter
Belize RAF training centre
Canada Evergreen Helicopters
Axnes Aviation A.S.
Terje Løvåsvei 1, 4879, Grimstad, Norway
+47 37 04 08 00
+47 37 04 07 99
post@axnes.com