Last Update
September 14, 2018
Categories
IT, Computing and Software
Services (R&D, training, engineering, consultancy, …)
Training & Simulation
Apropos Internett A.S., assists enterprises in skills and competence development and competence assessment, through effective use of ICT. Apropos was established in 1997 and is a complete supplier of e-learning with a focus on the development of e-learning courses, introduction and use of e-learning in large companies, also Apropos offers broad expertise in project management, consulting, software development, multimedia technology, graphic design and online learning.
Apropos has established itself among the leading players in the Norwegian e-learning market and working long term with large, national companies. The company is characterized by a commercial focus on the use of e-learning, and has succeeded in establishing long-term relationships with satisfied customers who have achieved good results by using e-learning in their organizations.
Among Apropos customers are Norwegian Directorate of Immigration, South-Eastern Norway Regional Health Authority, Norwegian National Lottery, The Data Inspectorate, Avinor, Lindorff, BBS, DnB NOR, Gatsoft, Health Tech, KIWI, Oslo Airport Gardermoen (OSL), Tieto, Sparebanken Sogn og Fjordane, Visma Services and Vital Forsikring.
Apropos is located in Oslo and Hamar in Norway. The company has a solid economy and AA rating from Dun & Bradstreet.
Competence Development & Assessment
Apropos provides services and products for effective skills and competence development and assessment, through the use of ICT.
Apropos provides:
Interactive learning programs
Learning platform SmartLearn
Competence Assessment - services and solutions for test and certification
Pedagogical and technical consulting
Apropos works with public and private companies and has over ten years of experience within these subjects.
Contact info #1
morgan.fosstveit@apropos-internett.no
Groennegata 40, 2317 Hamar, Norway
PROJECT MANAGEMENT
Targeted project management is a necessity for success in all forms of development. Apropos has project managers with extensive experience and solid expertise in project management in general and e-learning projects in particular.
Apropos has designed a model for course development - 6-stage model - which provides guidelines for the work and the results that the work will produce. The model is applied in over 50 course development projects in recent years, with good results. Below are the different steps in the development process and the deliverables produced in each step.
The model describes the following:
The six steps
Roles in the course development
Tasks and the various rolls involvement
Use of tools
Use of prototypes
Change Management
Quality Assurance
Documents
In addition to being a good guideline for our consultants, the company has found that the model helps to create awareness among its customers for the work to be done, and especially their role in the cooperation between customer and supplier.
Apropos has also designed a model for implementation of SmartLearn. The model is a process framework and a collection of best practices based on experience from a wide range of introductory projects.

CONSULTING
Implementation of e-learning
Apropos has a long history of successful organizational use of e-learning. Apropos works with large businesses who have achived substantial gains through their investment in e-learning.
Targeted use of e-learning
Apropos assists businesses by identifying and analyzing training needs. On the basis of the analysis Apropos and the customer facilitates the learning initiatives that create good learning and gives the effect the client wants. Often the solution is a combination of e-learning and traditional learning methods.
Measurement of quality
It is important to verify that the participants learn what they should and that they use what they have learned. Apropos has developed a model for evaluation and measurement of educational quality. A detailed analysis can shed light on the costs and benefits. With that basis, one can bring out the profitability of the learning measures.
Competence Assurance
Apropos has extensive experience in facilitating certification processes in different organizations. Certification is used in more and more businesses for quality assurance and to be able to document the necessary skills, often described as Competence Assurance.
DEVELOPMENT OF COURSES & LEARNING CONTENT
Tailored Course Development
Apropos tailors e-learning courses and learning initiatives in close cooperation with the customer. Employees at Apropos has extensive experience with various e-learning tools and collaboration with different disciplines.
System Training / Application Training
Apropos has developed interactive training for a variety of IT systems - in areas such as financial management, HR, asset management, patient management, electronic medical records, internship planning and balanced scorecard.
Examples of areas of e-learning courses:
New employees
Fire Protection
Medical Technical Equipment
Application Training
Routine Training
Laws and Regulations
Equipment Training
Competence Assurance for:
Financial Advisors
Airport Personnel
Air traffic controllers
Sellers
Call Center Employees
Support Employees
Directors
Nurses and health staff
Shop Employees
Executive Officers
Complaints Authorities
TAILORED WEB APPLICATIONS
Apropos has since its inception in 1997 utilized web technology in its deliveries, with dense integration with other enterprises fagsystemer.
Apropos has very good expertise in developing web based applications on Microsoft and Java platforms, as well as rich web clients with Adobe Flash and Flex.
Apropos also provides web solutions based on EPiServer CMS.
DESIGN / MultiM
Apropos' design team deliver services within:
Graphical design
Animations
Simulations (2D/3D)
Video and audio production
Game consepts for learning (edutainment)
THE LEARNING PLATFORM SmartLearn
With the learning management system (LMS) SmartLearn® a customer can facilitate, implement and follow up various learning initiatives, whether it is pure e-learning, documentation of practical skills or traditional learning methods.
SmartLearn® supports the international standard SCORM, making it possible to combine self development of courses and purchase of courses from different suppliers.
To ensure the quality of learning, a customer can test and certify the course participants and evaluate learning initiatives.
In SmartLearn® a customer will also find a powerful data warehouse for analysis and reporting.

Customizations
For SmartLearn® to fit the individual business needs, Apropos can adapt and customize the solution by agreement.

Flexible introduction
A client can start with a limited part of SmartLearn® in line with its business needs and economy, and expand in its own pace. The figure illustrates the main areas of functionality that SmartLearn covers.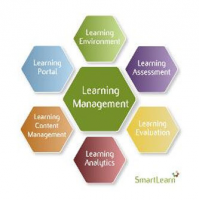 CONTACTS
DnB Nor (Bank)
Vital (Insurance)
LINDORFF (Receivables)
Visma Services (Services & Software)
MARS Drinks (Beverages)
Avinor (Aviation)
Apropos Internett A.S.
Box 68, 2301, Hamar, Norway
+47 40 00 33 69
post@apropos-internett.no