Last Update
August 23, 2018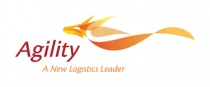 Categories
From roots in emerging markets, Agility brings efficiency to supply chains in some of the world's most challenging environments, offering unmatched personal service, a global footprint and customized capabilities in developed countries and emerging economies. Agility is one of the world's leading providers of integrated logistics with more than 22,000 employees in over 500 offices and 100 countries.
Vision: to be a new type of logistics leader meeting the challenges of global trade.

Mission: to facilitate trade through innovative supply chain solutions.

Values: integrity, personal ownership, teamwork and excellence.
Contact info #1
Senior Manager, Business Development
malhawli@agilitylogistics.com
Agility Head Office, Sulaibiya, PO Box 25418, Safat 13115, Kuwait
Contact info #2
Business Development Manager
ssalame@agilitylogistics.com
Agility Head Office, Sulaibiya, PO Box 25418, Safat 13115, Kuwait
LOGISTICS SOLUTIONS EXPERTISE
With Agility's extensive experience and vast resources spanning numerous industries and countries, its experts are able to customize distinctive supply chain solutions for every specific business needs. Using a proven and scalable process and drawing from its large network of people, the company can combine freight forwarding products, specialty businesses and logistics expertise to create solutions that accommodate the most dynamic and category-specific markets.
Whether a client requires a Direct-to-Store, Vendor Managed Inventory and Origin Cargo Management solution, or an entirely customized approach, Agility can provide the right process, equipment and tools as well as the personal attention to move the supply chain efficiently and cost-effectively.
SYSTEMS & TECHNOLOGIES - TRACKING TOOLS
Agility's online Tracking Tools give clients the peace of mind that comes with complete transparency. Its proprietary technology provides easy, instant access to freight's status, allowing a client to follow a single shipment in real-time.
Standard Tracking: Track a single shipment online through Agility's secure, proprietary process, without user IDs and/or passwords. Access basic shipment information and receive updates on significant steps and procedures (e.g., receipt of goods, international departure, international arrival, delivery completed).

Advanced Tracking: Conduct advanced searches for orders and shipments with date ranges, events and multiple references. Generate reports with complete, transparent shipment data.

Both tracking applications lets a client to send data in HTML format or as a PDF or Excel file.
KUWAIT NATIONAL PETROLEUM COMPANY
The contract with KNPC provides complete warehouse management services on a 4 PL basis (at client site).
Management of Material includes pumps, valves, pipes and other spare parts used in refinery operations.
Contract Duration: 2004 - ongoing
KHAFJI JOINT OPERATIONS
4PL Warehouse Management at KJO facilities, over 26,000 line items covering material such as equipment and spare parts relating to exploration and drilling.
Contract started in 2010 for a duration of 5 years.
MINISTRY OF HEALTH
Complete operation and management of the environment-controlled central warehousing complex of the Ministry of Health (MOH) in Kuwait, holding all the pharmaceutical supplies numbering 15,000+ line items. Involves all the day-to-day warehouse operations to receive, inspect, store, retrieve, assemble and deliver to all the pharmacies and hospitals in Kuwait.
Contract Duration: 2006 - ongoing
Agility
Sulaibiya, Beside Land Customs Clearing Area P.O. Box 25418, Safat 13115, Kuwait, Kuwait
+965.1.809.222
+965 2 467 6720
kuwait@agility.com