Last Update
August 6, 2020
Categories
Aircraft, Helicopter, UAV, Spacecraft & related equipment
Maintenance Repair Overhaul and Logistics Support
Services (R&D, training, engineering, consultancy, …)
INTEGRATED ENGINEERING SERVICES S.A.S., is an aircraft engineering and consulting company, located in Bogota, Colombia. The Company has the support of a select team of professionals with broad knowledge and a combined experience of 25 years in the aviation industry.
The Company specialises in the design, development and implementation of technological and research projects related to aircraft engineering and maintenance, in compliance with national and international standards, such as RAC, FAR, EASA, RBAC, among others.
INTEGRATED ENGINEERING SERVICES S.A.S. is a pioneer in the design and manufacture of products and the provision of engineering services in the Colombian aviation industry. The Company applies engineering and development methods that comply with existing aviation regulations and has the support of high performance computational tools, such as ANSYS, AFGROW and SOLID EDGE that meet the requirements of OEMs and the aeronautical certification authorities.
The Company's products and services are developed with the highest indices of quality, safety and reliability, providing confidence to clients and shareholders.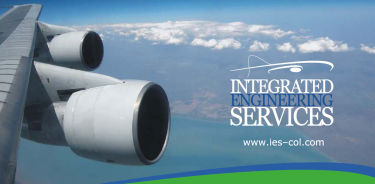 Contact info #1
Cesar Hernando Lopez Zarabanda
Carrera 74b N° 55-40, Bogota, Colombia
Engineering Services
INTEGRATED ENGINEERING SERVICES S.A.S. offers high quality engineering services, as following:
Development of engineering processes for the manufacture of aeronautical products under the PMA standards,

Analysis, development and certification of alterations and major repairs on aircraft structures and avionics in accordance with commercial and military standards,

Structural and fatigue analysis,

Aircraft structural integrity programs (SLEP, AGING, RAP) and aircraft corrosion prevention programs,

Development of engineering solutions for the aviation industry (structures, systems and poweplants, among others),

Structural analysis through Finite Element Software (ANSYS and SOLID EDGE),

Analysis, development and optimization of aircraft maintenance programs,

Consultancy services in the development of reliability programs for manufacturers of aeronautical products,

Consultancy in the implementation of airworthiness systems - CASS,

Installation of flight entertainment systems on aircraft,

Aircraft painting services.
Manufacture Services
INTEGRATED ENGINEERING SERVICES S.A.S. specializes in the manufacture of:
Aircraft upholstery in compliance with FAR 25.853,

Structural parts using special machining, welding and cold working (molding processes),

Electrical components for military aircraft, such as digital panels, fuel indication systems, intercom systems and night vision lighting systems,

Composite floor panels for passenger cabins and cargo holds,

Cargo and passenger seat pallets,

Aircraft cabin interiors through thermoforming: food trays, seat covers, armrests, headboards, footrests, etc.,

Auxiliary fuel tanks for helicopters,

Floor panels for aircraft cockpits and cargo holds.
Maintenance Services
INTEGRATED ENGINEERING SERVICES S.A.S. specialises in maintenance services, as following:
Maintenance and repair of ground handling equipment,

Repair and overhaul of aircraft seats,

Passenger seat upgrade from configuration from economy class to VIP,

Integrated cleaning (exterior and interior) of an aircraft,

Aircraft fumigation.
Projects
Among the projects INTEGRATED ENGINEERING SERVICES S.A.S. has developed are:
Maintenance services on the structural and operational systems of Cessna A-37B aircraft (Dragonfly),

Cockpit upgrades on Cessna A-37B (Dragonfly),

Troop configuration of an IAI 767-MMTT for the Colombian Air Force,

Structural analysis and major repairs on a MI-17 helicopter operated by the Colombian Army, due to damage not covered by the structural repair manual,

Training & consulting on the implementation of a reliability and airworthiness system in the Aviation Brigade of the National Army of Colombia,

Maintenance of the Aircraft Ground Support Equipment of the Colombian Air Force, CACOM-3,

Exterior improvements on the Dornier 328, Embraer 145 and Embraer 170 aircrafts operated by SATENA,

Structural repair of A-37B aircraft due to a Nose Landing Gear failure.
Integrated Engineering Services S.A.S.
Cra 74 B No. 55 40, Bogota, Colombia
+57 1 263 4182, +57 1 263 4162
gerencia@ies-col.com