Last Update
September 11, 2018
Categories
Aircraft, Helicopter, UAV, Spacecraft & related equipment
Maintenance Repair Overhaul and Logistics Support
Services (R&D, training, engineering, consultancy, …)
PAWAN HANS LTD., the national helicopter company of India was incorporated in 1985. Presently, the shareholding of the Government of India is 51% and Oil and Natural Gas Corporation is 49%. PAWAN HANS was incorporated with the primary objective of providing helicopter support services to the oil sector for its off-shore exploration operations, services in remote and hilly areas and charter services for promotion of tourism.
The experience and expertise of PAWAN HANS has been developing the Company's dedication to excellence in serving the customers and at the same time, enabling PAWAN HANS to maintain its position of the undisputed leader.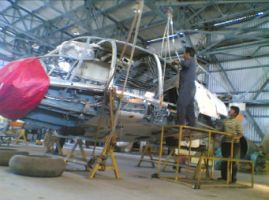 Pawan Hans Helicopters Ltd.
C-14, Sector-1, Gautam Budh Nagar, Noida, India
+91 120 247 6977
+91 120 247 6983
contact@pawanhans.co.in