Last Update
December 18, 2020
Categories
Aircraft, Helicopter, UAV, Spacecraft & related equipment
Maintenance Repair Overhaul and Logistics Support
Other Aerospace, Defence and High Technology related companies
ISOTEC S.A.S., is a Colombian company created in 1995 that provides inspection and non-destructive testing (NDT) services on materials for the aviation sector and other industries.
ISOTEC S.A.S. is been approved by the UAEAC - Colombian Civil Aviation Authority - as an Aviation Repair Shop (TAR) through CDF No. 20 and is equipped with qualified personnel, as well as properly calibrated and certified equipment and resources.
ISOTEC S.A.S. has an extensive experience in the aviation, petroleum, cement and general industry, offering services such as the following:
Direct and remote visual inspections,

Dye penetrant inspection,

Magnetic Particle inspection,

Ultrasonic flaw detection and A, B & C scan ultrasound and phased Array-UT,

Eddy Current Inspection,

Current - RFT remote field,

Thermographic inspection,

Thermal diffusion flowmetry,

Radiographic Testing,

Training in all techniques according to the ANSI-ASNT CP-189 and the American Society for Non-Destructive Testing standards.
MISSION
ISOTEC S.A.S.'s mission is to provide its customers with innovative solutions by incorporating the best practices and latest technologies in the development of non-destructive inspection of aircraft components. ISOTEC S.A.S. has managed to establish a genuine relationship with its customers, ensuring its permanence and growth over time.
Contact info #1
Aeronautical Engineer / NDT Director
Calle 25 Bis # 39 A - 16, Bogota, Colombia
Contact info #2
Calle 25 Bis No. 39 A - 16, Bogota, Colombia
Non-Destructive Testing Products
ISOTEC S.A.S. in addition to providing inspection services is distributing products for non-destructive testing, such as SHERWIN. More specifically, ISOTEC S.A.S. provides:
Dye penetrant kit,

Fluorescent dye penetrant kit,

High temperature dyes Kit (visible),

Magnetic particles in solution,

Spray presentations,

Materials and equipment for testing.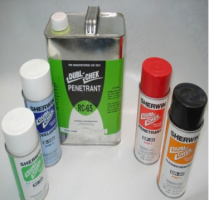 Customers
AEROSPACE SECTOR

• SATENA
• ISRAEL AIRCRAFT INDUSTRIES
• HELICENTRO
• FUERZA AEREA COLOMBIANA
• BRIGADA DE AVIACION EJERCITO
• AEROREPUBLICA
• AIR COLOMBIA
• SADELCA LTDA.
• SELVA LTDA.
• AVIHECO LTDA
• AEROPAZ
• SAEP LTDA
• SEARCA
INDUSTRIAL SECTOR
• ECOPETROL
• CORPORACIÓN CIMA
• TECNICONTROL
• CEMENTOS ARGOS
• EMGESA
• ISAGEN
• EMAC
• INSERCOR
• INDEEQUIPOS S.A.
• APPLUS NORTHCONTROL
• DATABANK MK
• NESTOR MORA Y ASOCIADOS
• COTECMAR
Isotec S.A.S.
Carrera 71B No. 55 - 18, Bogota, Colombia
+57 (1) 467 3767 / +57 (1) 467 4269
isotec@isotec.com.co