Last Update
April 22, 2019
Categories
ADEVIA S.A., is an academic institution with fourteen years of experience in the formation of private and commercial pilots, giving students the opportunity to turn their dreams into reality.
The Academy is located at the Guaymaral Airport in Bogotá and since 1993 has been at the forefront of educational activities, with the provision of highly accredited pilot courses, such as private and commercial flight instructor and twin engine aircraft pilot programs.
ADEVIA S.A. is accredited by the Colombian Civil Aviation Authority - UAEAC and is part of a group of companies with extensive experience in the aviation industry.
MISSION
The Academy bases its existence on the training of private and commercial pilots using human and technical expertise. Its extensive experience in aeronautics and the latest educational technologies, make it one of the best training institutions in Colombia.
VISION
ADEVIA S.A. works hard to position itself as a leading institution in aviation, being recognized for the quality of its services, the adequacy of experienced personnel and the comprehensive training of citizens who are committed to their personal and professional development.
Contact info #1
Aeropuerto Guaymaral Km.16, Bogota, Colombia
Contact info #2
Aeropuerto Guaymaral Km.16, Bogota, Colombia
Fleet of Aircraft
ADEVIA S.A. has a fleet of aircraft, namely, CESSNA C-152, PIPER PA-28, PIPER PA-38 TOMAHAWK, and PIPER PA-34 SENECA III, among others, and is equipped with advanced flight simulators and a team of qualified flight instructors who provide professional training on all aspects of aviation education.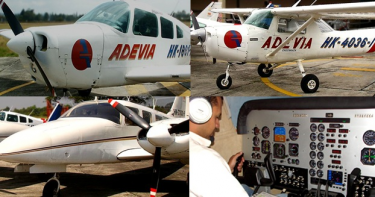 Adevia (Academia De Pilotos De Aviacion) S.A.
Aeropuerto Guaymaral Km. 16, Bogota, Colombia
+57 1 676 1192
academico@adevia.org