Categories
Aircraft, Helicopter, UAV, Spacecraft & related equipment
Training & Simulation
ACADEMIA NACIONAL DE AVIACION S.A., is a private entity created as a project in April 2006 and consolidated as an educational institution in the form of an Aeronautical Training Center in February 2007.
ACADEMIA NACIONAL DE AVIACION S.A. specializes in the formation of aviation professionals, such as flight dispatchers, flight attendants, and aviation mechanics, and offers short-term vocational training on private, commercial and sports pilots.
The Institution has been certified under CCI-029, as well as the Municipal Secretariat of Education (Education for Work and human development) in September 2009.
ACADEMIA NACIONAL DE AVIACION S.A. is the first private company to have been dedicated to the formation of human talent in aviation and to have been recognized nationally and internationally for its high quality services.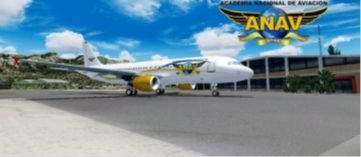 Contact info #1
academiadeaviacion@gmail.com
Cra 11 No. 7a-03 Chipre, Caldas, Manizales, Colombia
Flight Attendant Courses
ACADEMIA NACIONAL DE AVIACION S.A. offers high quality flight attendant courses certified by the Special Administrative Unit of Civil Aeronautics - UAEAC. A Flight Attendant provides personal services to ensure the safety and comfort of airline passengers during flight.
Flight Dispatcher Courses
An aircraft dispatcher oversees and monitors flight procedures and keeps pilots and all ground staff informed about flights and their statuses. He also studies the weather conditions of the departure location, route and arrival and makes changes to flight plans accordingly, considering alternate routes or destinations, altitudes and fuel necessities.
Academia Nacional De Aviacion S.A.
Cra 11 No. 7a 03 Chipre, Caldas, Manizales, Colombia
(+57) 314 525 6628
academiadeaviacion@gmail.com