Categories
AEROANDES S.A., is a private aviation training center whose main objective is to create professionals with a great sense of discipline and responsibility in the fields of Civil Aviation.
The Company's goal is to provide client-focused training services, such as private and commercial pilot programs, as well as other aviation related courses and seminars.
AEROANDES S.A. is the first flight academy in Colombia to have been certified under ISO 9001 and IQNet international standards and to have been approved by the Special Administrative Unit of Civil Aeronautics – UAEAC under operating certificate No. CCI-005.
MISSION
AEROANDES S.A.'s mission is to train pilots and flight attendants for employment in the industry, enhancing the impeccable reputation of the Academy at the same time. In order to achieve this goal, the Academy is providing a favorable environment that encourages scholarship, training and human growth.
VISION
AEROANDES S.A. aims to consolidate its presence in the national and international market, expanding its services to all possible markets, and maintaining a position of national and international prominence. The Academy attracts highly qualified students and trains them to be responsible and effective aircraft pilots and flight attendants, able to meet the needs of the nation and the world for safe and reliable air transportation.
Contact info #1
+57 1 676 4182, 676 4189 Ext. 115
gerencia@aeroandes.edu.co
Autopista Norte km 16, Aeropuerto Guaymaral, Bogota, Colombia
Training Programs
AEROANDES S.A. specializes in the provision of commercial and private pilot programs, as well as flight attendant and cabin crew training courses.
Fleet of Aircraft & Facilities
AEROANDES S.A.'s facilities include a maintenance workshop certified by the Civil Aeronautics Authority under CDF-076, as well as a wide fleet of aircraft, including, Cessna 152, 172N, 172K, 172 Thielert, and R182, as well as Piper 28-140, 28-180, 28-181, and 23 Apache.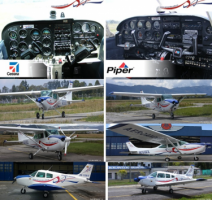 Aeroandes S.A.
Autopista Norte km 16, Aeropuerto Guaymaral, Bogota, Colombia
+57 1 676 4182, +57 1 676 4189
+57 1 676 0668
mercadeo@aeroandes.edu.co