Last Update
September 3, 2018
Categories
Metal Processing, Parts & Components
COMPANIA COLOMBIANA DE ESMALTES S.A., is a Colombian enamel kitchenware company founded in 1957 by the industrialist Caleño Julián Hoyos Rebolledo. Nowadays COMPAÑÍA COLOMBIANA DE ESMALTES S.A. has penetrated the Colombian and global market with its unique line of products, namely, cutlery, enameled steel kitchenware, household items, dishwashers under the brand NORTH, aluminum products under the brand MUNAL and agricultural spraying machines under the name TRIUNFO.
With over 120 direct and indirect employees, COMPAÑÍA COLOMBIANA DE ESMALTES S.A. is present in many households with its high quality value-added products, contributing to the welfare and improving the quality of life of its customers.
MISSION
COMPAÑÍA COLOMBIANA DE ESMALTES S.A. is a recognized manufacturer and marketer of industrial stainless steel and aluminum kitchenware and agricultural equipment. The Company is equipped with an innovative team committed to the environment and to building sustainable worth for each of its customers, employees, suppliers, and shareholders.
VISION
Company's vision is to become the second largest Colombian enamel kitchenware company dedicated to the provision of innovative stainless steel and aluminum products, using advanced technology in all the processes involved.
VALUES
High Quality,

Strict Production Control,

Consistency,

Durability,

Uniqueness.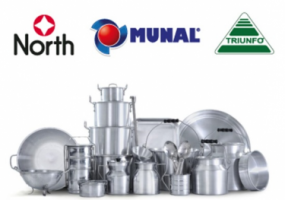 Contact info #1
Cadavid Arjona Marco Aurelio
Carrera 4 No. 52-137, Cali, Colombia
Line of Products
COMPAÑÍA COLOMBIANA DE ESMALTES S.A. is devoted to the production of kitchen utensils for professional and personal use, as well as agricultural spraying machines and spare parts.

Home Kitchen Line:
Cutlery,
Pewter and cast kitchenware,
Aluminum pots,
Kettles,
Nonstick kitchenware,
Kitchen sinks.
Professional Kitchen Line:
Professional pans,
Kitchen molds.
Agricultural Line:
Agricultural spraying machines,
Spare parts.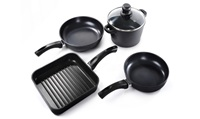 Compania Colombiana de Esmaltes S.A.
Carrera 4 No. 52 137, Cali, Colombia
+57 2 485 4040
contacto@gruponorth.com