Last Update
April 1, 2021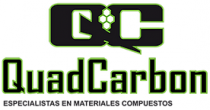 Categories
Composites, Plastics & Rubber
Services (R&D, training, engineering, consultancy, …)
QUADCARBON S.A.S., is a company involved in activities related to the development of new materials, reinforced plastics or composite materials, such as reinforced carbon fibres, glass and aramid fibres and resins.
The Company is engaged in the import and marketing of raw materials for the general industry, namely the defence and aviation, the maritime, the wind and energy, and the automotive sectors.
QUADCARBON S.A.S. has established strategic alliances with major companies in the sector, namely Hexcel, a leading supplier of advanced material solutions, namely carbon fibre, reinforcement fabrics, pre-impregnated materials, honeycomb core and tooling materials, as well as with Airtech Advanced Materials Group, a world's leading manufacturer of vacuum bagging composites, resin infusion products and tooling materials.
Mission
Backed by the best known manufacturers and distributors of composite materials, QUADCARBON S.A.S.' mission is to strengthen and consolidate the use of advanced materials in different sectors of the Colombian industry.
Vision
QUADCARBON S.A.S.' vision is to be a leader in the commercialization of composite materials in Colombia and the provision of training and technical assistance services in different industrial projects at a national and international level, with a broad portfolio that includes a wide range of products made of composite materials to support the country's productive chain.
Contact info #1
gerencia@quadcarbon.com.co
Calle 145 #58-35 T2 of 603, Bogota, Colombia
Composite Materials Services
QUADCARBON S.A.S. offers a wide variety of services to its customers, among which are:
• Consulting on the adequacy of laboratories for working with composite materials,
• Provision of moulds,
• Engineering design of composite products.
Aeronautical Services
Thanks to its strategic alliances with workshops specialized in composite materials, QUADCARBON S.A.S. can provide certified services such as:
• Repair of structures
• Repair of propellers
• Manufacture of parts
• Consulting services on repair processes
• Preventive maintenance
• Inspection of composites structures
Clients
QUADCARBON S.A.S.' customers' list includes companies, such as SATENA, UNIVERSIDAD DE SAN BUENAVENTURA, AEROESTRUCTURAS DE COLOMBIA LTDA. and ADVECTOR UNMANNED SYSTEMS, among others.
Quadcarbon S.A.S.
Calle 145 #58 35 T2 of 603, Bogota, Colombia
+57 318 795 6098
N/A
info@quadcarbon.com.co