Last Update
June 20, 2019
Categories
Aircraft, Helicopter, UAV, Spacecraft & related equipment
Mechanical, Electro-mechanical, Hydraulic and Pneumatic components
Metal Processing, Parts & Components
Services (R&D, training, engineering, consultancy, …)
Textile, Individual Equipment, Clothing
Training & Simulation
Weapons & Ammunition
ANTARES IAC, is an engineering company located in Bogota, Colombia and specialising in different areas of engineering applying research and development practices either through the development of new aircraft systems or the redesign of components for different applications. Through the application of R&D processes, ANTARES IAC has created a methodology for the design and manufacture of parts, complex systems and products for the defence sector and the industry in general. ANTARES IAC is recognized as the only manufacturer of parachutes in Colombia and is internationally certified for the manufacture of these products.
MISSION
ANTARES IAC's mission is to improve the quality of life of its customers, suppliers, employees, partners and the community in general, by offering high quality products and services to the aeronautical and defence sectors.
VISION
ANTARES aims to become a leading South American company, recognized for its high quality products and services and a source of technological solutions that produces a high return on investments to its shareholders.
ANTARES' main area of activity is the design and manufacture of aircraft components and parachutes for the Colombian Armed Forces. The Company has expertise in the management of high technology projects, and is equipped with advanced software (AUTOCAD, CATIA, LABVIEW), and SCADA based instrumentation for the development, implementation, operation and maintenance of products and systems for different engineering areas, such as mechanics, electronics, avionics and computer science.
Among the key technological projects developed by ANTARES IAC are:
Design and manufacture of braking systems for fighter aircraft.

Aircraft interior parts.

Design and manufacture of subsystems components for combat aircraft.

Manufacture of aircraft parts.

Ejection seats parts.

Design, manufacture and maintenance of aviation ground support equipment (GSE).

Bomb carts.

Emergency parachutes.

Design and manufacture of components for flight crew equipment (oxygen connectors).

Armament Control Panel, P/N 4119353-2 (hardware and software) for A-37 aircraft.

Test benches for inspection of ejection seats.

Counterweight components for Python III missiles.
Currently, ANTARES IAC is in the process of ISO 9001 certification, as a means of ensuring the highest standards of quality for its products and services. ANTARES employs a highly experienced team of professionals, including engineers with different areas of expertise (aeronautics, mechanics, structures, electronics, and mechatronics, among others), specialists in aeronautical structure, electronics and electrical systems, as well as experts in administration, logistics, aviation and air weapons.
Contact info #1
guillermo.ramos@antares-iac.com
Transversal 8a bis No 164b-59 Barrio servita, Bogota, Colombia
Coating & Maintenance Services
ANTARES IAC offers aircraft maintenance services, such as:
Structural coating services on the C208 and C212 aircraft,
GSE services for the following brands: Hobart, Coleman, Perkins and Hyster,
Design and manufacture of parts and complex systems for the aerospace and defence sectors,
Manufacture of mechanical and structural parts for the aerospace and defence sectors,
Manufacture of electrical and electronic parts,
Manufacture of textile parts and coatings for the military aviation,
Development of components in the area of science and technology,
Management of special processes of various metals and composite materials (steel, duraluminum, etc.).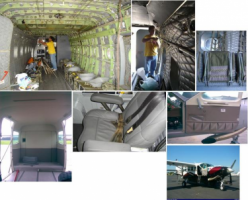 Machinery
ANTARES IAC is equipped with advanced machinery, such as:
Haas CNC lathe TL2,
Machining center HAAS TM2,
High frequency welding equipment 200 Amp,
High frequency welding equipment 700 Amp,
250 Amp welding equipment,
Sheet bender,
Assembly bench,
CNC laser cutting machine,
CNC waterjet cutting machine,
Sheet metal bender,
Plasma cutting machine,
Electrostatic painting machine,
Galvanic finishes,
Laboratories (SENA-BAMAN).

Measuring equipment:
Micrometers, extensions, gauges, meters,
Gauges and arm probe,
250 psi compressor.

Workshop tools: polishers, presses, drills, shears.
Vertical industrial drill,
Triple transport machine CS243,
Double needle machine CSU 4250,
Double transport machine CS8113.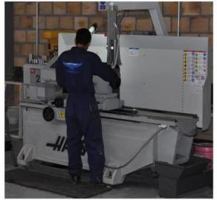 Antares IAC
Transversal 8a bis No 164b 59 Barrio servita, Bogota, Colombia
+57 (1) 3887240