Last Update
March 3, 2021
Categories
Mechanical, Electro-mechanical, Hydraulic and Pneumatic components
Metal Processing, Parts & Components
METALMECANICA LUCENA, is a company dedicated to the manufacture and repair of special parts for the agricultural, paper, oil and lithography industry. The enterprise stands out for the excellent quality of its products, its quality policy and "just in time" production strategy. In 1993, METALMECÁNICA LUCENA acquired its first CNC lathe equipment, positioning itself as a leader in the metal mechanical sector, a position it remained throughout the years.
MISSION
METALMECANICA LUCENA's mission is to provide customers with added value solutions related to the manufacture of parts that meet their expectations in terms of quality, delivery and efficiency.
METALMECANICA LUCENA is oriented towards the manufacture of metal-mechanic components for the industrial sector, striving to fulfil customers' requirements in terms of quality, quantity, delivery time and efficiency. The Company's relationship with its suppliers and employees, as well as the continuous improvement of its production processes ensure the continuity of its ISO 9001:2000 quality management system certification.
METALMECANICA LUCENA has a wide portfolio of products and services including the design and development, reconstruction and repair of parts and spares in different materials, such as steel, bronze, aluminium and plastic, special coating services, using semiautomatic, MIG and TIG welding technologies with advanced polymers, mass production of precision mechanical parts and control devices through computerized systems (CAD-CAM software), milling machines and CNC lathes, as well as design and development of specific projects related to metalworking, CNC cutting, casting and heat treatment.
Contact info #1
jclucena@metalmlucena.com
Calle 25 No. 2-30, Cali, Colombia
Metal-mechanical Components
METALMECANICA LUCENA, specialises in the production of metal-mechanical components for the following industry sectors:
Home and office furniture,

Stained glass,

Construction parts,

Motorcycle parts,

Agricultural parts,

Water systems parts,

Graphics and pharmaceutical parts,

Sugar mill components.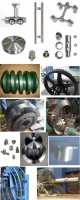 Machine Park
The Company's machine park includes:
• CNC Lathes,
• Mazak Nexus 250,
• Mazak Nexus 200,
• Mazak Nexus 100,
• Milltronics Centre Lathe Machine,
• Eurolathe,
• Jotes Cylindrical Grinding Machine,
• Jafo Milling Machine #3,
• Jafo FWF 325 Milling Machine #3,
• WMW Milling Machine #5,
• Vertical Hydraulic Press,
• Darsin Radial Drilling Machines,
• Westinghouse Electric Welding Equipment (1 Unit),
• Prodelec Welding Equipment (2 Units),
• Migmaster MIG Welding Machines (2 Units),
• Victor Oxyacetylene Equipment (3 Units),
• Mugui Pedestal Drill.
Clients
Among METALMECANICA LUCENA's most distinguished clients are:
• INGENIO PICHICHI S.A.,
• RUBBERMIX S.A.,
• PELDAR,
• ROY ALPHA,
• PROPAL,
• TECNOQUIMICAS,
• INCAUCA - ENERGIA S.A.,
• POSTOBON S.A.,
• INCAUCA - REFINERIA DE COLOMBIA S.A.,
• INCAUCA - ALIMENTOS Y REFRESCOS S.A.,
• INGENIO RISARALDA,
• PFIZER,
• INDUSTRIA DE LICORES DEL VALLE DEL CAUCA,
• CIAMSA,
• JGB,
• ARBEL TRADING COMPANY LTDA.,
• CARGRAPHICS,
• BICO INTERNACIONAL,
• KRAFT,
• EPSA,
• FESA S.A.,
• INDUSTRIAS DEL MAIZ S.A.,
• EMCALI,
• CENTRAL CASTILLA S.A.,
• BAXTER,
• GRUPO EMPRESARIAL BAVARIA,
• EIC EMPAQUES INDUSTRIALES DE COLOMBIA S.A.S.,
• CVC,
• ACASA,
• CEMENTOS DEL VALLE S.A.
Metalmecanica Lucena
Calle 25 No. 2 30, Cali, Colombia
+57 2 883 1235
info@metalmlucena.co