Last Update
August 22, 2019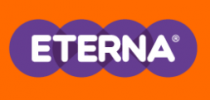 Categories
Composites, Plastics & Rubber
Military, Tactical, Logistic Support Vehicles & related equipment
Services (R&D, training, engineering, consultancy, …)
ETERNA S.A., is a Colombian company with many years of experience in the production and marketing of high quality plastic and rubber products. The Company always acts in accordance with the values governing the sector, seeking the highest economic return and social benefits for its employees, shareholders, customers, suppliers and the community as well.
ETERNA S.A. employs more than 500 employees, operating in an area of 4.000 square meters, with five independent production plants and more than 2.000 product references distributed to customers within the country and abroad. With annual sales exceeding thirty million dollars, the Company is recognized for its orientation towards quality services and customer satisfaction.
Product Quality: The Company offers support and consulting services guaranteeing not only the quality of end products, but ensuring environmental preservation as well.
Product Innovation: The Company is constantly striving for excellence and researching new trends in order to introduce new products to new markets.
Technology Innovation: ETERNA S.A. is in constant communication with providers of the latex and rubber sectors, implementing the latest technologies into its processes and guaranteeing the highest quality possible.
Quality Control: ETERNA S.A. is always aiming for customer satisfaction and to achieve this, it has invested in technical support and financial resources for the development of advanced laboratories equipped with specialized equipment for the processing of raw or semi elaborated materials and the development of reliable and high quality end products.
Knowledge Development: In the research & development area, ETERNA S.A. has established strategic alliances with companies of the industry for the strengthening of knowledge and the implementation of new developments in the manufacturing process.
Contact info #1
Coordinator of External Commerce
Carrera 66 No. 13 - 83, Bogota, Colombia
Industrial Development
ETERNA is constantly working to satisfy the needs of the industrial sector, through the manufacture of tailor-made products and parts. The Company's experience in production processes and technologies, such as 5S, Kaizen and Kanban, support ETERNA's commitment towards its customers.
Some of ETERNA's specialized services include:
• Outsourcing,
• Manufacture of Specialized Parts,
• Injection (Rubber and Plastic)
• Extrusion (Rubber and Plastic),
• Molding,
• Rubber Recovery,
• Special Product Development.
Industrial Plastics
ETERNA is recognised by customers as a leading brand with more than 56 years of experience in the sector. The Company's main strength is its capacity to adapt to customers' needs through the provision of unique and environmentally friendly solutions. ETERNA offers quality solutions for different industries, namely:
The automotive Industry: ETERNA is the only company in the sector that has been certified under ISO 16949:2002 and the only company in the Andean region equipped with co-extrusion technology.
Products:
• Co-extrusion Items,
• Tube Systems,
• Architecture,
• Flocked products,
• Plastic Profiles,
• Sponges,
• Other Plastic Accessories.
The Construction Sector: ETERNA offers a wide range of products designed to cater the civil engineering, the construction and architectural sectors, namely, rubber floors available in different designs.
The Shoe Industry: ETERNA manufactures high quality products guaranteeing durability and comfort to the wearer.
• Adhesives,
• Heel Plates.
Medical Products
Precision Care is a brand developed as an answer to the needs of the health sector for quality and reliable solutions. These medical and surgical products are made under the highest quality standards and comply with all technical and sanitary norms for commercialization and use.
The Company's wide range of products includes:
• Examination Gloves,
• Surgical Gloves,
• Disposable Needles,
• Blood Collection Tubes,
• Endotracheal Tubes,
• Foley Catheters,
• Nelaton Catheters,
• Other Disposable Products.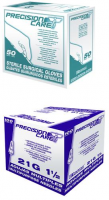 Other Products
Commercial Cleaning Products: LimpiaYa has been developed as a solutions provider for the commercial cleaning and disinfecting industry. The company offers high quality products at competitive prices making everyday cleaning processes easier.
Products:
• Liquid Cleaners,
• Disinfectants,
• Waxes,
• Washing Up Liquids,
• Bleaches,
• Creolin Cleansers,
• Industrial Soaps,
• Turpentine,
• Carpet Cleansers,
• Window Cleansers, among others.
Sponges, Fibres and Cloths: ETERNA has over 10 years of experience in the field and offers a wide range of products developed to satisfy customers' household needs, such as: sponges, abrasive fibres and cloths.
Gloves: ETERNA has more than 50 years of experience in the market and is a highly recognised and established rubber glove brand in Colombia. It specialises in high quality industrial and domestic rubber gloves that guarantee comfort and safety and undergo strict tests in order for allergy related substances to be eliminated. Strong bactericides are also used so as to prevent material deterioration due to bacteria and fungus.
Baby Care Products: ETERNA provides a wide variety of baby care products. Developed over twenty years ago, Munchi and Munchi Magical provide reliable and safe baby care products. The Company's wide portfolio includes products, such as feeding bottles, pacifiers, wet wipes and others.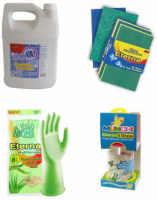 Eterna S.A.
Av Calle 26 No 57-83 Torre 7 floor 4, Bogota, Colombia
+57 1 260 1100
info@eterna.com.co