Last Update
August 6, 2020
Categories
Infrastructure, Construction & Civil Engineering
Metal Processing, Parts & Components
Military, Tactical, Logistic Support Vehicles & related equipment
TECHNICAL INDUSTRY CARVAJAL "INTECAR LTDA.", is an engineering company located in the city of Barrancabermeja specialized in the manufacturing and reconstruction of rotating and stationary equipment parts for the oil industry and agriculture. More specifically, INTECAR LTDA. provides lathe, milling machine, hydraulic press, special welding, metallization, grinding parts and industrial assembly services.
INTECAR LTDA. is equipped with conventional machinery and CNC (Computer Numerical Control) software and employs skilled personnel that respect quality standards and ensure product reliability.
Vision
INTECAR LTDA.'s vision is to become recognized in the local and regional market as a reliable metalworking company and to increase its profit margin by implementing welfare and work environment improvement programs.
INTECAR LTDA.'s main priorities are:
To meet the customers needs and expectations, by continuously improving the processes of the quality and safety management systems,

To ensure product quality and reliability,

To ensure product availability in good condition,

To ensure service delivery within the stipulated time.
Certification
INTECAR LTDA. is certified under ISO 9001 for Quality Management System Requirements and OHSAS 18001 for Occupational Health and Safety.
Contact info #1
+57 603 2740 +57 315 895 5803
Calle 58 No 32-47, Zona Industrial, B. Ciudad Bolivar, Colombia
Maintenance and Repair Services
INTECAR LTDA. offers maintenance and repair services for products such as:
Crane arms,
Well grids,
Air compressors for bikes,
Valves (gate, ball, plug valves etc.),
Centrifugal Pumps,
Booster pumps,
Reciprocating pumps,
Bearings,
Blocks,
Engine cylinder heads.
INTECAR LTDA. also provides services, such as:
Rotating Equipment Alignment,
Equipment reconstruction using metallization,
Metal stamping,
Special welding (stainless steel, brass, aluminum, etc.),
Welded reconstruction of tanks and industrial machinery,
TIG, MIG welding.
Equipment Manufacturing
INTECAR LTDA. manufactures equipment for the metalworking industry, such as:
Metal structures,
Steel tanks,
Metal shafts,
Heat treatment shafts,
Bushings,
Special screws,
Valve seats,
Special nuts,
Nozzles,
Heat exchangers,
Die shoes,
Control valve caps,
Wear rings,
Pipe nipples,
Special rubber pieces,
Metal ware,
Pump parts (pins, foundation anchors, etc.).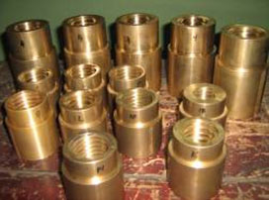 Specialized Machinery & Personnel
INTECAR LTDA. is equipped with specialized machinery and CNC (Computer Numerical Control) software and presents a high level of expertise in the scientific fields related to rotating and stationary equipment manufacturing for the oil industry and agriculture.
Intecar Ltda.
Calle 58 No 32 47, Barrancabermeja industrial zone, Santander, Bolivar, Colombia
+57 7 620 1911
info@intecar.com.co