Last Update
September 3, 2018
Categories
C4I, Communication Systems
Services (R&D, training, engineering, consultancy, …)
DITELCOM LTDA., was established on March 15th, 1996, in Bogota, Colombia, in response to the increasing demand for telecommunication systems and electronic technology development. The meaning of the company's name is taken from the words "design and engineering in telecommunications" (Diseño e Ingeniería en Telecomunicaciones).
DITELCOM LTDA. provides integrated solutions for radio communications to the following industry sectors:
Public safety, national security agencies and government,

Mines and energy,

Gas and petroleum,

Transport,

Public services.
DITELCOM LTDA. offers a wide range of brands and radio communication equipment to meet customers' needs, among which are:
Tait,

Motorola,

Icom,

Kenwood,

HYT,

EF Johnson.
Antennas offered are Yagi (VHF-UHF), Omni, Sector, FM, and grid.
Contact info #1
comercial@ditelcomltda.com
Calle 72 # 20 A-31, Bogota, Colombia
Advice and Consulting
Ditelcom can offer enterprises and governmental institutions advice and consulting services for their needs in the telecommunications sector.
Maintenance
Ditelcom staff is trained and certified to repair various brands and models of radios and communications equipment. In the company's specialized laboratory, equipment failures can be detected and corrected, with the replacement of defective components with original parts.
Installation of Repeaters and Antennas
Ditelcom can support customers in identifying strategic points where to install antennas. The company owns several towers located in the area of Bogota'. Ditelcom can advice, rent and install customers' antennas on their towers, ensuring the highest quality and operability. All company's facilities meet the Ministry of Communications' standards.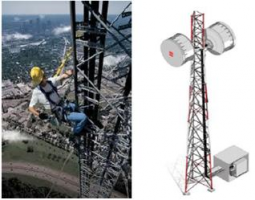 Power Supplies
Charging Relays: AC - DC electronically controlled static converters, to power radiotelephones and other communications equipment and for 12 volt battery float charging. It allows creating a permanent float charging power system. The charger powers the equipment and charges the battery, reducing the current to a very low value when it is fully charged. It can also be used as a conventional power source without battery.
Types:
• 15 amps
• 30 amps
• 19" Rack-Mount
Converters: Ditelcom 3-stage automatic chargers have 85% efficiency, an automatic network transfer, protection and alarm.
UPS: These devices are sine wave interactive.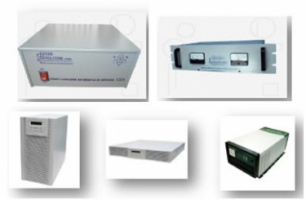 Antennas
Yagi Antennas
The Yagi or Yagi-Uda RF antenna or aerial is one of the most successful RF antenna designs for directive applications. It is used in a wide variety of applications where an RF antenna design with gain and directivity is required. It has become particularly popular for television reception, but it is used in very many other applications where an RF antenna design that has gain is needed.
The Yagi RF antenna design has a dipole as the main radiating or driven element. Further "parasitic" elements are added which are not directly connected to the driven element. Instead they pick up power from the dipole and re-radiate it such a manner that it affects the properties of the RF antenna as a whole.
Omnidirectional Antennas
Ditelcom antenna model DTN504 is built and designed with 4 closed dipoles. The dipoles are distributed in-line, obtaining a gain of 9 dB. These antennas provide high performance and reliability for fixed stations and repeaters requiring the use of mobile and portable radios. It is made of high strength tubular aluminium.
Ditelcom antenna model DTN804 is built and designed with 8 closed dipoles. The dipoles are distributed in-line, obtaining a gain of 12 dB. These antennas provide high performance and speed for fixed stations and repeaters and are made of high strength tubular aluminium.
The G6 antenna is omnidirectional and uses 5/8 wave collinear, which have been coupled for optimal radiation pattern; it is recommended for transmitters or repeaters, with excellent results.
Grid Antennas
These are antennas specially designed for point-to-point wireless networking where a high gain and directivity are required. They are constructed with 4 mm galvanized rods and welded elements and have an excellent strength to weight ratio.
The illuminator is protected with a cover in ABS material with UV filter treatment and galvanized in order to increase the resistance to harsh weather conditions.
Customers
The company's customers list includes Cruz Roja Colombiana y Defensa Civil Colombiana, Cerrejón, Anditel, Bp.
Ditelcom Ltda.
Calle 135 #47-70 Piso 2San Jose Spring, Bogota, Colombia
2169982, 6260225, 2590042, 2590044
2169982
gerencia@ditelcomltda.com