Last Update
October 14, 2016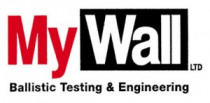 Categories
Ballistic Protection
Services (R&D, training, engineering, consultancy, …)
MyWall Ltd., ballistic testing Engineering was established in 2007 to provide testing and conformity assessment services for personal protection and related devices. The company is the leading and the sole independent laboratory in Israel.
MyWall specializes in providing anti-ballistic solutions, as well as developing solutions per customer needs.
The company's know-how and expertise are as follow:
1. An accumulation of forty years of development, testing and applying personal protection through vehicles and airborne units, as well as "sensitive" buildings, institutions and equipment.
2. Being an ultimate "front" for development, testing, supplying of combined solutions, based on the most up to date materials and combining technologies as per clients' needs.
3. Serving the Military, Police and Secret Service Forces. In addition, providing anti - ballistic services to some Nations, Military & Police Arms.
4. MyWall's ballistic laboratory is internationally accepted and meets any required international standard.
5. Being ISO 9001:2008 certified.
6. Capability of testing fragments in the range of 2 grains up to 20mm and ammunition from 5.45mm up to 14.5 AP.
The company's policy is to cooperate with customers and provide them services as follows:
• Based on client's specifications developing the ballistic panels and solutions for the project.
• Providing test results for approval.
• Providing tested samples, tests and production procedures.
Services
The range of services is as follows:
1. KNOW HOW - Transferring professional know-how in the field of development and manufacturing of anti-ballistic applications ranging from personal body protection through vehicles, airplanes and helicopters up to naval vessels.
2. MUTUAL COOPERATION - Consulting and developing with leading companies and entities including R&D institutions, foreign ministries and other defense entities as well as international companies.
3. BALLISTIC TESTING - Testing based on all international related standards. The company tests ballistic products for local and international companies.
For each test MyWall delivers a full ballistic report.
Short list of completed products:
◦ Developing armor for the new US Army Cargo Airplane C27J
◦ Developing and producing protective armor station for ELBIT
◦ Developing protective means against side and front blasting events
◦ Support in the establishments and "RUN IN" a production facility and laboratory
Facilities
The company facilities encompasses a dedicate computer controlled laboratory for ballistics testing, which maintains appropriate and standardized temperature and humidity test environment.
MyWall is fully equipped to conduct testing in accordance with the following internationally recognized standards:
• NIJ 0101.04 & NIJ 0101.06 – Bullet resistance tests
• NIJ 0108.01 – Bullet resistance protective material
• Nato Stang 2920 – Ballistic test method for personal armors
• MIL STD 662 F – Fragments test
• NIJ 0106.01 – Ballistic helmets
• STANG 4569 – Vehicles
The company's laboratory is capable of testing ammunition up to 14.5 AP and fragments from 2 grains up to 20mm.
MyWall is authorized to perform ballistic testing in Israel to:
• IDF - Israeli Ministry of Defense
• Israeli Interior Ministry
• Israel Police and Special Forces
MyWall Ltd.
MyWall Bazelet St. (E.P.S. Building) P.O. Box 12376, Mizpe Sapir Industrial area, 44862, Zur Igal , Israel
+972 9 7493614 
+972 9 7493803 
mywall@012.net.il