Last Update
June 21, 2023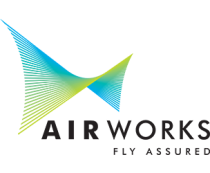 Categories
Aircraft, Helicopter, UAV, Spacecraft & related equipment
Electrical, Electronics & Electro-optics
Maintenance Repair Overhaul and Logistics Support
Other Aerospace, Defence and High Technology related companies
AIR WORKS is one of the leading independent providers of Aviation Maintenance, Repair and Overhaul (MRO) services in India and aircraft paint and refinishing services in the UK.
Founded in 1951, by the Menon family, AIR WORKS has successfully transformed itself from a family run business focused on providing maintenance services to business aircraft into a professionally managed organization providing a full-suite of services to customers across the region.
Air Works India Eng. Pvt. Ltd.
1st Floor, Kalyani House, Plot No.40, Sector-18, Haryana 122 001, Gurgaon, India
+91 124 464 2200
+91 124 464 2250
info@airworks.in