Categories
C4I, Communication Systems
Electrical, Electronics & Electro-optics
Metal Processing, Parts & Components
Services (R&D, training, engineering, consultancy, …)
Infrastructure, Construction & Civil Engineering
Al-Babtain, is one of the most successful and reputed manufacturer of Power & Telecommunication products to local and international markets, this enviable reputation has been achieved by focusing on the individual needs of customer in each product & services, and then applying Al-Babtain's expertise and resources to develop and supply products that provide value.
The company is active in the area of Outdoor Lighting (Poles, High Mast & Luminaires), Transmission and Distribution (Transmission Tower, Monopoles, Distribution Poles & Testing Services), Telecommunications (Towers & Monopoles), Structural Steel and Galvanizing Services.
With its production base in Riyadh (KSA) and Cairo (Egypt), Al-Babtain is maintaining the high level of quality & reliability of its products; this is due to the emphasis on design and manufacturing to international standard by acquiring some of the best technologies from leading companies in the world, together with technologies developed in its own facilities.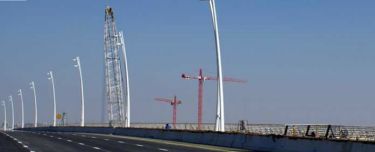 Al Babtain Power & Telecommunication Co.
P.O. Box 88373, 11662, Riyadh, Saudi Arabia
+96612411222
+96612413395
corporateoffice@al-babtain.com.sa