Categories
IT, Computing and Software
Services (R&D, training, engineering, consultancy, …)
Aliter Technologies, a.s. provides integration, development and consulting services in the area of information and communication technologies (ICT).
ICT SOLUTIONS
In the field of ICT the company provides services in the following areas: consulting, development, integration, support, datacentre operation, cloud technologies, virtualization, LAN/MAN/WAN networks, contact centres and collaboration tools.
SPECIAL SYSTEMS
Special Systems division provides analyses, studies, design, R&D, production, implementation, integration and support of special communication and information systems, intended for support of military and non-military crises management operations. Aliter Technologies' solutions are designed for armed forces, special forces, homeland security, police, emergency rescue teams, civil protection, crisis management staff and other components and organizations involved in the tasks of state defence, security, rescue and protection of citizens.
Defence - Command, Control, Communications and Computers (C4) for deployable and highly mobile expeditionary armed forces and special operation units, based on requirements of Network Enabled Capabilities (NEC) concept and open standards with the possibility for integration of legacy technologies.
Crisis Management and Homeland Security - Special ICT solutions supporting crisis management staffs, municipalities, the police, civil protection, rescue teams and other entities involved in the performance of the tasks for rescue and protection of the population at natural disasters, industrial accidents and other emergencies that threaten the lives and property of the population.
Border Protection - Aliter Technologies' experience in implementation of systems for protection of the state border is applied in the design, implementation and operation of the systems using the proper selection of available security technologies with the goal to achieve the maximum reliability of protection. The result of technologies and processes integration is provision of integrated procedural and technical physical protection, minimizing demands on human resources, operational and investment costs, providing accurate information about breaches of the border with minimum false alerts.
SW DEVELOPMENT
Aliter Technologies' experts are qualified for software solutions development. They focus on web solutions and enterprise systems. They deploy the latest approach, methods and tools for analysis, design and development. Even while developing the most complex interfaces they apply the latest UI and UX trends.
R & D
One of the specifics of the company is own development of ICT equipment and solutions, such as ruggedized device corresponding standard MIL-STD, but also to customers' tailor-made solutions according to their specific requirements. Other examples of the development of the company's own ICT solutions are complex infrastructure to support ecologic mobility, as well as ICT solutions to support safe and happy life.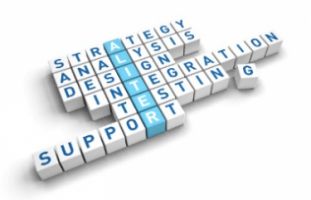 Aliter Technologies, a.s.
Trade Center II Building, Mlynske Nivy 71, 821 05, Bratislava, Slovak Republic
+421255646350
+421255646351
aliter@aliter.com