Last Update
September 13, 2018
Categories
Metal Processing, Parts & Components
AlmexA is a contract manufacturer which deals exclusively in machining of aluminium. The company's core competencies lie in development, processing, machining and production of highly refined aluminium products, including: Conception, development and construction; Mass production; High speed milling; 3D milling; 5 axis milling; Surface treatment; Adhesive bonding of aluminium. The company is AS9100 C certified.
AlmexA offers clients overall solutions which include machining of profiles, surface treatment, assembly, packaging and inventory of finished products.
Today, AlmexA has a large clientele consisting of Danish as well as international companies, companies that have chosen to outsource production of aluminium components or constituent parts to AlmexA.
Aerospace - AlmexA is recognized as a premier independent supplier of complex assemblies, kits, precision machined parts and integrated supply chain solutions to commercial, defense and general aviation customers worldwide. The Company delivers specialized structures including floor sections, bulkheads, landing gear struts, window frames, wing skins and seat tracks.
Defense - AlmexA manufactures many kinds of parts for the defense industry including boxes for radios, transmitters / receiver and cameras for surveillance.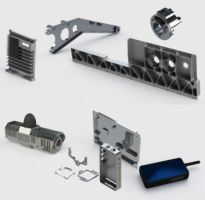 AlmexA
AlmexA ApS, Egelundsvej 17, DK-5260 , Odense, Denmark
+4563130178
+4563130179
info@almexa.dk